Vincezo Peruggia was an Italian worker, artist, and thief, most famous for stealing the Mona Lisa. The Mona Lisa is a world-renowned painting by Italian artist Leonardo da Vinci. The painting is the best known, the most visited, the most written about, the most sung about, and the most parodied work of art in the world! The painting is a property of the French Republic and cannot be sold or bought. It is worth about $850 million!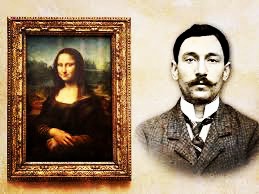 The Mona Lisa and Vincezo Peruggia
On 21 August, 1911, Peruggia perpetrated what has been described as the greatest art theft of the 20th century. According to Peruggia's interrogation after his arrest, he confessed he entered the Louvre museum in Paris in which the painting resided on 21 August around 7 am. He wore one of the white smocks that the museum employees customarily wore. When the department where the Mona Lisa hung was empty, he lifted the painting off its four iron pegs that secured it to the wall and took it to a nearby service staircase. He took off his smocks and wrapped it around the painting, tucked it under his arm, and left the museum through the same door he had entered.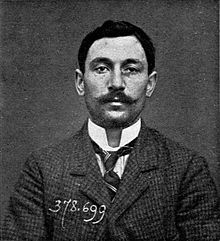 Peruggia after his arrest in 1911
After keeping the painting hidden in his apartment for 2 years, Peruggia returned to Italy with it. However, he eventually grew impatient and was finally caught when he contacted the owner of an art gallery who informed the police on him.
When interrogated, Peruggia said he stole the painting for a patriotic reason: he wanted to bring the painting back for display in Italy. He felt the painting was really the property of Italy as it was created by an Italian artist. However, some crime experts were of the opinion that he stole the Mona Lisa for monetary reasons. This is confirmed by the letters he sent to his father after the theft, claiming he will make his fortune in Paris and his fortune will be made with one shot.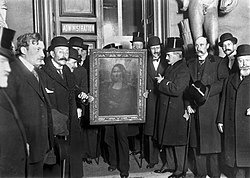 The Mona Lisa is welcomed back to Paris
When Peruggia was put on trial, the court agreed, to some extent, that he committed his crime for patriotic reasons and had him sent to jail for one year and fifteen days. However, Peruggia was hailed as a patriot in Italy and served only seven months in jail! The Mona Lisa was exhibited all over Italy with citizens rejoicing its return. Eventually, it was returned to the Louvre museum in Paris.
What are your opinions of this article? Your comments will be appreciated!
Photos in this article are for illustrative uses.
Photo Credits: GOOGLE
Content created and supplied by: OMOZEEUBOGU (via Opera News )