A Facebook user has taken to the social media platform to express his gratitude to God for sparing his life exactly two years ago when a bus he was supposed to have boarded on a journey was involved in a ghastly motor accident which led to several deaths. He shared pictures of the incident and briefly narrated the incident.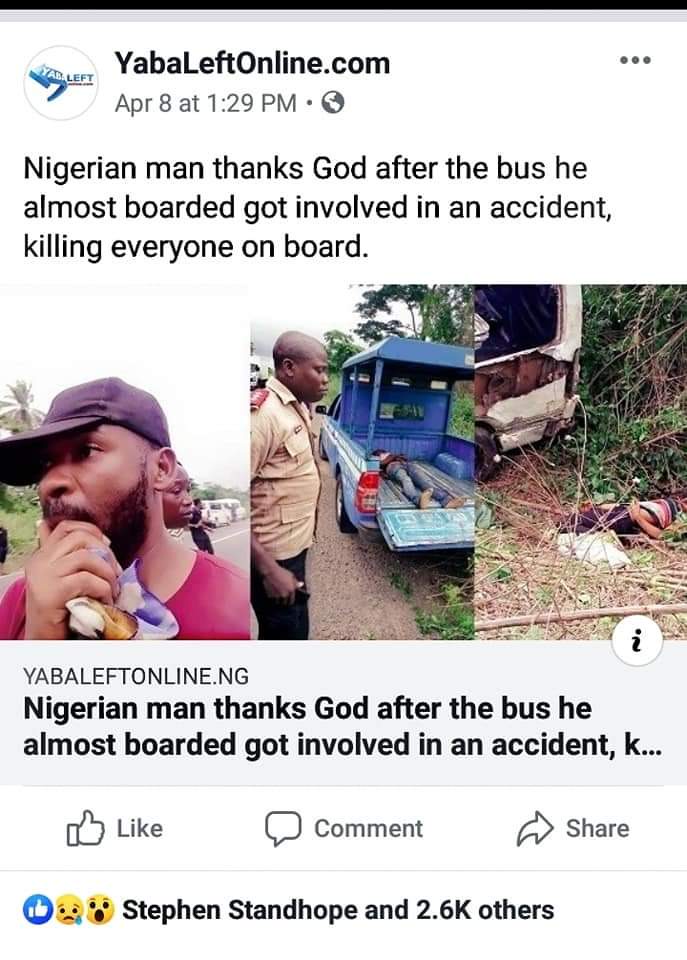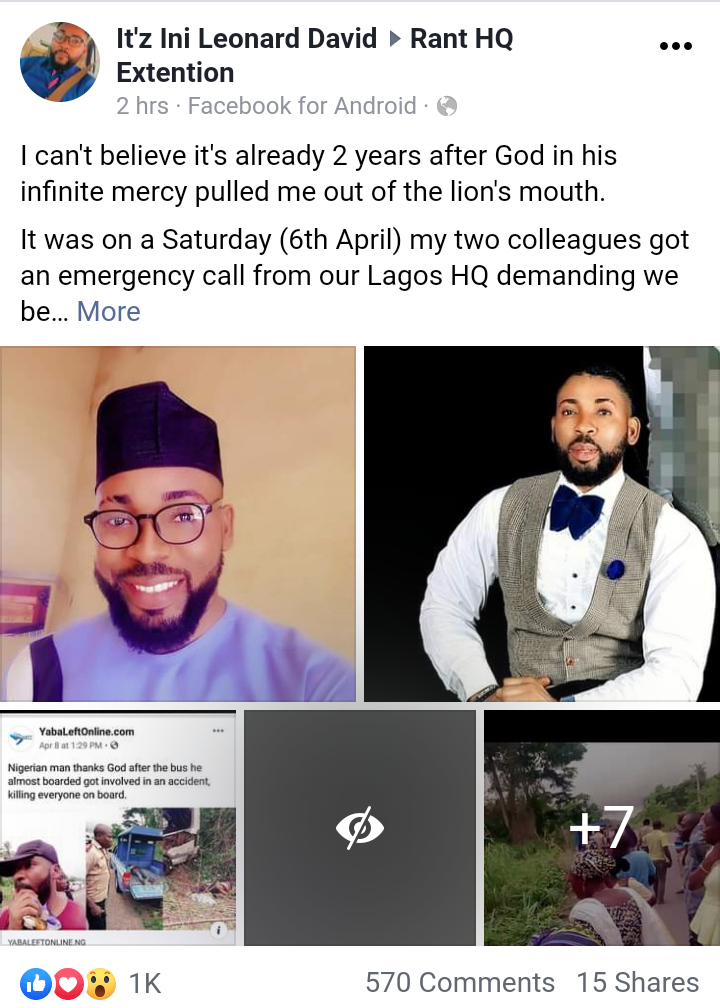 Narrating the incident, he said he and his two colleagues were to report to their Lagos headquarters on or before 8am on Monday. The call came in on April 6th which happened to be a Saturday then. As provisions were not made for flights, they decided to go on road.
In order to meet up with the 8am Monday morning deadline, they decided to begin their journey on Saturday night with the thought of arriving Lagos on Sunday afternoon and have enough time to relax for their Monday assignment. This seemed reasonable enough and they made for the park that Saturday evening.
On getting to the park, he said they immediately boarded a bus which looked clean and nice. Some other passengers were already in the bus and in no time, he got talking with one of them who happened to be a NYSC Corps lady.
Narrating further, he said he began to feel some discomfort while chatting with the lady. This feeling became unbearable to him that he had to disembark from the bus.
His colleagues were surprised when he told them that he was no longer going to travel in that bus. After futile attempts to convince him to stay put, he was left alone. So he went to search for another bus.
When he got another one going to Lagos, he came to meet his colleagues in the first one and urged them to come and board the new one. This, they reluctantly agreed to and to the disappointment of the lady, they went with him to the new bus. He felt ease within him thereafter.
The old bus later left the park before theirs. In the course of the journey, he said he led praise and worship all through the night. When they arrived Ife at around 5am, they got to a spot on the expressway where other travellers were with parked buses and cars. An accident scene beheld their eyes.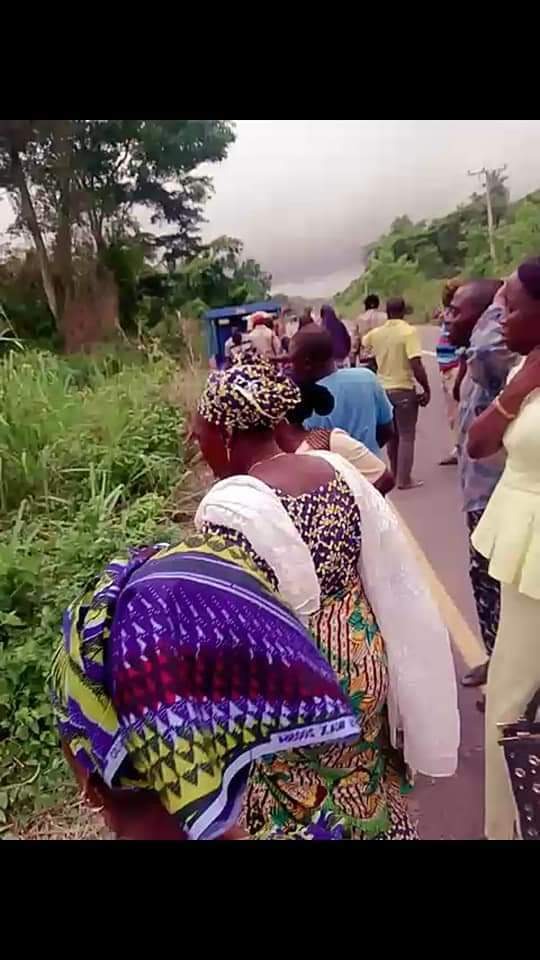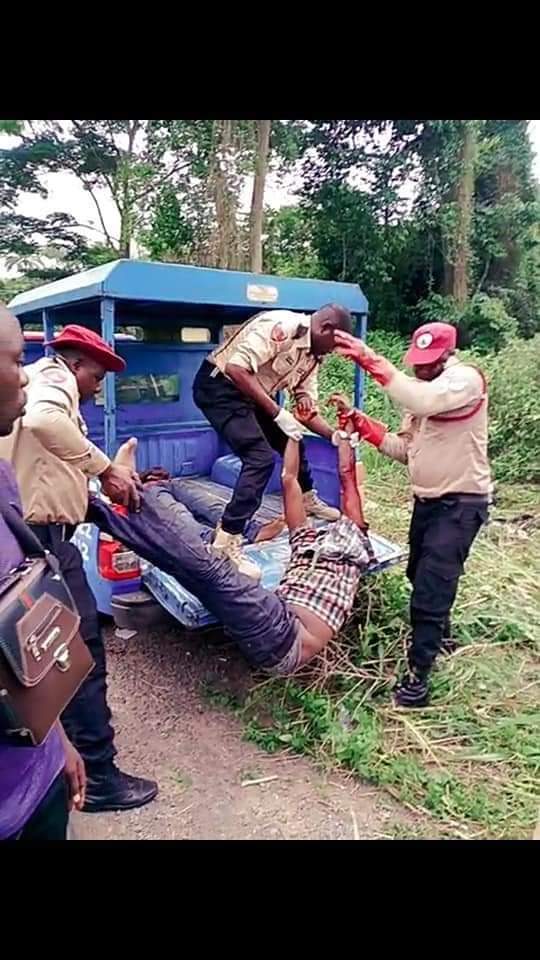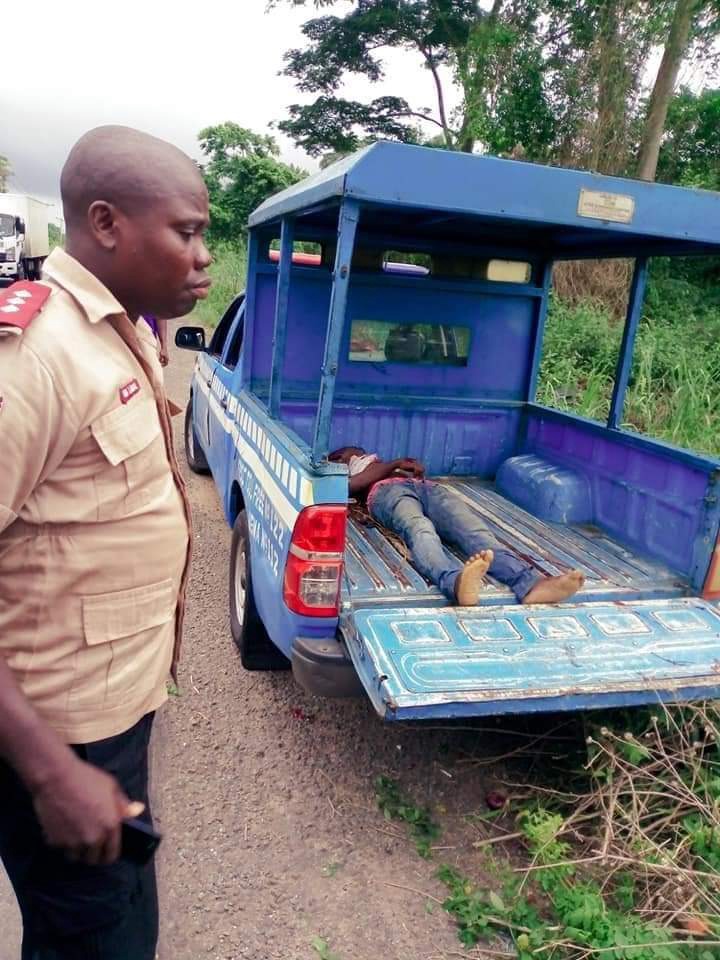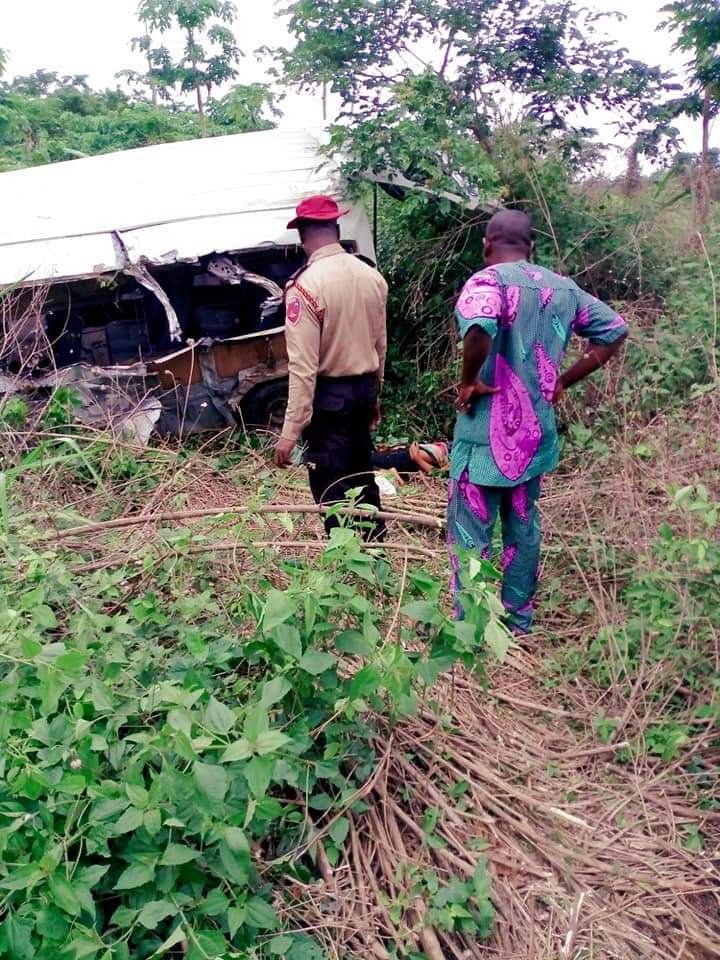 The Accident Scenes Then
On taking a closer look, it came to the fore that the bus involved in a ghastly accident with a long truck commonly referred to as trailer was the very bus they initially boarded. According him, all passengers, including the NYSC Corps girl died in that accident.
He said he began to weep profusely when he realized how God just mercifully spared his life. He also felt pity and moved for those who died in accident. 
He said he returned all praises back to God who spared him out of His infinite mercies.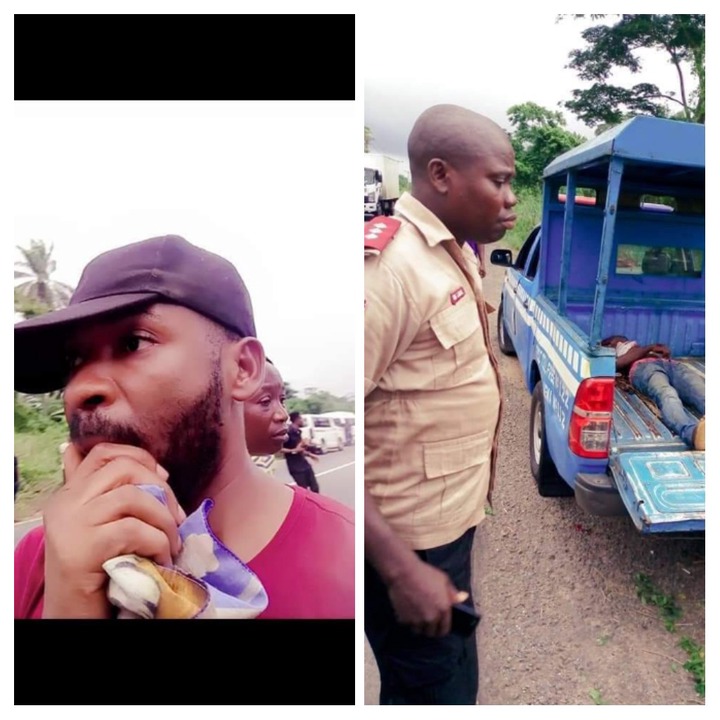 See his post below.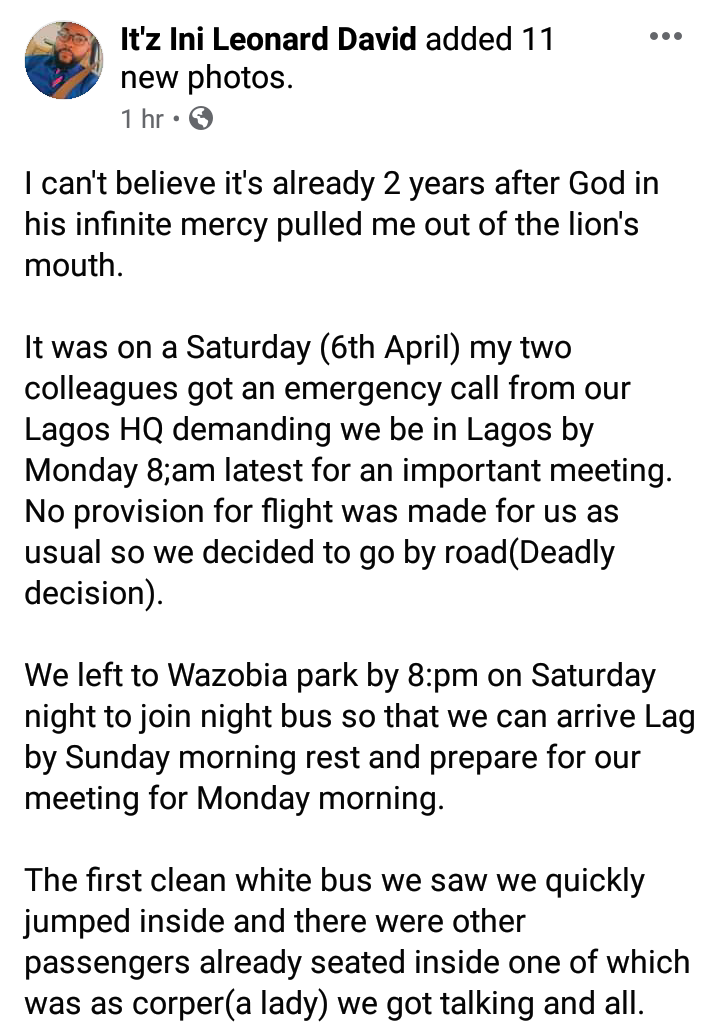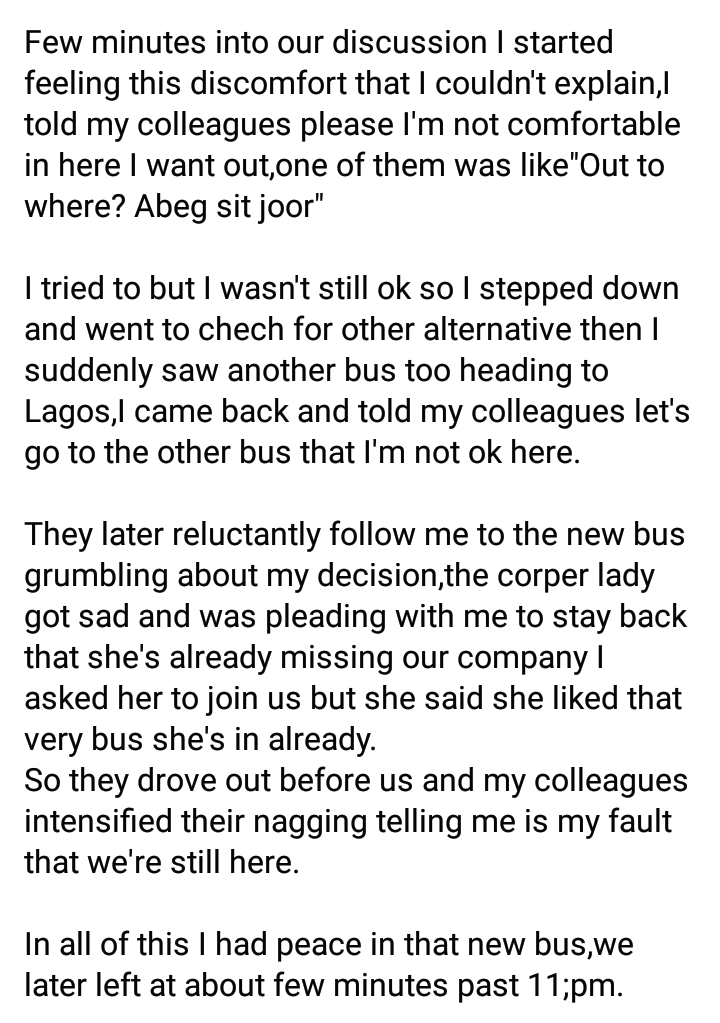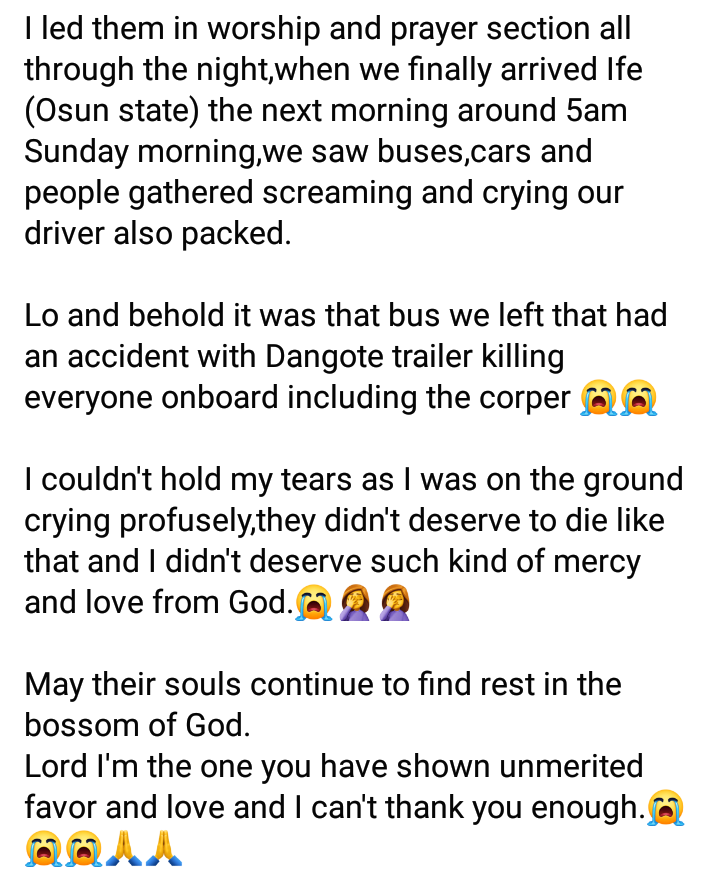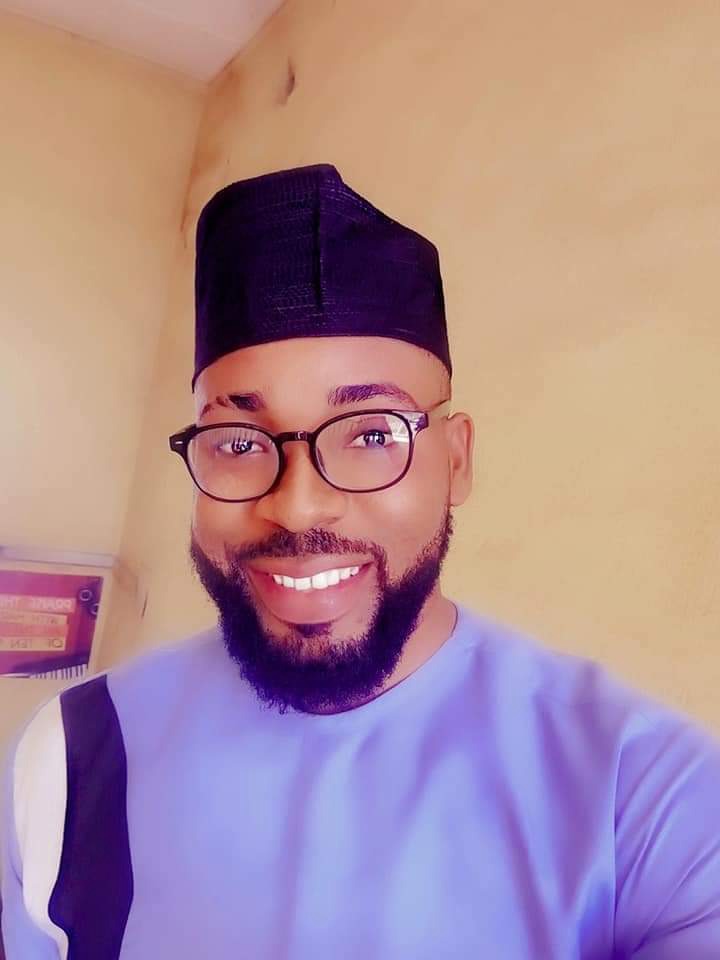 Reactions of congratulations later followed suit his post. 
Content created and supplied by: OlukayodeDamien (via Opera News )