Be careful what you touch, and what you eat. Some vegetation can snuff out your life as surely as a venomous snake. There are hundreds, if not thousands, of poisonous plants in the world, and some of them are deadly.
Here are 10 of some of the world's deadliest plants, and how they can spell doom for anyone unfortunate enough to ingest or come in contact with them.


1. Deadly nightshade
The name says it all — both the foliage and the berries of this plant are extremely toxic. Deadly nightshade has a long, colorful history of use as a poison, but what many people don't realize is that the nightshade family includes common food plants, including potatoes, tomatoes, eggplants and chili peppers.
In fact, all of these plants contain toxins — usually in their foliage — that can be harmful. In particular, humans and pets should avoid potato and tomato foliage and vines in the garden.
2. Jacobaea Vulgaris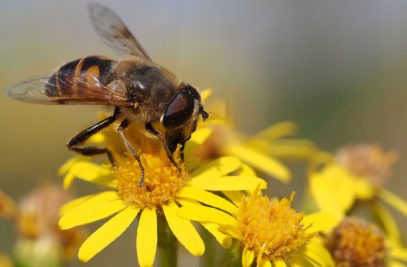 Ragwort, a common wildflower in the UK, is an important part of the local ecosystem. Almost 80 insects get food from the plant, and at least 30 of those feed on ragwort exclusively. Because of that, the flowers hold particular interest for conservation societies. That's good news for the bugs but bad news for everybody else. The World Health Organization has confirmed the presence of at least eight toxic alkaloids in ragwort, and it may have at least 10 more on top of that
The problem is that unlike most poisons, which quickly leave the system, the alkaloids in ragwort build up in the liver over time. The accumulating toxins result in liver cirrhosis, a condition in which the liver slowly folds in on itself as healthy cells degenerate into an unresponsive mass of scar tissue. The liver's a resilient organ and will continue operating like normal until up to 75 percent of it's been destroyed, but by the time symptoms start appearing, the damage is irreversible
Symptoms include loss of coordination, blindness, stabbing abdominal pains, and yellow eyes from bile pigment that fills the eye's surface membrane. Unfortunately, this is another toxin that makes its way into honey, as well as into milk from goats who eat ragwort. As a final slap on the face, when farmers try to remove ragwort from their fields, the toxins can seep right into the skin of their hands.
3. Rosary pea
This plant may sound pious, but it's actually deadly. Rosary peas got their name from their traditional use as ornamental beads for rosaries. They are used in jewelry around the world. Many jewelry makers have died after pricking a finger while handling a rosary pea.
The poison contained within the seed is abrin — a close relative of ricin and one of the most fatal toxins on Earth
4. Veratrum
Found on nearly every mountain in the Northern Hemisphere, Veratrum species put out gorgeous spiral clusters of white, heart-shaped flowers. The plant is commonly grown for ornamental purposes because even the leaves look pretty, and in the wild, it's commonly confused with garlic. But pretty or not, every piece of this plant, from the roots to the pistils, is lethally toxic.The first symptom of Veratrum poisoning is violent stomach cramping, which usually starts about 30 minutes after ingestion. As the toxins absorb into the bloodstream, they make a beeline for the sodium ion channels. Sodium ion channels act like gates to allow sodium to flow through nerves, triggering an action. For example, the opening of sodium ion channels in muscle cells starts the process that leads to a muscle contraction.When Veratrum toxins hit the sodium ion channels, they open the floodgates, forcing the channels to fire continuously. The body doesn't know what to do with this, so the heart begins to alternately slow and speed up. Muscles all over the body convulse. Eventually, the toxin either causes a heart attack or a coma. It's believed that this is the poison that killed Alexander the Great.
5. European yew
Relatively common in Europe, northwest Africa and the Middle East, nearly all parts of this slow-growing tree can be poisonous. The exception is the red fleshy aril that surrounds the toxic seeds. The aril is frequently eaten by birds.
Ingesting the leaves or the seeds, both of which contain a poison called taxane, can cause death. Symptoms of poisoning can include a fast heart rate, muscle spasms and labored breathing.
6. Zantedeschia
The gorgeous perennial Zantedeschia has been introduced to every continent but Antarctica and is a staple in ornamental gardens. It's often called a calla lily, even though it's not even remotely related to lilies and doesn't look anything like one. The bright, tube-shaped flowers can be a variety of colors.
Zantedeschia species contain calcium oxalate, a chemical that forms needle-like crystals inside internal organs. More than 1,000 types of plants contain calcium oxalate, and Zantedeschia is one of the most dangerous, partly because it's so widespread. Even a tiny dose of the chemical is enough to cause a person's throat to swell, usually along with an intense burning feeling.
The more you eat, the worse the symptoms become, until your throat swells so large it squeezes your airways shut. In one incident, a Chinese restaurant accidentally put the flower petals from a toxic plant into their food, putting everyone who ate it in the hospital.
7. Daffodils
Prized for their beauty, daffodils grow from bulbs that could be mistaken for an edible food, like an onion. Daffodils — also known by their genus name Narcissus — are common ornamental plants with a bright, cheery flower. Most daffodils are deer- and vermin-resistant, but gardeners shouldn't overlook the dark side of this plant. All parts of the daffodil contain a toxin called chemical. The most poisonous part of the plant is the bulb, but eating any part of a daffodil can cause nausea, vomiting, and other symptoms.
8. Colchicum Autumnale
Colchicum autumnale is native to the UK, but it can now be found across most of Europe and New Zealand. One of its common names is "naked lady," which is a deceptively sexy name for a cold-blooded killer. The only known antidote for Colchicum poisoning is a slow, painful death.
The chemical at work here is colchicine, a poison that kills with methods similar to arsenic, systematically shutting down of all of your body's vital functions. Mass organ failure, blood clots, and nerve disruptions are just a few of the horrifying symptoms of Colchicum poisoning. Every few days, a new set of symptoms appears as yet another internal system goes belly up.
Death can take anywhere from days to weeks, but when you eat enough, it's always fatal. And for whatever reason, the flower leaves you conscious to the bitter end, forcing you to live through each excruciating moment. People have compared death from Colchicum to cholera.
9. Stinging Tree
Found in forests in Queensland in Australia and Indonesia, Dendrocnide moroides is one of the most painful and potent stinging nettles in the world. Accidentally brushing past any part of this plant or its stinging relatives can deliver a potent toxin that will cause a painful stinging sensation lasting for days or even months.
A severe sting from this plant will cause a severe allergic reaction and even death in horses and dogs; one human death has been reported. (One researcher documented her time working with Dendrocnide.excelsa, which is considered a less dangerous plant, and her increasingly allergic reaction to the plant offers a sense of what's possible.
10. Kalmia latifolio
Kalmia latifolia, more commonly known as mountain laurel, produces delicate pink and white flowers in the late spring. It's the state flower of both Pennsylvania and Connecticut, and it grows just about everywhere in the eastern United States. It's gorgeous, but underneath that dainty exterior beats the heart of a murderer.
The two main toxins in Kalmia latifolia are andromedotoxin and arbutin, but it's the first one that you need to worry about. Andromedotoxin simultaneously causes part of the heart to beat quickly and part to beat dangerously slowly. In healthy people, the heart has a natural gate that blocks half of the electrical pulses coming to the organ. The toxin induces Wolff-Parkinson-White (WPW) syndrome, which disrupts that gate, letting all the pulses reach your heart. The result? Sudden cardiac death.
But that only happens with large doses. In smaller doses, you can expect to start with a lot of vomiting, after which every hole in your head will leak its fluids down your face. About an hour later, your breathing will slow down, you'll lose the ability to use your muscles, and you'll slip into a coma and die.
Content created and supplied by: Smartmindblog (via Opera News )