Lionel Messi, Cristiano Ronaldo Battling For All-Time Highest Goals Scored At Exact Same Pace
KEY POINTS
Cristiano Ronaldo and Lionel Messi unbelievably have same goal scoring rate since turning 30
Ronaldo and Messi are the only active players who can beat the highest goalscorer of all-time
Ronaldo and Messi are both likely to earn the title if they can maintain their average
Eternal soccer rivals Cristiano Ronaldo and Lionel Messi are unbelievably battling for the highest goalscorer of all-time on same exact pace.
It has been quite expected that Ronaldo and Messi will continue their epic rivalry in this new decade. However, some may be surprised with how the pair started their campaigns this year. Ronaldo came out guns blazing and broke multiple records Serie A while Messi struggled a bit before finally finding his rhythm in La Liga.
Nevertheless, both legends have managed to score goals and set individual records like they usually do. In fact, Ronaldo and Messi unbelievably recorded the same exact goal scoring rate since they turned 30.
Messi, who has scored 23 goals in 28 games for Barcelona , currently averages 0.90 goals per game. Ronaldo on the other hand, also scored at a rate of 0.90 goals per game while playing for Real Madrid and Juventus.
Given the said rate, "CR7" and "Leo" are the only players who are currently battling for the highest goalscorer of all-time title.
According to a reputable source of expertise is "RSSSF" (Soccer Statistics Foundation), an entity which record-keeping is a bit higher than the ones usually quoted by journalists and pundits, t he highest goalscorer of all-time is still Josef Bican.
Bican scored a total of 805 goals in a career that lasted from 1931-1955. Romario, Pele, Puskas come next and Ronaldo, the Portuguse star, completes the list of top 5.
If the four record-holders on top of Ronaldo are still playing, things would have been slightly different between Messi and Ronaldo in this category. However, Messi and Ronaldo are the only two active players in the top 15 and this means that they are the only players who have a fantastic chance of passing Bican's 805 all-time tally.
RSSSF credits Ronaldo with a staggering 743 career goals to date and Messi with an impressive 723 given his 3 years younger than his lone nemesis, Forbes reported.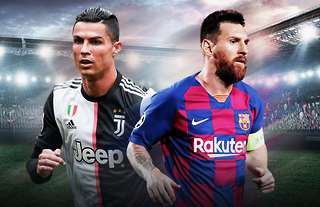 Lionel Messi is a firm favorite to win the Ballon d'Or trophy back from Cristiano Ronaldo. Photo: Getty Images
At 35, Ronaldo is showing no signs of slacking off thus far. He's scored 25 goals for Juventus in 30 games this season. And base on his present scoring rate, Ronaldo is highly likely to hit 800+ in around 60 games or the equivalent of less than 2 normal seasons.
Messi who also has the same rate, is expected to get pass the 700 goals mark for Barcelona in almost the same timeframe as Ronaldo. And if he can maintain the same level of productivity, the 800+ in total is also viable for the Argentine.
Content created and supplied by: studio.opera.com (via Opera News )