Why did you do it, Mike? "Because I'm crazy a little bit and was bleeding all over the place." "I was frustrated." "I was angry that he was butting my head." "I just snapped and reacted the way many athletes have done." I just wanted to kill him." "I don't remember much because I was so enraged." "I wanted to inflict so much pain on him." "I was pissed off that he was such a great fighter." "I just wanted to beat him up." "I was an undisciplined soldier and lost my composure. "I was in a very competitive mood and wanted so desperately to beat him for my own self-aggrandisement." "I was just upset."
Over the last 23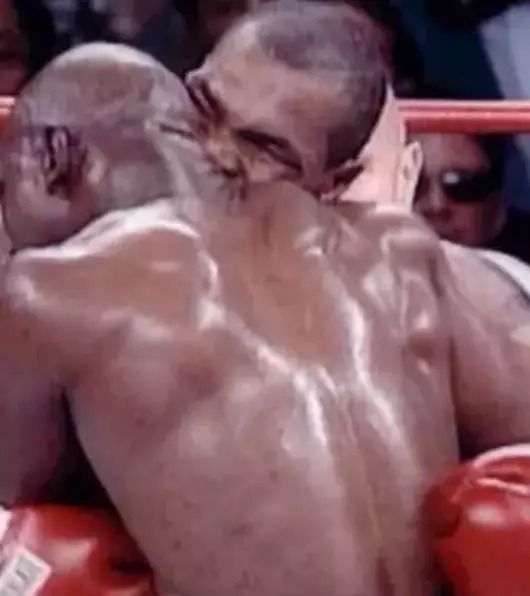 years, Mike Tyson has given a variety of answers when asked why he bit Evander Holyfield's ears – both of them – when the pair met at the MGM Grand for a heavyweight title fight on June 28th 1997. Straight after the fight, which was stopped towards the end of the third round, Tyson was in no mood for contrition. "Listen. Holyfield is not the tough warrior everyone says he is. He got a nick on his ear and he quit," said Tyson as he cast his aggression as an act of self-defence.
"This is my career. I've got children to raise and this guy keeps butting me, trying to cut me and get me stopped on cuts. I've got to retaliate. What else could I do? He didn't want to fight. I'm ready to fight right now. Regardless of what I did, he's been butting me for two fights. I got one eye. He's not impaired. He's got ears. I've got to go home and my kids will be scared of me. Look at me, look at me, look at me!"
Tyson had already been given two chances to fight that night – when the first bell rang and when referee Mills Lane allowed the contest to continue after he had chewed off a chunk of Holyfield's right ear and spat it on to the canvas – so his victim act fell on deaf ears, so to speak. "Bullshit," said Lane. "The butt was an accidental butt. How many times do you want him to get bit? There's a goddamn limit to everything, including bites." Lane had been reluctant to stop the fight but decided enough was enough. "One bite is bad enough, two bites is dessert."
Sympathy was in short supply for Tyson and, after he went home and calmed down a bit, he knew it. "I shouldn't have done that," he told his wife Monica. "My fans are going to hate me." She reassured him, telling him that everybody makes mistakes. Soothed by those comforting words, Tyson smoked some weed, drank some liquor and went to sleep.
PANIC, FEAR AND OUTRAGE.
Back at the MGM, Holyfield was offering up a prayer of forgiveness for his disqualified opponent. "Down in my locker room there were several dozen people in various states of panic, fear and outrage," he remembers in his autobiography. Holyfield asked them to link hands so he could say a word to the Lord. "The first thing I did was wave them all to silence and lead a quiet prayer, in which I forgave Mike."
The prayer meeting was interrupted when MGM Grand employee Mitch Libonati rattled on the dressing room door. "I have something he probably wants," said Libonati as he held up a plastic bag that contained the wedge of ear Tyson had gobbed on to the ring. Holyfield was taken to the hospital, but the little lump of ear was lost in the ambulance ride. Not to worry. The plastic surgeons did a fine job and, in any case, Tyson later returned the missing piece of ear in a FootLocker advert – and that wasn't even the first time the pair had poked fun at the story in the name of business.
It wasn't so funny at the time though. Barry McGuigan summed up the mood of the boxing world – and the world at large – when he declared Tyson's actions "despicable", "abominable", "totally malicious" and those of a "a spoilt child". That other great boxing champion, Sylvester Stallone, chipped in from ringside with the line of the night: "Boxers should eat before they fight." The recently re-elected President Clinton had time to give a view: "I was horrified by it and I think the American people should be." And Tyson recalls Letterman and Leno making u about how he would be fighting on Pay-per-chew and winning the Fighter of the Ear award.
As the news reverberated around the world and some of the press called for Tyson to be banned for life, the man himself wondered why there was such a commotion. "I had no idea what had happened would become such an international incident," he recalls in his autobiography, which, in fairness, is full of stories that make ear-nibbling sound tame. "My whole life's been like that. I say or do something I think is small but the whole world think it's big. Maybe I should have thought about how things will affect me in posterity but I don't think like that."
It's hard to know what Tyson really thinks about the bite. The day before the fight he called himself "a professional who doesn't get emotionally involved with anything." But he also famously pointed out that "everybody has a plan until they get punched in the mouth." Two days after the fight he gathered the media and offered an apology "to the world, my family and to the Nevada Athletic Commission." "I couldn't tell you why I acted exactly as I did," he said as he asked for forgiveness and another chance. But Tyson later admitted he was just "going through the motions" in that speech to appease Don King, who was worried the money train had come flying off the tracks.
Perhaps the truth only really came out when Tyson spoke to Oprah Winfrey about the fight 12 years later. When Oprah asked him about his sham apology, Tyson admitted that he hadn't regretted the bite at the time and that he hadn't been sincere when he delivered his statement to the world. But he said the time had come to say sorry to Holyfield face-to-face. Oprah obliged and set up a show with the two boxers the following week. How's that for a win-win.
"What do you want to say to him?" she asked Tyson as he sat beside Holyfield, looking more nervous than he ever did in the ring. Tyson went for it: "This is a beautiful guy. Me and this guy basically both come from the sewerage and we watched each other grow and become established and esteemed fighters. And I just want you to know that it's been a pleasure passing through life and being acquainted with you." Tyson reached out to Holyfield, who shook his hand, smiled, nodded gently and said: "OK."
Follow Me On Instagram @ Chuks_The_Pundit
Content created and supplied by: Chuksogbu (via Opera News )
Opera News is a free to use platform and the views and opinions expressed herein are solely those of the author and do not represent, reflect or express the views of Opera News. Any/all written content and images displayed are provided by the blogger/author, appear herein as submitted by the blogger/author and are unedited by Opera News. Opera News does not consent to nor does it condone the posting of any content that violates the rights (including the copyrights) of any third party, nor content that may malign, inter alia, any religion, ethnic group, organization, gender, company, or individual. Opera News furthermore does not condone the use of our platform for the purposes encouraging/endorsing hate speech, violation of human rights and/or utterances of a defamatory nature. If the content contained herein violates any of your rights, including those of copyright, and/or violates any the above mentioned factors, you are requested to immediately notify us using via the following email address operanews-external(at)opera.com and/or report the article using the available reporting functionality built into our Platform See More