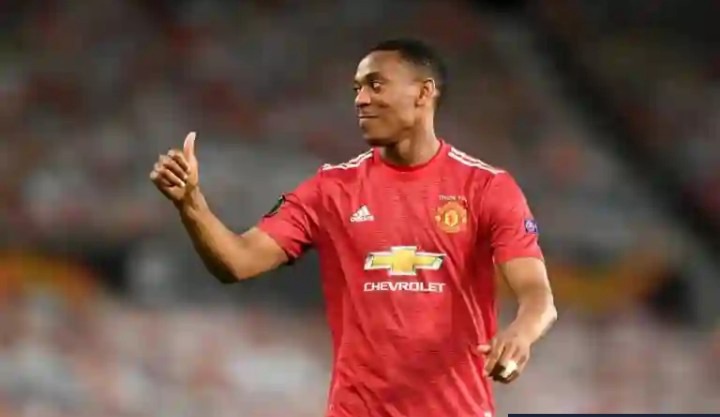 Anthony Martial has come under recent criticism for his performances but he still retains the full backing of Man United boss Ole Solskjaer.
Anthony Martial has struggled of late in front of goal. His latest outing came against West Brom where he wasted a brilliant chance to open his league account this term.
The Frenchman has only two goals from eight total appearances this term and both goals came in the Champions League. He is yet to score in the Premier League.
Even while on international duty, Martial failed to impress the eye and also had some poor performances upfront for France.
It was no surprise to see fellow compatriot Frank Leboeuf make some worrying comments on the United man's form. Elsewhere, there are growing calls for veteran striker Edinson Cavani to replace him in the starting XI.
Regardless of his form, OIe Gunnar Solskjaer maintains full faith in his player. Martial missed three league games due to a red-card suspension and the United boss believes that alongside a tiresome pre-season has contributed to the player's slow start. However, the Red Devils boss says it's only a matter of times before goals come in again.
"Anthony did really develop last season. I thought he made big strides towards becoming the striker we know he can be" Ole said as per the club's website.
"But Anthony is no different from other players in our team [in] that he's not had a pre-season as normal, and he's working to get to his peak form."
""Obviously he lost three games – or three-and-a-half, almost four games – because he had a three-game suspension and it [the sending-off] was very early in the Tottenham game. So he's lost a bit of football. Too much football. He scored against Basaksehir last time [with] a good header, so we hope that he's just going to continue working hard to get to his best again."
Martial has a good chance to get back to goal-scoring ways when United take on Instanbul Basaksehir in the Champions League on Tuesday.
Content created and supplied by: Goodhubwriter (via Opera News )