A lot of people have a vague idea of what true love is all about. They think love is what the man or woman can give to them; for example, financially, but these couple of days, I have come to see that true love is a choice. You choose to love someone in spite of everything you know about the person. You choose to love someone after knowing their deepest, darkest secrets.
There are some celebrities whose marriage don't last. At first, when they get married, everyone thinks they have found the love of their life, but it all ends in tears. One couple whom I think I see true love manifested in their relationship is a couple from the world of professional wrestling. When I look at Triple H and Stephanie McMahon, I think I see true love.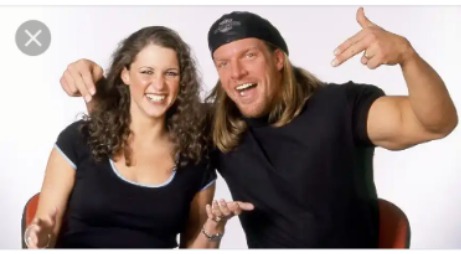 Triple H and Stephanie met while Triple H was working in the WWE as a wrestler, and Stephanie was among the backstage crew. She was working in the WWE creative department in the late 90s. They met and immediately liked each other, although they were both in relationship with other people. Triple H was in a relationship with fellow wrestler Chyna (she was even living in his house at that time), while Stephanie was dating a friend from high school. They immediately clicked.
Meanwhile, Vince McMahon, Stephanie's father and Triple H's boss, had warned Stephanie about dating any of the wrestlers. Because of this, they had to keep their relationship secret from anybody. It got to a point though, that people began to know. Chyna even broke up with Triple H because of it. She found a love letter Stephanie wrote to him in his bag, and that was how she knew. It didn't take long for the news to get to Vince McMahon, and he tried to separate them. Vince tried his best, even giving Stephanie severe warnings, and trying to make Triple H's life in the WWE miserable so he would leave his daughter alone, but their love was so strong that despite all his attempts to separate them, they grew closer and closer together.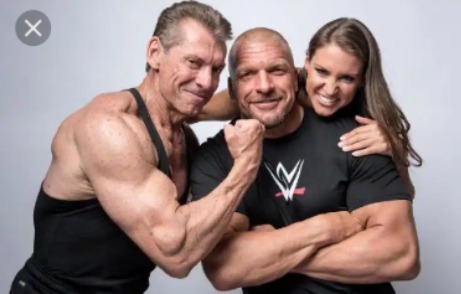 When Vince realized he couldn't stop their love, he allowed them to get married. And they did eventually get married in 2003. Things kinda got bad for Triple H after the wedding because in spite of the fact that he put in work as much as anyone else in the company, and got rewarded by the championship titles and big pushes he got, the other wrestlers began to accuse him of being unfairly favoured because he was Vince McMahon's son-in-law. The Undertaker, although he gave Triple H his blessings for the relationship, warned Triple H about this effect; that people would always see him as being unfairly favoured.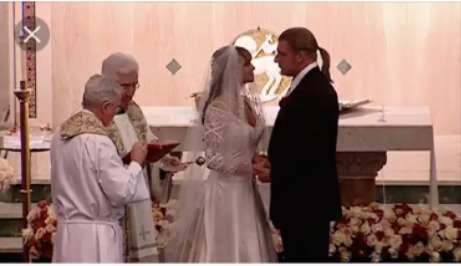 In a world where celebrity marriages don't last, Triple H and Stephanie McMahon have been married for 17 years and they have 3 daughters (can you guess which are their daughters in the picture below?)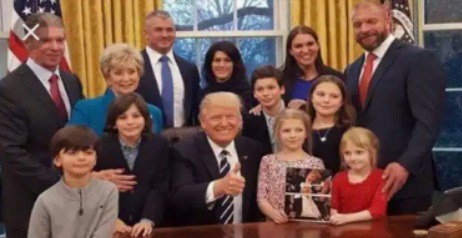 The story of their love is inspirational because true love never fails and never gives up. Isn't that what the Bible says in 1 Corinthians 13? Love never fails? Triple H could have given up on Stephanie after all Vince made him go through. Stephanie could have given up on Triple H after the warnings from her father. Triple H and Stephanie could have listened to all people would think and what they would say and separated, but they didn't because they really loved each other. The fact that they've been together for the past 17 years, and we haven't heard any news of problems in their marriage is a testimony to that fact.
I pray this story encourages you as Valentine's Day comes up in a few days. If you know within yourself that the person you love is actually your true love, don't listen to what anyone is saying, don't worry about the challenges from parents or other family members (and I know in Nigeria, those things can be rife), and don't worry about the difficulties you face in being together. If it's true love, it will never fail. Just remember Triple H and Stephanie.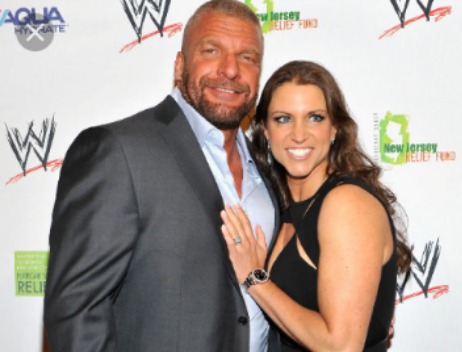 Content created and supplied by: LaVictoria (via Opera News )