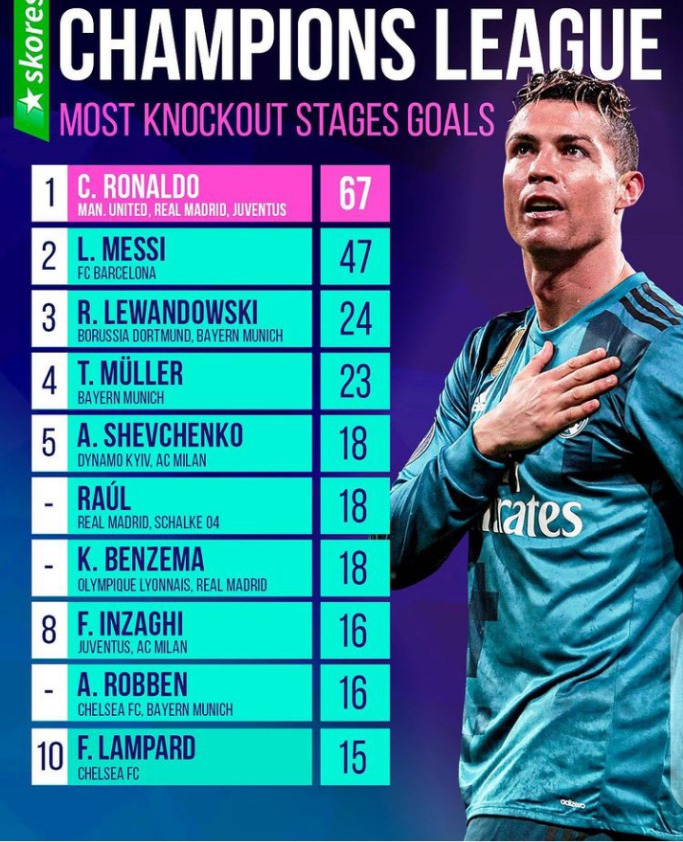 In this article we will be writing briefly on the players with the most goals in Champions League knock out stage.
Champions League is one of the most prestigious and famous Football tournament in Europe.
Here are the players with most goals in Champions League group stage.
Christiano Ronaldo: plays for Juventus, 67 goals, Robert Lewandowski: plays for bayern Munich, 24 goals, Lionel Messi: plays for Barcelona 47 goals, Thomas Muller: plays for Bayern Munich 23 goals, shevchenco, 18 goals, Raul, 18 goals, Karim Benzema: plays for Real Madrid, 18 goals, F. Inzaghi: 16 goals, Arjen Robben, 16 goals, Frank Lampard: Retired, 15 goals.
Andriy Mykolayovych Shevchenko is a retired professional football player from Ukraine, a former politician, and the new manager of football.He played for Dynamo Kyiv, Milan, Chelsea and the national team of Ukraine as a striker.
Lionel Messi is an Argentine professional footballer, he plays for a La Liga team, Barcelona
Content created and supplied by: Chidubem4343 (via Opera News )