Former Barcelona and Cameroon attacker Samuel Eto'o reveals one of the funniest moment he had witness in the pitch while playing for the catalans giant during his reign at Barcelona.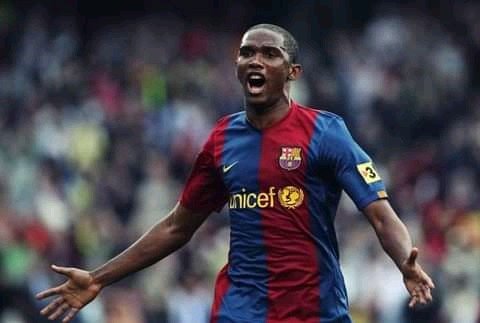 Samuel Eto'o who was widely known as one of the best african players to ever play at Camp Nou have revealed a conversation between himself and a defender in a derby game between Barcelona versus Espanyol in the Spanish La Liga some years ago.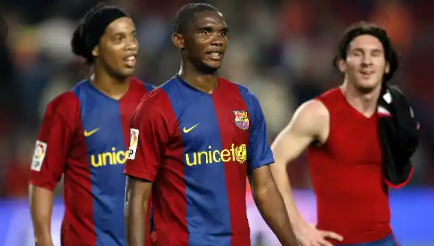 According to Eto'o, the Espanyol defender got pissed up with the presence of Ronaldinho, Messi, Eto'o and Henry in Barcelona's attacking force during that game and the defender whose name Eto'o refused to reveal told the cameroonian that he wasn't sure if he would continue the game after halftime because he was scared of Messi, Ronaldinho, Eto'o and Henry in the front-line for Barcelona.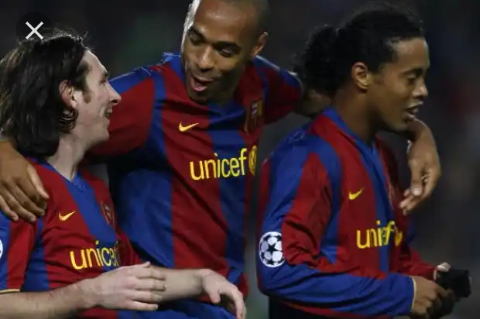 The unidentified defender admitted to Eto'o that, he had to face Henry, Messi, and Ronaldinho for a full 90 minutes then probably he won't comeback to the pitch after halftime because he will tell his coach that he's having stomach problems which is preventing him from playing positively.
Surprisingly, the defender did exactly what he told Eto'o, in the second half of that game the defender was replaced by another defender because he was scared to play against the world's most deadliest attacking force Messi, Ronaldinho, Eto'o and Henry.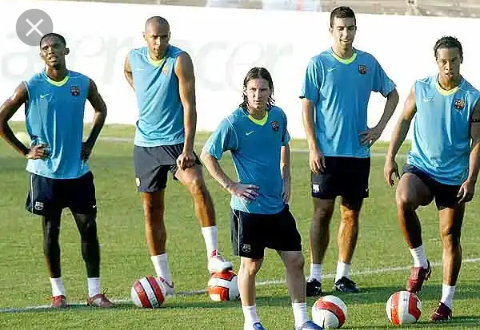 According to claim via Football Epic News, Eto'o reveals his funniest moment in football saying: "The funniest moment was in a derby against Espanyol. One of their defenders talked with me during the match and said: "Mr Eto'o, I don't want to lie I am very scared, it's you, Henry, Ronaldinho and Messi that I have to face all 90 minutes long, I won't come back after halftime I will tell my coach am having stomach problems", the defender personally told Eto'o during the game.
Eto'o continued: "Indeed, a new defender was brought in to replace him in the second half. Then I decided to take a throw in, that was near their touch line, I looked at him he told me to shut up with a sign language.
"I can't mention his name, he knows himself", Eto'o concluded.
Your thoughts, kindly drop your comments below👇
To get more football articles ensure you click on the follow button above.
Thank you for using opera news.
Content created and supplied by: VlogMister (via Opera News )