In this article we will be looking forward to see Italian Teenagers p that make up their side.
Let see which players that make up the list.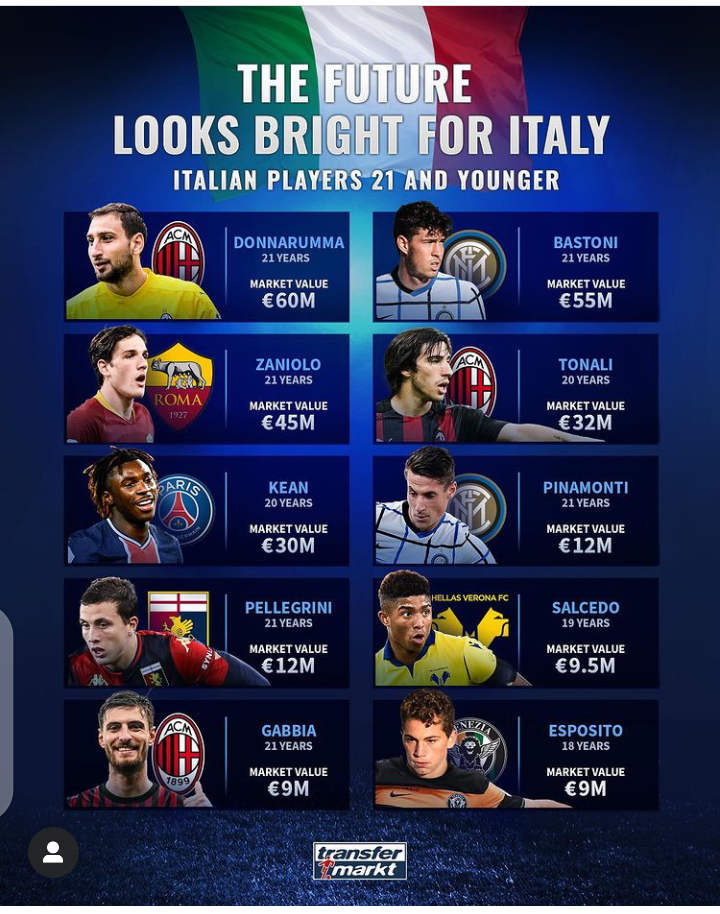 Italy have great young talents ranging from goal keepers, defenders, Midfielder and Strikers, let run down the list.
Italy are best known for producing the best defenders, and has one of the best defence strategy, let see some of the great youngster within their rank, Donnarumma is one of the best Goalie within their squad and his market valuation is pitted at €60m, then Zaniolo and Kean are all important players among Italian squad as their market and is pitted at €45m and €30m respectively.
Then Bastos is another great player within their Squad, his market valuations is pitted to be €50m, Tonali is not left behind as his Market Valuation is pitted at €32m, Then another player within their squad is Pinamonti, he is doing great at the moment and his market valuation is pitted at €12m.
Them other terms that complete the list includes Pellegrini valued at €12m, Salcedo valued at €9.5m, then Gabbia also valued at €9m, then finally Espostito valued at €9m.
How do you rate Italian Youngster
Content created and supplied by: Soccermania (via Opera News )