In this article we will be looking forward to see One of the greatest of all time Cristiano Ronaldo Goal statistics, goals He Scored Before Turning 30 years and Dine Turning 30 years Old.
Let see how he had managed to achieve this feat.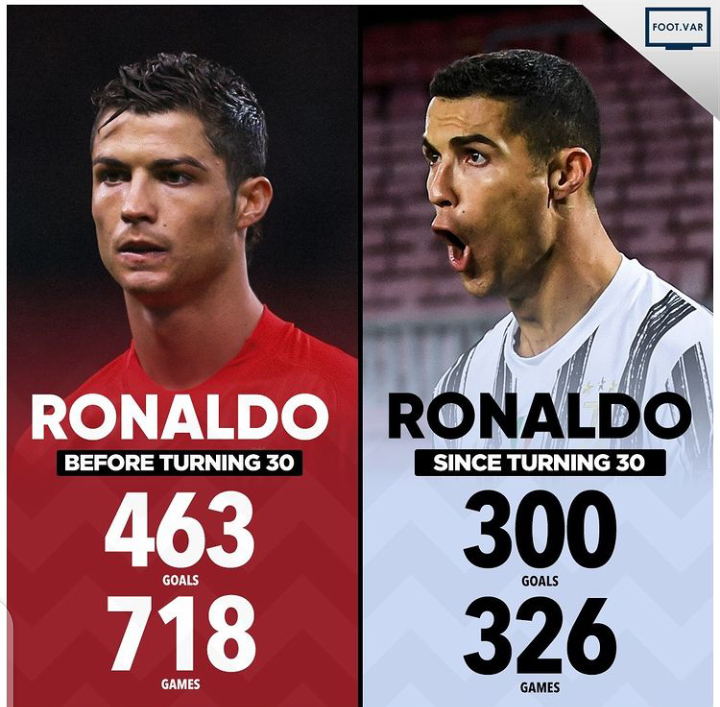 Cristiano Ronaldo is a Portuguese and Juventus player that have been scoring goals for fun recently, what he has achieved is great and believe me he is one of the greatest sportsmanship to exist in this Era, He build his career based on hard work and with that make name for himself in the football world.
Ronaldo before turning 30 years old was one of the best goal poacher in the history of the game, he played a total of 718 games Scoring 463 goals to his name, and after he turned 30 years old he did not seem to slow down his goal conversion rate instead he increased it he scored a whopping 300 goals from 326 games what a record, let hope he will match the goals he scored before turning 30 years old.
What do you like about this great player Cristiano Ronaldo and do you think he can equal the goals he scored before turning 30
Content created and supplied by: Soccermania (via Opera News )