Manchester United and Chelsea could not score a goal as both teams played a goalless draw at Old Trafford.
Chelsea goalkeeper Benjamin Mendy saved Marcus Rashford's shot in a one-on-one situation and Manchester United will be happy not to have conceded a penalty after United's Captain Harry Maguire fouled Jorginho in the box.
Manchester United remains in the 15th spot while Chelsea moved up to the 6th spot on the table.
Below is the EPL Table after Manchester United and Chelsea's goalless draw.
Premier League Table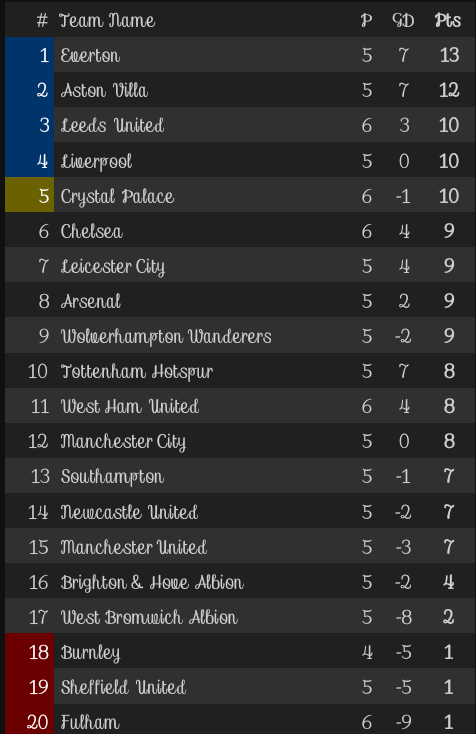 Pos Team P W D L GD Pts
1. Everton 5 4 1 0 7 13
2. Aston Villa 5 4 0 1 7 12
3. Leeds United 6 3 1 2 3 10
4. Liverpool 5 3 1 1 0 10
5. Crystal Palace 6 3 1 2 -1 10
6. Chelsea 6 2 3 1 4 9
7. Leicester City 5 3 0 2 4 9
8. Arsenal 5 3 0 2 2 9
9. Wolverhampton Wanderers 5 3 0 2 -2 9
10. Tottenham Hotspur 5 2 2 1 7 8
11. West Ham United 6 2 2 2 4 8
12. Manchester City 5 2 2 1 0 8
13. Southampton 5 2 1 2 -1 7
14. Newcastle United 5 2 1 2 -2 7
15. Manchester United 5 2 1 2 -3 7
16. Brighton & Hove Albion 5 1 1 3 -2 4
17. West Bromwich Albion 5 0 2 3 -8 2
18. Burnley 4 0 1 3 -5 1
19. Sheffield United 5 0 1 4 -5 1
20. Fulham 6 0 1 5 -9 1
Content created and supplied by: Playfootball (via Opera News )