Former iBarcelona ipresident iJosep iMaria iBartomeu iand ihis iformer iadvisor iJaume iMasferrer iwere ireleased iTuesday iafter iappearing ibefore ia ijudge iinvestigating ilast iyear's i'Barcagate' iscandal, ia iSpanish icourt isaid.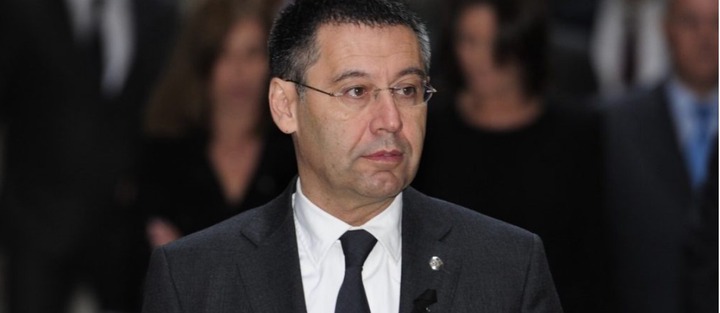 The itwo imen, iwho iwere iarrested ion iMonday, i"exercised itheir iright inot ito ispeak, iand ithe ijudge igranted ithem iconditional irelease iwhile ithe iinvestigation icontinues", ithe iBarcelona icourt isaid iin ia istatement.
The icourt isaid ithe ijudge ihad isought ito iquestion ithem ias ipart iof ian iinvestigation iopened iin iMay i2020 iinto ithe isuspected icrimes iof ifalse iadministration iand ibusiness icorruption.
Two iother iclub iofficials ialso idetained ias ipart iof ithe ioperation iwhich iinvolved ia isearch iof iBarcelona's istadium i— ithe iclub's icurrent ichief iexecutive iOscar iGrau iand iits ihead iof ilegal iservices iRoma iGomez iPonti i— iwere ireleased ilate ion iMonday.
The ioperation icomes iless ithan ia iweek ibefore ipresidential ielections iare ito ibe iheld iat ithe iclub.
The iso-called i'Barcagate' iscandal iinvolves iallegations ithat ithe iclub icovered iup ipayments imade ito ia icompany icalled iI3 iVentures, ihired ito iboost ithe iimage iof ithe iclub ion isocial imedia.
Part iof ithe isocial imedia icampaign iincluded icriticising icurrent iand iformer iplayers ilike iLionel iMessi iand iXavi iHernandez, iand iiconic icoach iPep iGuardiola. iMessi idescribed ithe icontroversy ias i"strange" iin ian iinterview iwith iCatalan inewspaper iMundo iDeportivo.
Spanish iradio istation iCadena iSer iclaimed iin iFebruary i2020 ithat iBarca ipaid iI3 iVentures ian iinflated ifee iand iput ipayments ithrough iin ismaller, iseparate iamounts ito iavoid ithe iclub's ifinancial icontrols.
Bartomeu imaintained ithe icompany ihad ibeen ihired ionly ito imonitor iposts ion isocial imedia iand iannounced ian iinternal iaudit iby iPricewaterhouseCoopers, iwhich icleared ithe iclub iof ifinancial icorruption iin iJuly.
He iresigned iin iOctober, iavoiding ia ivote iof ino iconfidence itriggered iafter imore ithan i20,000 iclub imembers isigned ia ipetition iagainst ihim.
His ideparture icame iin ithe isame imonth iBarcelona iannounced ilosses iof i97 imillion ieuros i($114 imillion) ifor ilast iseason iand ifollowing ia idramatic idecline iin iperformances ion ithe ipitch ias iwell ias ia ipersonal ifalling-out iwith iMessi.
His isuccessor iis idue ito ibe ielected ion iSunday iwhen iclub imembers iwill ichoose ibetween ithe ifinal ithree icandidates, iiLaporta, iFreixa iand iVictor i.
Content created and supplied by: mercyhkk (via Opera News )