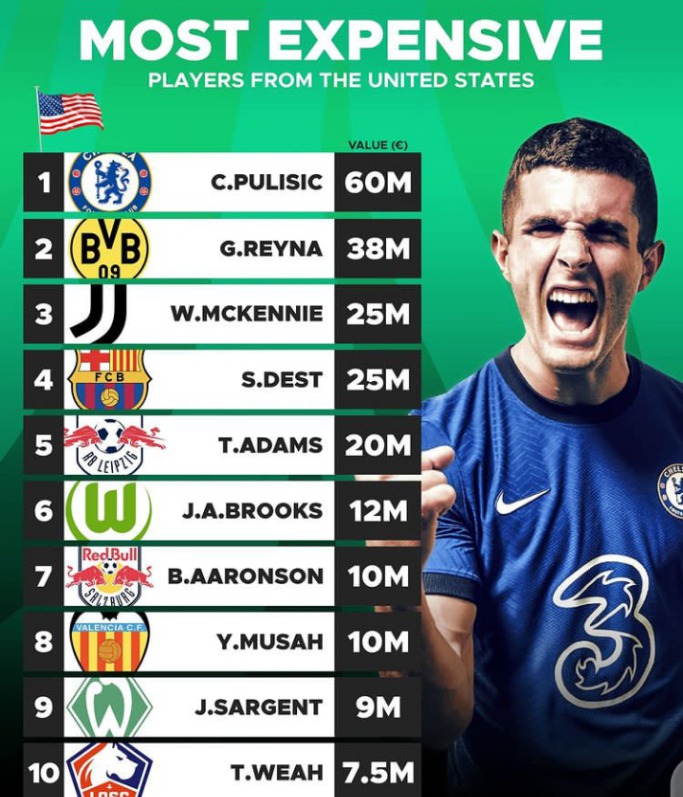 In this article we will be writing briefly on the most expensive players from the united States
Here are most expensive players from the united States and how much they value
Christian Pulisic: plays for Chelsea, valued 60 million pounds, G. Reyna: plays for borussia Dortmund, Valued, 38 million Euros, W.Mkennie: plays for Juventus, Valued 25 million Euros, S. Dest: plays for Barcelona, valued 25 million Pounds, T. Adams: plays for RB Leipzig, valued 20 million pounds, J.A Brooks: plays for Wolveburg, valued 12 million pounds, Y. Musah: plays for Valencia, Valued 10 million pounds, J. Sargent, Valued 9 million pounds, T. Weah: plays for Lille, Valued 7.5 million pounds.
Timothy Tarpeh Weah is an American professional soccer player who plays for French Ligue 1 club Lille and the national team of the United States as a striker.
Yunus Dimoara Musah is a professional soccer player who plays for Valencia CF, the Spanish club. He can also play as a central midfielder, primarily a right winger.
Content created and supplied by: Chidubem4343 (via Opera News )