The COVID-19 pandemic came like a thief in the night and it's robbed football aficionado off their favorite sport, same as the players and everything that makes the round leather game the sport of interest to many.
Before the football season was halted due to the deadly virus that has taken the world by storm and its effect has affected the progress of all footballing activities, quite a number of prospects were beginning to show the world of football what they are capable of in their respective clubs.
One interesting thing about all of this players is that some of them are in their early twenties, while some are even not up to that yet, and they all started the year further in terms of playing time with their respective clubs, but as the months went by they stepped up and they went straight into the starting line up of their team to became important players.
Let us take a look at some of this players, based on how well they've fared so far with the little time they've spent getting into the starting XI of their respective team, starting with the young Norwegian Martin Odegaard , he joined Real Madrid in 2016 from Stromsgodset at just 15 years of age, Odegaard had already made his international debut with Norway.
Getting to Real Madrid, due to the arrears of stars in the team and coupled with his age, he had to play for the Castilla, before he went on loan at the Netherlands with Heerenveen before joining Real Sociedad on another loan deal, the Norwegian playmaker has been the brain behind the swashbuckling football Real Sociedad plays this season, which has led them to the Copa Del Rey final having dumped out Real Madrid.
As its stands, the 21 years old has scored 4 goals and provided 5 assists with 11 matches left in the Spanish top-flight league, an impressive performance that has risen a lot of questions if the young star should return to Santiago Bernabeu due to his blistering form with Sociedad.
1.Federico Valverde / Rodrygo
Another player that comes closest to mind is Federico Valverde, the young Uruguayan has become one of the first names on the team sheet of Zinedine Zidane this season, his physical attributes have complemented some of the experienced players in Zidane's midfield.
Rodrygo goals have also shown his talent this year with the kind of form and performances he has dished out the Bernabeu fans, the Brazilian is just in his first season in Spain with Madrid playing with the Castilla, and he has managed to 7 seven goals this season 4 in the champions league for the senior team.
If the pandemic had not affected the league season, perhaps the Brazilian could have gone on to be an important player for Real Madrid going forward in the season, though Los Merengues have a plethora of young talents at the club now, however, Valverde and Rodrygo impressive performances have shown they can be trusted.
2.Ansu Fati / Yeray Alvarez
Moving forward on this is another player that defies the tag prospect to become a superstar in just a year is Ansu Fati, the Barcelona young star has also shown his ability this year when he was called upon by their former manager Ernesto Valverde before he was sacked.
The 17 years old is currently experiencing a similar campaign to what Vinicius Jr's had last year and perhaps this season to some extent, but with more goals compared to Vinicius Jr's. This season before the football calendar went on a compulsory holiday due to the pandemic Fati has scored 5 goals and provided one assist in 24 matches across all competitions for the Catalans.
Yeray Alvarez of Athletic Bilbao is another player currently having a wonderful season with the Basque side, Alvarez his one of the best upcoming defenders in Spain, and he has shown he can be trusted with his excellent displays which have been key in Bilbao's getting to the final of the Copa Del Rey.
Valencia is currently enjoying the form which the young Spaniard is in now, he has become a regular player which has even made him been by another big club side in Europe.
3.Ferran Torres
Ferran Torres has played over 2,622 minutes across 35 games scoring six goals , two of those goals are in European competition, so with all of his performances for Los Che, it's crystal clear that Torres his going to be a player for the future for Valencia.
4.Haaland
For Borrusia Dortmund, Erling Haaland has hit the ground running for the Yellow Walls since he joined from Salzburg in Austria, the 19 years old has scored 12 goals in 736 minutes for Dortmund this season, perhaps if the Bundesliga hasn't been put on hold he would have scored more goals, hopefully, if the Bundesliga resumes back Haaland would definitely paint the league blue-black with goals.
5.Martinelli
Gabriel Martinelli for Arsenal is another young talent that has also defied the tag prospect to become a superstar in just a year, the young Brazilian has scored 10 goals in 1,463 minutes for the Gunners at just 18 years of age , elsewhere in France is also Ryan Cherki just 16 years of age, he has also scored three goals in 453 minutes for Lyon.
6.Alphonso
Lastly, the two young stars that also comes to mind are Bayern Munich's left-back Alphonso Davies and Eduardo Camavinga for Rennes, Camavinga has been very solid for Rennes this season, and his performances for Rennes has sprung up a lot of rumors about him going to Madrid, having played 2,783 minutes for Rennes perhaps if not for the pandemic he would continue improving on his performances.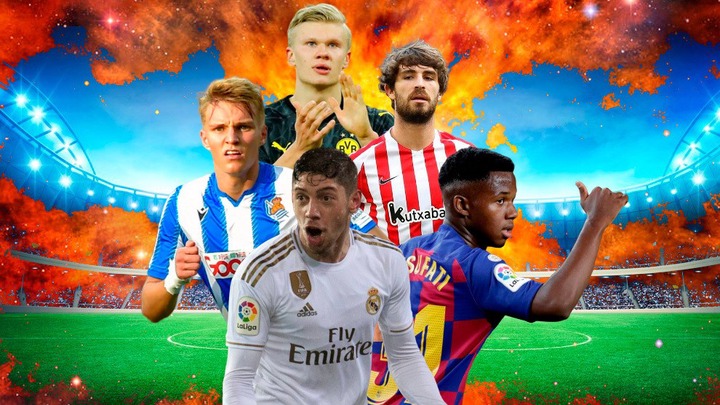 Meanwhile, the 19 years old Bayern Munich left-back Davies has also shown this season both in the league and the champions league that his a player for the future in the Bayern's team.
Though the COVID-19 pandemic issue is still very much on the ground, perhaps if the league's resumes back all of this players will be looking to continue from where they stop due to the virus, while their eyes on the other hands will also be on the 2020/21 season when it's comes to town.
Content created and supplied by: Abdulameed105a (via Opera News )