Liverpool have been really struggling to match up with their level of performance that saw them win the Premier League title last season. Jorgen Klopp broke the record at Anfield to become the only manager in the history of the club to win the English Premier League.
It has been a really tough year for Liverpool who are currently on sixth position on the Premier League table. Liverpool has managed to rack up just 40 points in 25 games this season. It all seem like there title defence isn't going the right way as they are 19points adrift of League leaders, Manchester City.
Liverpool's poor run of form can be traced to their injury problems as the likes of Van Dijk, Matip, Gomez, are all struggling for fitness. It's unrealistic to dream of winning the Premier League title and we can say the title defence is over for them despite having 13 games before the end of the season.
Fans have heavily criticised Liverpool for such a poor defence of the title. However, we need to realise they are not the first team to have a poor year after winning the Premier League title. Mourinho's Chelsea had the same problem after the won the title in 2014/15. According to statistics, Liverpool has had a better year in terms of title defence than Chelsea had in 2015 under Mourinho.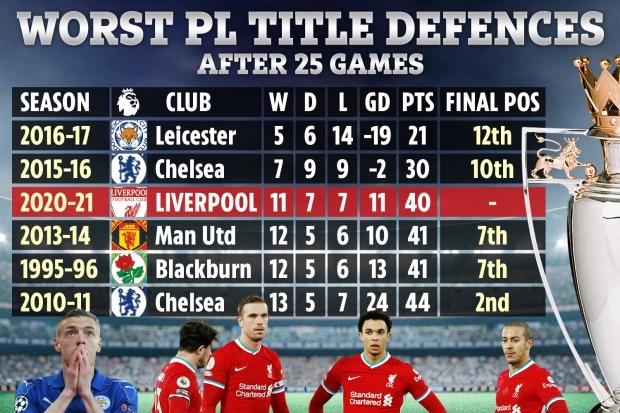 Chelsea managed 30 points in 25 games in their title defence season under Mourinho. With Liverpool on 40 points already, I think they deserve more respect than what they're getting at the moment.
Content created and supplied by: Fijey2020 (via Opera News )