Everton came from behind twice to maintain their unbeaten start to the Premier League as they drew Liverpool this afternoon.
Chelsea also drew Southampton in a very interesting game that ended 3-3 at Stafford Bridge.
Despite Everton draw against Liverpool, they are still sitting on top of the EPL Table while Liverpool are in the 2nd spot. Chelsea are in the 6th position.
Below is the EPL Table after Liverpool and Chelsea Games
Premier League Table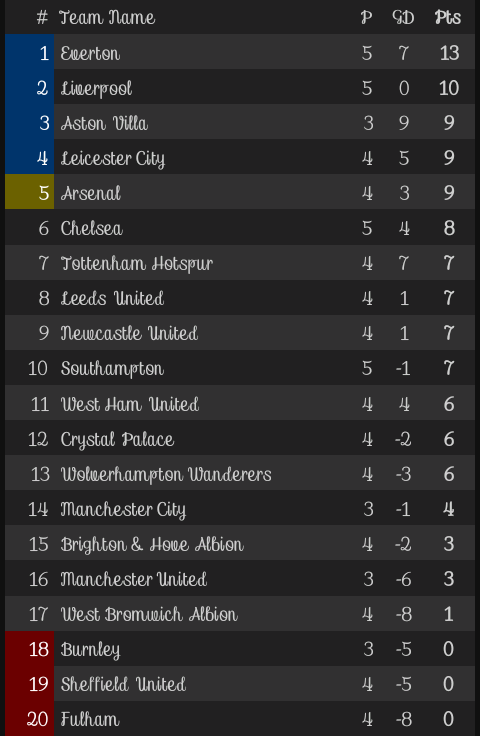 Pos Team P W D L GD Pts
1. Everton 5 4 1 0 7 13
2. Liverpool 5 3 1 1 0 9
3. Aston Villa 3 3 0 0 9 9
4. Leicester City 4 3 0 1 5 9
5. Arsenal 4 3 0 1 3 9
6. Chelsea 5 2 2 1 4 7
7. Tottenham Hotspur 4 2 1 1 7 7
8. Leeds United 4 2 1 1 1 7
9. Newcastle United 4 2 1 1 1 7
10. Southampton 5 2 1 2-1 6
11. West Ham United 4 2 0 2 4 6
12. Crystal Palace 4 2 0 2-2 6
13. Wolverhampton Wanderers 4 2 0 2-3 6
14. Manchester City 3 1 1 1-1 4
15. Brighton & Hove Albion 4 1 0 3-2 3
16. Manchester United 3 1 0 2-6 3
17. West Bromwich Albion 4 0 1 3-8 1
18. Burnley 3 0 0 3-5 0
19. Sheffield United 4 0 0 4-5 0
20. Fulham 4 0 0 4-8 0
Content created and supplied by: Playfootball (via Opera News )