Manchester United are one of the best team in the works and believe me what they have achieved is great.
we will be seeing their next 6 matches and see how many Matches they can win from it.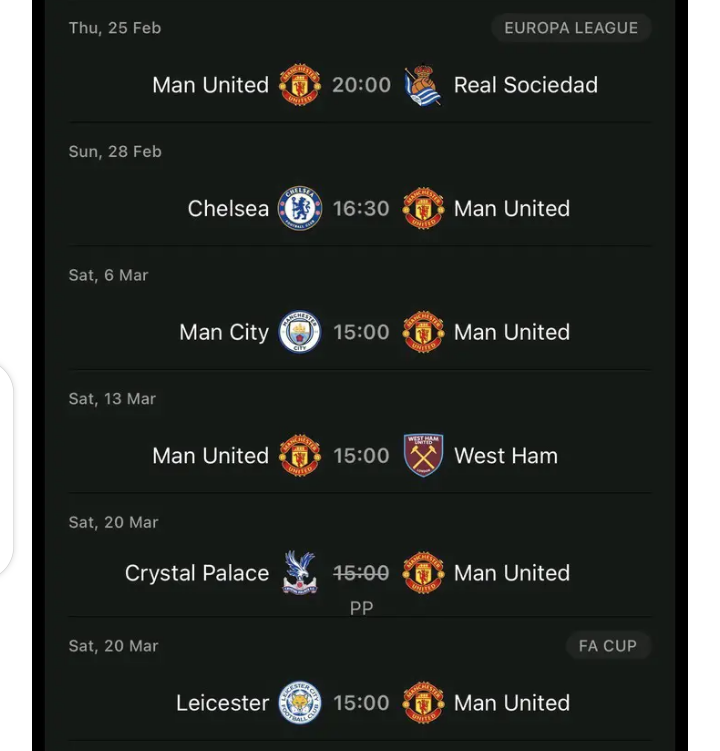 Manchester United will be facing Real Sociedad in the second leg after playing 4-0 in the first leg and thus one might be a formality, well they will be looking forward to see this game out .
Then after they face Chelsea and this will be the toughest Match and Manchester United winning this one will dent Chelsea hope to pursue Champions league slot,Expect anything from this match.
Then after they will face Manchester City who are Undefeated in 18 games and comfortable sit at the summit of the table with 10 point adrift Manchester United.
Then West Ham is next online and the hammers are 4th in the table standing showing how strong they are , anything us possible between this two teams.
Then their last two matches will be Against Crystal Palace and then Leicester City, well this 6 matches are all very strong on the break but they will take each match step by step.
How many point can they get from their next 6 matches
Content created and supplied by: Doncally2kk (via Opera News )