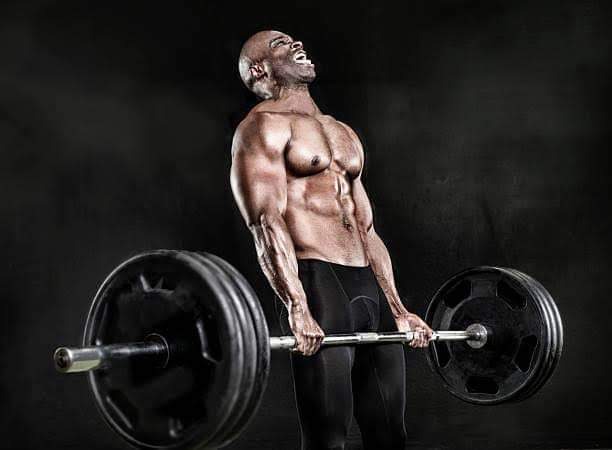 About three days ago, after spending a better part of my day indoor I decided to stretch my legs.
I put on a shot and a shirt took a stroll with no direction in mind, after walking a few meters from my house, there and then I saw a group of guys exercising.
But It's wasn't the usual kind of exercise, It was weight lifting.
So, I decided to stay and watch them challenge themselves with the different weight lifting gadget they had in stock.
I was having fun until one of them motivated me to join. Anyways, I refused but a lazy teenage boy I use to know some years back walked in and opted to join them and i whispered to the guy next to me who appeared like one of those WWE wrestlers  " if that guy lift this weight, walahi I go lift am too"
And immediately, another guy standing by my right said "no think o" how did this one even hear what I just said was exactly what popped in my mind.
However, I didn't understand what he meant by the phrase "no think o" until the teenage boy before my own very eyes gave me a shocker.
He didn't just lift the bar and he lifted the weightiest bar. For a seconds, truthfully speaking, I appeared lost, I was dumbfounded. 
A short while I stepped out to fulfil my promise, my heart was beating what kept ringing in my head as the motivation was "guy no fall your hand o"
When I eventually placed my hands on the weight bar, applying all the strength I could afford, I successfully lifted it slightly above my shoulder however, I got stock at the mid level. No way up nor down thank God the hefty guy came to my rescue. 
For a moment, I couldn't feel myself. It's days after the event now but I still feel the pains in my muscle.
You know what the young teenage boy told; "Bros na 2day two years no be beans"  He said, " I have been coming to this weight lifting center for the last two years" 
This reminds me of David who stood before Goliath what everyone saw was the skinny small David before the mighty Goliath but those who knew David before knows he has been practising somewhere.
Mr. Jiro the man who makes the best sushi in the world has an interesting story, you know the story?
With a little shop some where in the basement of a building in Japan, leaders from across the globe travel far and wide to come and buy sushi from him.
Mr. Jiro has superseded the 10,000 hour rule by Gadwell.
Mastery is a game of practise and consistency. It is not a function of size or age. Spend more time practising, perfect practise is the cure to poor performance.
Those who sweat more in practise bleed less in battle. When you are garnering the mindset of becoming an omniscience in your industry you should be thinking of how you would practise more than just delivering result.
That is why Usain Bolt would spend 4 years practising for an Olympic of 2 weeks.
#inspire_me
#Godchaser
©Uche Festus
Content created and supplied by: FimTvBlog (via Opera News )