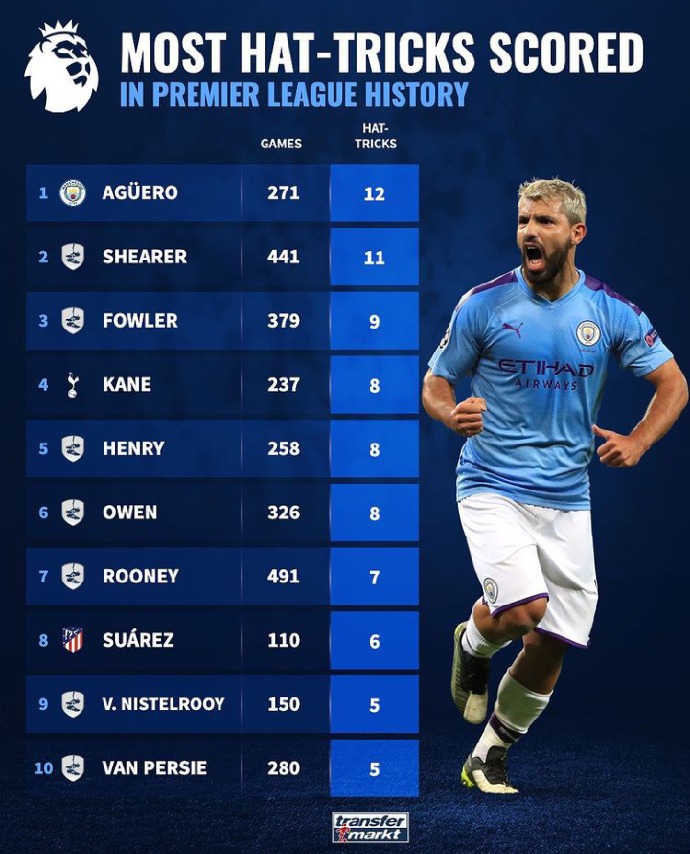 Sergio Aguero would be leaving Manchester city this summer. The Argentine would be leaving as a hero, this is because he scored the most premier league goals in history. The Argentine scored the most Hat-tricks in premier league history. He scored 12 in 271 premier league games. The only player close to his figures is Alana shearerz he scored 11 hat-tricks in 441 games.
The third player on the list is fowler, he scored nine hat-tricks in 379 premier league games. Three players scored eight hat tricks in premier league history, they includes Michael Owen, Harry Kane and Thierry Henry. Kane is still active in Premier league and he scored his eight hat-tricks in 237 games, while Henry and Owen scored Thiers in 258 and 326 Premier league games.
Wayne Rooney is ranked 7th on the list, the former Manchester united player have scored Seven hat tricks in 491 games. Luis suarez is the next player on the list, he scored an incredible 6 hat-tricks in 110 premier league games. Van persie and Van Nistlerooy scored 5 hat-tricks each in 150 and 280 premier league games respectively.
Content created and supplied by: valentinoigwe (via Opera News )