On August 16, 1951, Dr. Hadar Gabbai heard a knock on his door. When he opened it, he was greeted by an alarming sight: A nearby farmer, wildly running to and fro, was slapping away a swarm of bees that only he could see. Not far behind him was another patient who complained of snakes devouring his brain.
By that night, 75 residents were hallucinating, most of whom were running aimlessly from invisible threats. Outside the clinic, the people of Pont-Saint-Espirit quickly went wild. One little girl saw tigers chasing her, a man defended himself from monsters, and one married couple tried to kill each other with knives.
One distraught person attempted to jump into the Rhône river, yelling, "I am dead, and my head is made of copper and I have snakes in my stomach, and they are burning me!" His friends saved him, no doubt wondering if they were next. The few who held on to their sanity watched as their home devolved into chaos.
"I have seen healthy men and women suddenly become terrorized, ripping their bed sheets, hiding themselves beneath their blankets to escape hallucinations," the mayor of Pont-Saint-Esprit, Albert Hébrard, said. The few who were able to treat the sick were shocked by their behaviors.
A handful of people found themselves facing much more pleasant hallucinations. Some claimed that they "heard heavenly choruses" and "saw brilliant colors." One man even wrote poems inspired by his divine hallucinations. These lucky patients were in the minority, however, and snakes, insects, and mythical monsters allegedly ran amok throughout the rest of the town.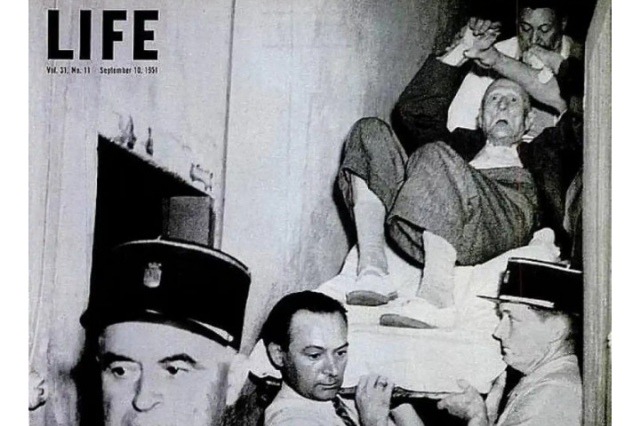 Even weirder, humans weren't the only ones freaking out. Local animals were also reportedly engaging in unusual behaviors, such as eating rocks and walking in strange ways. In total, 250 people and countless wildlife experienced intense hallucinations. But as physicians later realized, these visions weren't the first odd symptoms experienced by the town's population.
Days before the hallucinations began, the afflicted suffered from nausea and stomach pain. Weak blood pressure, faint pulses, cold sweats, low temperatures, and insomnia ran rampant throughout the town. "A state of giddiness persisted accompanied by abundant sweating and a disagreeable odour," the British Medical Journal reported.
Some people only had the bodily symptoms, but many went on to hallucinate, leading to an apocalyptic scene for medical professionals to clean up. Some of the worse-off patients had to be contained in asylums. "Every attempt at restraint increased the agitation," claimed the British Medical Journal.
Though it felt like much longer, the insanity lasted for just a few days before people started to see clearly again. In the end, 300 people were infected, and seven died from their illness. For 70 years, researchers have attempted to determine what caused the sudden freak illness.
And as it turned out, the temporary insanity experienced by the people of Pont-Saint-Espirit in 1951 had happened before. Back in 1816, a population of people in France had experienced similar — if not identical — symptoms, which they deduced was called by a phenomenon called "St. Anthony's Fire."
The conditions leading up to the outbreak of "St. Anthony's Fire" in the 1800s was very similar to that of the '50s: It had been a rainy summer, and wet weather isn't always a good thing when it comes to certain crops. In this case, the rain had seeped into the country's rye fields, altering one of their most famous exports.
The rain caused an unprecedented growth of ergot fungi all over the rye, which was harvested, turned into flour, and used to bake bread at Roch Briand's bakery in Pont-Saint-Espirit. This harmful fungus can reportedly cause stomach issues and yes, hallucinations, though not everyone agreed that this caused the town-wide poisoning.
The president of France's millers' union, Pierre Jacob, was a major detractor of the ergot theory. Pierre explained that the fungus is always in French flour and that its presence wouldn't have been enough to explain widespread hallucinations and sickness. That said, the fallout from the mass sickness was very real and very tragic, even in the time after people recovered.
"The baker did not deliberately poison his clients," Michelle Armunier, the daughter of a man afflicted with the 1951 illness, said. "But because of the suspicions, he had to close the bakery. His wife committed suicide. His life was totally destroyed." Some people chalked it up to ergotism, but others had much more outlandish theories.
Some people theorized that mercury, another type of fungus, or fungicide could have been the culprit. There also may have been contaminants in the water used to make the bread, others argued. As time went on, the theories spiraled out of control, and even started to center on a most interesting subject: the U.S. government.
In his book about the Pont-Saint-Espirit "poisoning," Hank P. Albarelli Jr. linked the illness to the U.S. government's LSD mind-control experiments. The CIA has, in fact, admitted to MK-Ultra, their program for "covert use of biological and chemical materials." Even more compelling, Albarelli allegedly found a CIA document all about the mysterious mass illness.
The title of the alleged document certainly raised a few eyebrows: "Re: Pont-Saint-Espirit and F. Olson Files...Intel Files...Hand carry to Belin — tell him to see to it that these are buried." So who, exactly, is the "F. Olson" referred to in the suspicious file, and why did he want information about Pont-Saint-Espirit to be buried?
Content created and supplied by: Olufhemyy (via Opera News )