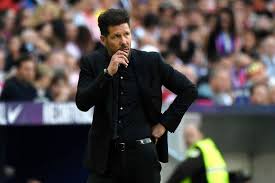 Thomas Tuchel's men have received somewhat a good news as Diego Simeone's side has been dealt an injury blow ahead of their next Tuesday Champions League clash with Chelsea.
Chelsea are scheduled to play Atletico Madrid next Tuesday in Bucharest following a restriction that has forbidden entry into Spain due to the Coronavirus pandemic.
And going into the encounter, Atletico Madrid seem to have suffered a setback as Yannick Carrasco who is one of their key players so far this season, is confirmed to have picked up a muscular injury.
Carrasco who has featured 21 times for the Spanish outfit in all competitions this season now looks all confirmed to miss the Chelsea clash in a bad news for the Madrid team.
However, the recent return of Jose Maria Giminez and Joao Felix is believed to be a respite for Carrasco's absence for the Atletico boss and midfielder Thomas Lemar being given the green light to play is also a boost for the Spanish team.
Lemar who had been positive to the Coronavirus pandemic has been absent from action since early February but is now set to resume action when his team face Levante later today in the Spanish La Liga.
The return of Portuguese youngster Felix is also believed to be a huge boost to Simeone's side because of his forward's creative abilities.
Chelsea are believed to have had enough rest having had no midweek game while Atletico played Levante on Wednesday and are set to face the Valencian club again this weekend.
The Blues meanwhile will be facing Southampton in the Premier League later today before they go head to head with Atletico Madrid on Tuesday night.
Content created and supplied by: OJbase (via Opera News )