Jose Mourinho is one of the most successful football managers all around the world and has once upon a time managed Chelsea football club of England. Mourinho came to Chelsea in 2004 from FC Porto. Mourinho came to EPL and dominated the EPL for two season for two seasons. Won EPL title back to back. On his second return to Chelsea again, he won the EPL title with Chelsea for the third time. Mourinho is regarded as one of the most successful managers in the history of Chelsea football club.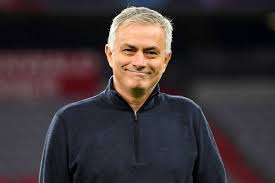 Mourinho who is now the manager of Tottenham Hotspur also experienced sack as a Chelsea manager like so many others.
Mourinho while talking ahead of his side's premier league clash with Chelsea, talked a lot about the present manager of Chelsea, Thomas Tuchel. He said,
"I don't think it's very difficult to coach at Chelsea because I was champion three times, [Carlo] Ancelotti was champion, Antonio Conte was champion. Who else? It cannot be very, very difficult because we win titles there," Mourinho said.
"I believe Chelsea always has great players and great squads and good coaches are happy to work with these clubs and with players that give you a very good opportunity to win titles."
"The biggest challenge for a coach is to work in the best leagues. Our league in this moment is the most challenging one,"
"Tuchel was coming from a league that you cannot compare with the Premier League.
"But he is used to working with players of high calibre, used to dressing rooms with important players. He will fit well in a club like Chelsea."
Dwelling on the statement mourinho made, does it means it was ease for him to win the three EPL titles he won with Chelsea? And if it was ease or if it is ease to win at Chelsea, then why was he sacked? Mourinho just has a way of playing mind football. Apart from trying to hit at Thomas Tuchel, Mourinho was also trying to hit at Frank Lampard who was sacked due to poor results.
What are your thoughts on Mourino's statement? Leave your comments behind.
Content created and supplied by: Amanancy (via Opera News )