Well, they have a common enemy, to begin with.
This goes for the Azerbaijanis.
As for the Jews, it turns out they have certain issues with Armenians. Over the course of Jewish history, Amalek has served as the symbolic enemy of the Jewish people (e.g., Armenians, Palestinians). The ancient Israelites were commanded to "blot out" the memory of Amalek.
The man is very explicit about the closeness to Israel. Azerbaijan should be touching Israel.
Surely, we can go further, recollect what they say about being descendants of biblical Jews, although they claim to be the descendants of the ancient Albanians, and also Turks, even though Russians mention them as Tatars (they should know, they have endured Mongol-Tatar invasions for more than two centuries).
A letter of a Russian diplomat and foreign minister to the first leader of the Soviet Union sounds better than empty words. Meaning, biblical Jews may have been mentioned to emphasize the closeness. So, we'll assume that common interest, which in the case of those two countries may as well be the same goal, is the reason for what was called a warm relationship. And recently they came pretty close to gaining their goal. And this can also mean getting them closer geographically. Perhaps, this is why Azerbaijan was created in the first place.
But this goes a bit farther than the question may require.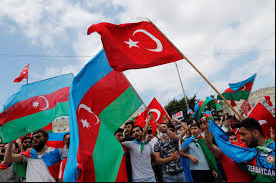 Content created and supplied by: SeyiSamOlu (via Opera News )