Here are the Champions League fixtures taking place this Tuesday.
This month alone has been a month filled with football matches back to back. And just when the Carabao cup is on hold, the Champions league is starting.
I'm sure we are all excited about the Champions League, as we get to see top teams across Europe battle it out on Tuesdays and Wednesdays to know who is the best in Europe.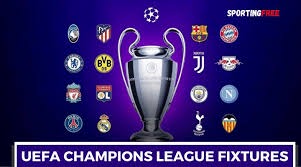 And on the 20th of this month, this Tuesday, we get to see the start of the Champions League games.
On Tuesday, we are going to get to see a total of 8 matches, which two of them are scheduled for 6pm, and the remaining 6 are scheduled for 8pm.
At 6pm, we get to see Zenit Vs Club Brugge and we also have Juventus Vs Dynamo Kyiv, I guess we all know which game we will be watching then, as Ronaldo who has been ruled out of Juve's squad for a while due to coronavirus, will be making his way back into the team right before the match against Dynamo Kyiv on Tuesday.
After the matches by 6pm, we have a lot of matches to select from, as Chelsea will go head to head with Sevilla, Man Utd will be up against PSG, Dortmund will face Lazio, RB Leipzig will also go toe to toe with Istanbul, Rennes and Krasnodar will also face, and finally, Messi side, Barcelona will go against Ferencvaros.
It is definitely going to be a tough set of games to pick from, as they will all be going down by 8pm, but I would definitely love to watch the game between United and PSG, right after I watch Juve Vs Dynamo Kyiv.
On Tuesday, I would also keep you up to date on the fixtures that will be going down on Wednesday.
Content created and supplied by: Karee (via Opera News )