At the heart of every team, there is always a defender which the team is usually built around, who stands as the bedrock of the team, and also stands as the foundation upon which that team is built to flourish and achieve success. Thiago Silva is such, just like what Sergio Ramos meant for Real Madrid and Paolo Maldini for AC Milan during his days.
As such, no matter how good the attack and the midfield of a team is if such team lack a quality defense with a solid defender who is very reliable and also possesses the craftsmanship of a good defender such team will remain fragile, feeble, and very vulnerable for the opponent to take advantage of.
So in other words, any team that wants to achieve success should be able to thrive on a strong, solid, and reliable defense, be it is a full-back or a center-back, one of the primary assignments of a team is to build that solid and reliable defense.
Today in our piece, we will be talking about Thiago Silva the monstrous defender
To football neutrals who don't really know much about the Brazilian center-back, he currently plies his trade in France with Paris Saint Germain. His powers are perhaps on the wane now as he winds down towards the end of his career, but that hasn't stopped him from ditching out topnotch performances for club and country.
For a decade now, he's been one of the finest defenders on the planet. Top defenders who had graced the pitch of play in the past like the great Maldini praised him for his qualities because he's a player who has proven beyond reasonable doubt over years.
Thiago Silva may not be one of the best five defenders in the world right now, at some point, he was one of the undisputed best center-back in the world of football most especially when he won the Confederations Cup with the Selecao of Brazil.
Silva as a youngster, he was admitted into a school at the Campo Grande neighborhood of Rio coincidentally a feeder school for
Fluminense , a club he later played for, at the age of 14 he impressed Fluminense coach Mourinho during a friendly match against Xerem.
Having impressed the manager, he was given a short trial where he was given the role of a defensive midfielder, as playing time was quite difficult to come by for Silva which prompted him to go to other clubs.
In 1999, at age 15 he went to Madureira, Olaria, and Flamingo, but unfortunately for him, he was rejected at each club, in fact, the Flamengo trial especially was nothing to write home about.
After all the clubs he went on trial was not successful, he was spotted by Paulo Cesar Carpegiani who invited him to join RS Futbol in the South of Brazil where he joined in the tail end of 2001. He played professionally for the club in 2002 as he competed in the third division of the Campeonato Gaucho , as things went on the team got promoted into the state second division with Silva.
Following his impressive performances in his last season with RS Futbol as a defensive midfielder, Thiago Silva moved to Juventude where he played for six months at the age of 20.
He transitioned from midfield to defense under
Ivo Wortmann, a member of Brazil's 1975 Copa America squad in his first season with Juventude, he was regarded as the revelation of the season in the league.
As such, Silva was rated as the third-best defender in Brazil by the Sport Magazine Placer, and he was included in the team of the season helping Juventude to make a huge leap in the league position during his stint at the club, from finishing 18th in 2003 to 7th in 2004.
Fortunately for him, his performances caught the eyes of a top elite club in Europe, in the end, he was sold to Porto for €2.5 million in 2004 thanks to Mendes connection, he only played for the reserve team and couldn't play for the senior team.
After a year in Porto where he was already complaining to the medical team about flu-like symptoms, nothing was found in his body. Porto was losing patience with him and he was sent on loan to Dynamo Moscow where he reunites with his former manager Ivo Wortmann.
On getting to Dynamo Moscow, Wortmann attested to how he was shocked when he saw his former player Silva.
"I was devastated when I saw him, he showed up at the box and I barely recognized him, he was all deformed, seemed swollen, had gained over ten kilograms, Wortmannin his last statement said he later found out the cause to be the medicine he had be taking".
Had it been Thiago Silva undergo the medical test as he should have when he was signed by Dynamo, definitely his debilitating health condition would have been diagnosed. Instead, his health condition worsened the more until he returned to Russia after a pre-season tour to Portugal where he looked totally weak, thereafter he was diagnosed with tuberculosis.
Tuberculosis, 'it is an infectious disease of humans and animals caused by a species of mycobacterium mainly infecting the lungs where it causes tubercles characterized by the expectoration of mucus and sputum, fever, weight loss, and chest pain'. It also causes chills, night sweats, intense fatigue, and a persistent cough, more so it's a disease that could take months to correctly diagnose by a doctor.
This may sound harsh, but then Tuberculosis it's a disease that occurs in developing nations, more like a low-income society. Thiago Silva contracted the disease and wasn't diagnosed for six months, very bad, right?
That is exactly how it's difficult to correctly diagnose the disease when he contracted the disease he couldn't visit friends nor go out, so he was been put in a room.
At some point, Russian doctors detected that Silva's was deteriorating, he was confirmed to have a hole in his lung and had to go under the knife. With all of his health challenges, he couldn't kick a ball for a month and was kept in a hospital for nearly a year.
But thankfully his mother didn't allow the surgery to go on, and according to her " Nobody touches my son's body " so with the help of his manager Wortmann and his agent Mendes they were able to carry him out of the hospital in Russia back to Portugal where his recovery started for a disease that could have cut short his life.
In the main time, Thiago Silva returned to Brazil to join Fluminense where he went on to resuscitated his career. During his stint there, he won the 2007 Copa do Brasil, fortunately for him, his impressive performances at Fluminense earned him a nickname 'O Monstro' meaning 'The Monster'.
Following his outstanding performances for the ' Tricolor' he was dubbed the best defender in Brazil, in fact, to show how good he was for the Brazilian side he was also praised by the legendary Nesta, as such he went on to sign for AC Milan winning the Scudetto and Supercopa during his stint with the 'Rossoneri'.
Silva left Milan in 2012 for PSG and he has since played over 204 matches, scored 9 goals, and won every competition for the Parisian , basically the Ligue 1 and other cup competitions.
Though Thiago Silva may have gone through a lot of challenges in the course of his career, he raised above setbacks as he went on to defies an illness that could have cut his life short, to become a well renowned, and a world-class center back who fought hard for his life and career. And up till now remains a well-respected defender in world football.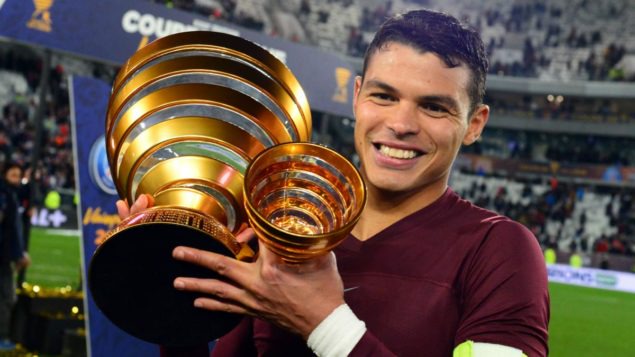 Content created and supplied by: Abdulameed105a (via Opera News )