When you hear the word February two things come to mind: Valentine's day and the UEFA Champions leagues. For football lovers, it's mostly the latter.
We have been looking forward to the next stage (Round of 16) of the UEFA Champions League since last year when we witnessed the end of the group stage. You have to admit that the upcoming matches were very predictable last year when we got to know about them. Between that moment and now, a lot has happened and the UCL matches are no longer predictable anymore.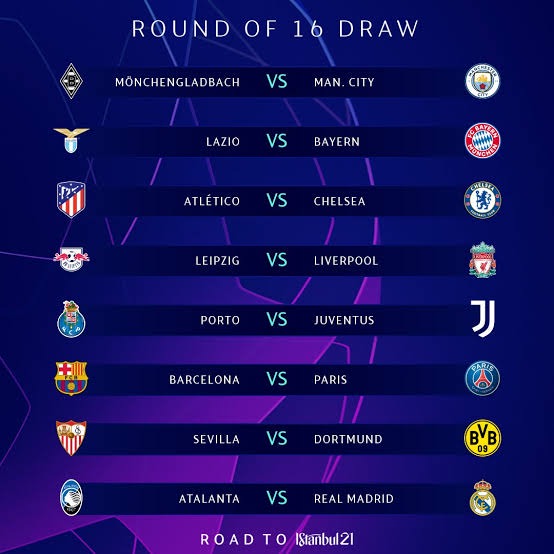 Looking at the UCL fixtures in the picture above, it's obvious that a lot has changed which will surely affect these matches. Some teams have picked up a nice form while others have dropped form, some teams have even gotten new managers. These factors will surely affect the upcoming matches. Here are the matches that have changed drastically:
#1• Chelsea Vs Atletico Madrid
Last year when this fixture was drafted, it was obvious who the favourite to win were. Atletico Madrid were in the form of their lives and winning matches for fun (just as they are doing now). As for Chelsea, they were still under their former coach Frank Lampard and it's obvious that they were struggling which eventually lead to Lampard's sacking.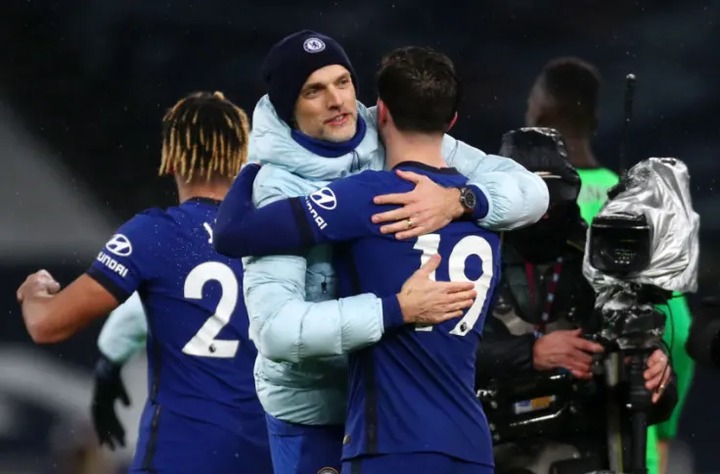 Now, Chelsea have a new man in charge and only a mad man will say that this doesn't improve their chances against Atletico Madrid. Chelsea got a very good manager in Thomas Tuchel who remarkable made it to the UEFA Champions League final last year (even though he was working with more skilled labour 😁). Since he came on, Chelsea have been unbeaten in 4 matches winning 3 of them.
As for Atletico Madrid, they have simply been unstoppable in recent times. They have uncharacteristically been scoring goals for fun with the help of world class new player Luis Suarez. Obviously, this match has become a lot more unpredictable with Chelsea's new coach and new form.
#2: Manchester City vs Borussia Monchengladbach
Back when this match was drafted last year, although Manchester city were favourites, it still seemed like Monchengladbach had a good chance to cause an upset and take something away from that match. This is also something that has changed between that time and now.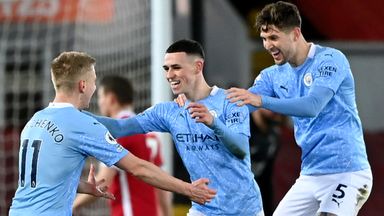 Monchengladbach have been very shaky in their domestic league and that is not a good sign with such a huge match upcoming. As for Manchester City, they are currently top of the EPL table with a 5 point gap and they have won their last 13 matches in all competitions. Monchengladbach players should be shaking at the moment.
Now, it seems quite certain that Manchester city are the outright favourites to come out victorious in that UCL match.
#3• Barcelona vs PSG
Barcelona's next round UCL match against PSG is arguably the only match that nobody would want to miss. It is also among the toughest matches in the next round but it wasn't always this way.
Back when it was drafted last year, Barcelona were struggling a lot while PSG were doing significantly better with Neymar and Mbappe scoring goals left and right. Back then, anybody would have put their money on PSG to win that tie but right now, like we will say in Nigeria: "levels don change oh".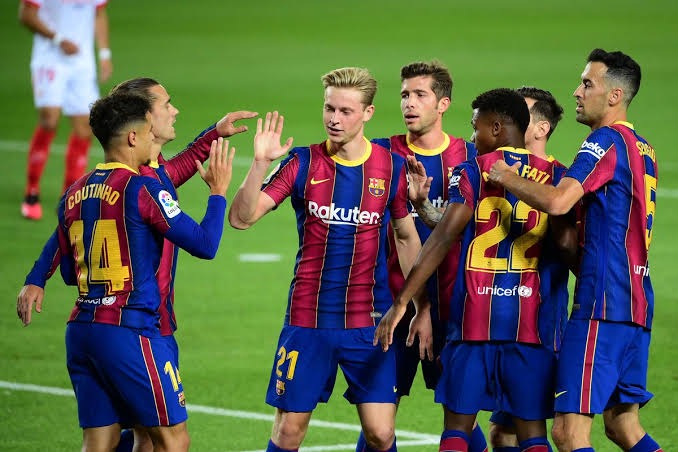 Recently, we have witnessed a ride awakening of this barcel side and they are beginning to play like tow dominant Barcelona sides we have witnessed before. They are now scoring goals for fun with the likes of Griezmann, Messi and Dembele having the time of their lives. If PSG was favourite to win back then, that is no longer the case.
#4• Leipzig vs Liverpool
Back when this fixture was selected, I'm sure Liverpool fans must have been smiling a bit considering that Leipzig were quite terrible and only scraped their way into qualification after that dramatic match against Manchester United. Liverpool on the other hand qualified comfortably and even topped their group back then. Right now though, levels have changed.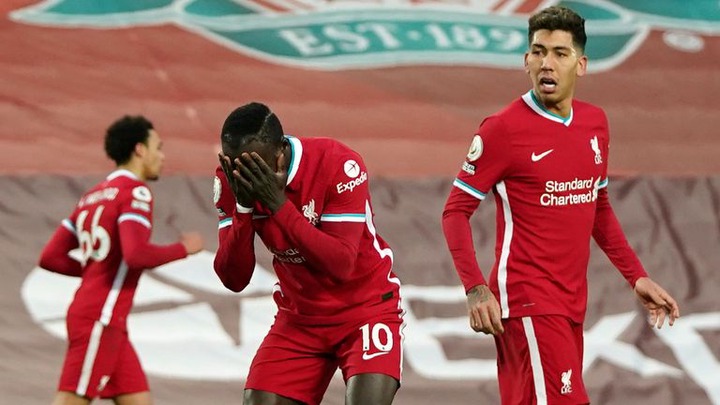 Those who watch EPL know that Liverpool are currently a shadow of themselves. Just recently, they got humbled by Manchester city but that wasn't even the beginning of their poor performances. As a matter of fact, Liverpool are extremely close to being out of the EPL top four. As for Leipzig, they are in relatively better form than Liverpool. They are currently #2 in Bundesliga with the almighty Bayern Munich up top which is quite understandable 😅. Right now, it's safe to say that Leipzig have slowly become favourites to win that tie against Manchester City.
Conclusion
As you can see, it's obvious that there has been a lot of change. There has also been change in other matches but they aren't as major as the ones contained in this post. These changes even increase the anticipation and I'm sure we can't wait for the UCL to resume 😍.
Content created and supplied by: Sam_knows (via Opera News )