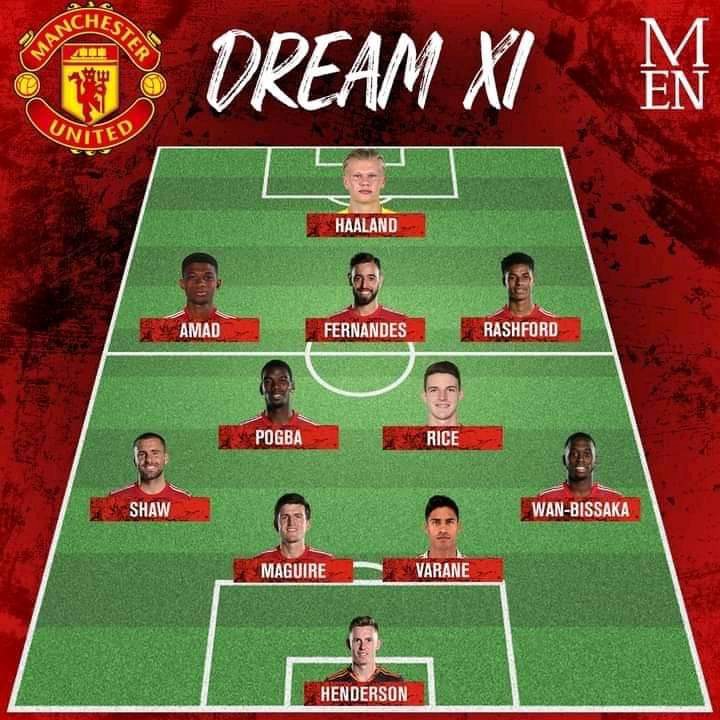 Manchester united season is gradually coming to and end. It's yet to provide anything positive since taking over the club after Mourinho the club has not made any key progress at all.
Ole would be looking to further strengthen his squad for next season. The secret behind Manchester city progress in the premier league is having to invest very well into their team.
And if ole should want to compete with his fellow teams them he would have to upgrade to a higher spending.
The defensive section would need to be reinforced very well in order to provide adequate protection for the goal keeper.
Key Signings United Should make to compete for the premier league next season.
Haaland
Haaland has been on the radar of for a very long time now and the player has been magnificent for the German side Gunner the grace that martial has been nothing but a disappointment for the team this season.
Dortmund might miss the Champions League next season and united should capitalize on that fact and lure the young player away from the club.
Varane
The french man contract would be over at the end of the season and talks about renewal has not been successful either.
Madrid either sale him before then or lose entirely. Either way if a deal is not made varane would leave as a free agent.
Manchester United are lacking this season in the defensive department seeing how the pair of linderlof and Maguire has failed them miserably.
With Varane as the focus man Maguire would have more freedom and less work to do. Varane is gifted with speed and is also good when it comes to Arial balls.
Rice
WestHam very own rice is one of the players ole missed during last season transfer window. And hopefully the club would have to go all out to bring him to old Trafford. Investment here is the key to success there say, the sqaud Depth at Manchester United is not a good site to hold. Yes the Midfield department is overcrowded already. But with Matic way out of his prime a replacement is needed urgently and no other candidates is more suited for the defensive Midfield role like Declan rice.
Given united history in the transfer market would there be able to put their hands in the purse and invest for the good of the club.
Manchester United now have a sport director which has never been done before. The sport director would now handle the business deals in the club.
Should the Glazer's wants the clubs to go further then Woodward needs to focus more on the business part of the club. And leave the transfer to the sorting director to handle.
Since taking over as executive vice chairman of the club the chairman has not had the best of records especially when it comes to united transfers.
Woodward is a good business man yes that one is certain but one thing remains. In terms of football and management of a team he still has a long way to go
Content created and supplied by: Speeding (via Opera News )