In this article we will be looking forward to see How the premier league bottom table will look like after 10 matches, Liverpool will have joined the Chorus.
Let check it out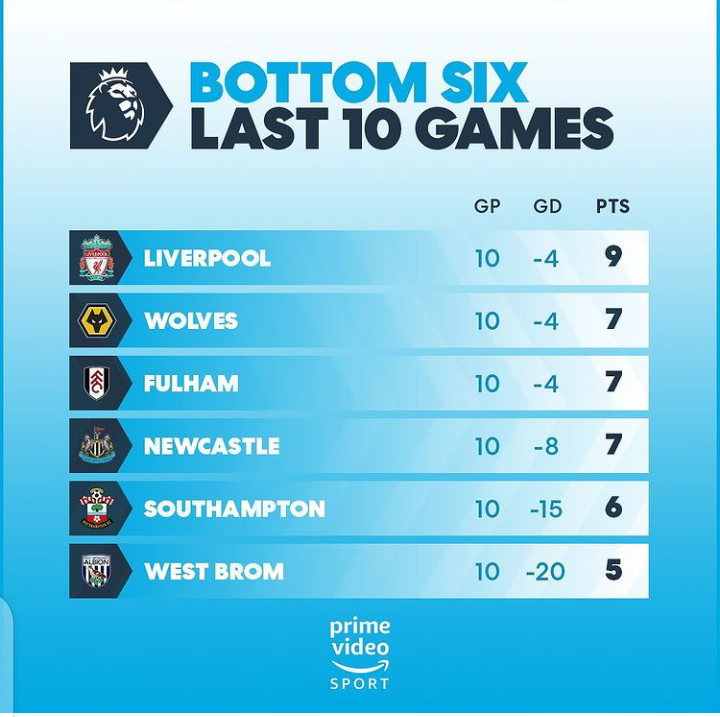 The two clubs That are Relegation bounds Sheffield United and West Brom will still retake their positions, Then Southampton are not Performing well recently, they are undergoing the worst run since making it into this top flight league yet to draw or win any game in their last six matches, and will have been in Relegation zone. Then Newcastle will have also be in the green light they have won 2 of their last three games to start gearing up things after misfiring in their previous matches.
Another club is Fulham, they are not playing at their full potential but they might be fighting to see if they could escape the Relegation this season winning Everton is a massive one, then Wolves are not leaving up to their standard but after winning their last match let hope they will turn round the fortune of things and start showing why that are the most feared club in history.
Then Liverpool and Tottenham Hotspour are not left out, both of them are not living up to their expectations, they have to start making things right, this can be argued to be the worst run if match between this two great coaches and team.
Which club don't deserved to be here
Content created and supplied by: Soccermania (via Opera News )