When it comes to records their is one man names that come to our mind, we will be looking forward to see which player that hold the record of most Knockout UCL goals in the last decade.
Let see how the list stood.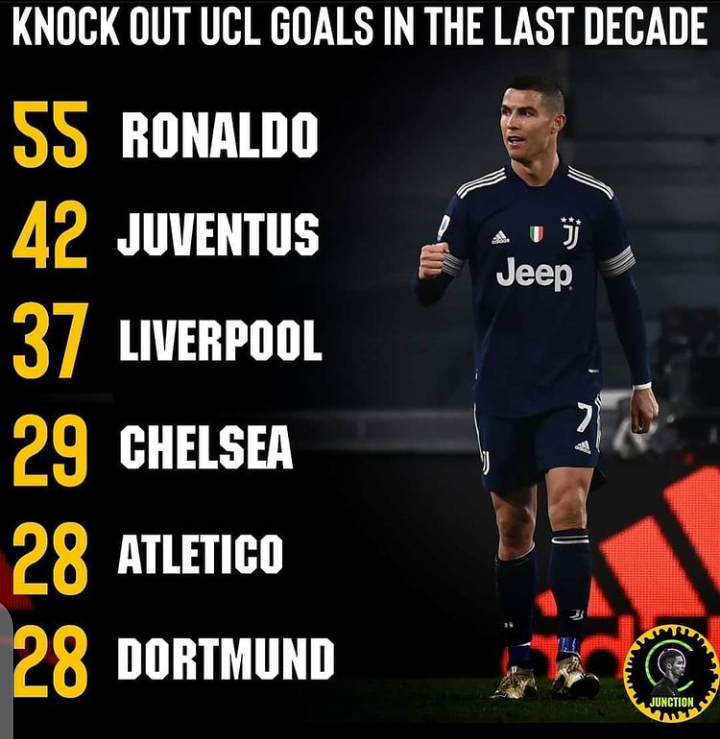 The first name on the list for get hold the records of Most goals in UCL knockout stage is the Portuguese sensational player Cristiano Ronaldo, he is one of the very best player that will make things happens in the UCL Matches he holds many records in this competition he now call his own, he has scored nothing less than 55 goals in this competition, Juventus is second name that has most goals in this competition, they have nothing less than 42 goals to their name in this competition.
Then Liverpool and Chelsea are Two English clubs that make up the list, they have history in this competition and believe me they are one of the best clubs with top goal scorers in this competition, they have scored nothing less than 37 and 29 goals respectively during the UCL Knockout Rounds in the last 10 decades.
Then the two last club that make up the list is Athletico Madrid and Bourssia Dortmund, this two team are equal to the task and have scored more goals during the Knockout Rounds in the Cup Competition, scoring nothing less than 28 goals each in this competition.
How do you rate Cristiano Ronaldo goals tally in this competition.
Content created and supplied by: Cynthiablogs (via Opera News )