Here are some Unbelievable Things Ever to Happen on Football Pitch
1. Armed PAOK owner invades the pitch to kill the ref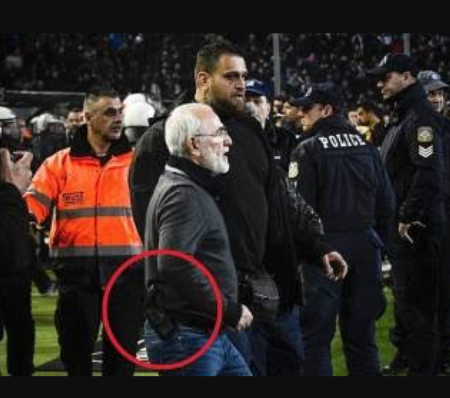 During a Greek Super League game between AEK and title opponents PAOK, a controversial goal was accepted and this prompted a field attack by one of the club proprietors having a firearm to invade the pitch. It happens that Fernando Varela scored a goal in the last minute and the referee denied it as offside prompting PAOK's proprietor, Ivan Savvidis to enter the pitch with firearm
2.Brazilian goalkeeper checks his phone during the match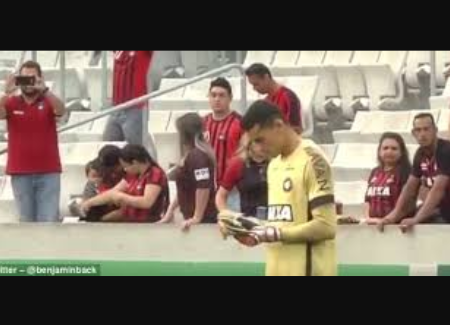 In Brazilian Serie A match, Paranaense goalkeeper pulled out his phone seconds to kick off to check for missed callas and who knows maybe he was checking for missed calls or messages.
3. Dog makes incredible save during soccer match
In a match between Unida and Defensors e Balgrano, it happens that the ball headed got toward Balgrano keeper post without keeper in the goalpost. fortunately, a dog strayed over the pitch and stop the ball from entering into the net
The French referee who kicked out at a player during a Ligue 1 game
During a Ligue 1 game between PSG and Nantes, Tony Chapron crashed into Diego Carlos and yet as Chapron hit the turf, the referee Doego kicked out at the Nantes player and then red carded him still.
4. The referee whose teeth fell out and couldn't blow to finish match
In a Danish game between Ebeltoft faced Norager that were driving 4-3 with seconds to the end of the game, Ebeltoft went on the offense and as they started attacking, ref Henning Erikstrup went to blow the last whistle to end the match. However, his dentures fell out as he went to blow the whistle implying that no noise provided and the game proceeded as usual. Ebeltoft found the back of the net to make it 4-4 when Erikstrup discovered his dentures and set them into his mouth. Erikstrup prohibited the goal, giving Norager a 4-3 win. Ebeltoft's protests were denied.
5. Player Yellow carded a ref
Paul Gascoigne playfully yellow carded a ref. Be that as it may the ref didn't count it as funny and Dougie Smith booked him since it was the tenth yellow card of the campaign for the player, he lost two next matches. Everybody truly accepted he would have laughed off with the player yet he thought in another way in the event that he went over any Rangers fan who may have complained.
Content created and supplied by: Shezzman (via Opera News )