Manchester United are one of the best team in Europe, what they are doing now is break taking and they are one of the top clubs that are currently operating successful when it comes to transfer.
Let see which player they snap from sporting Lisbon is the best in their Transfer history.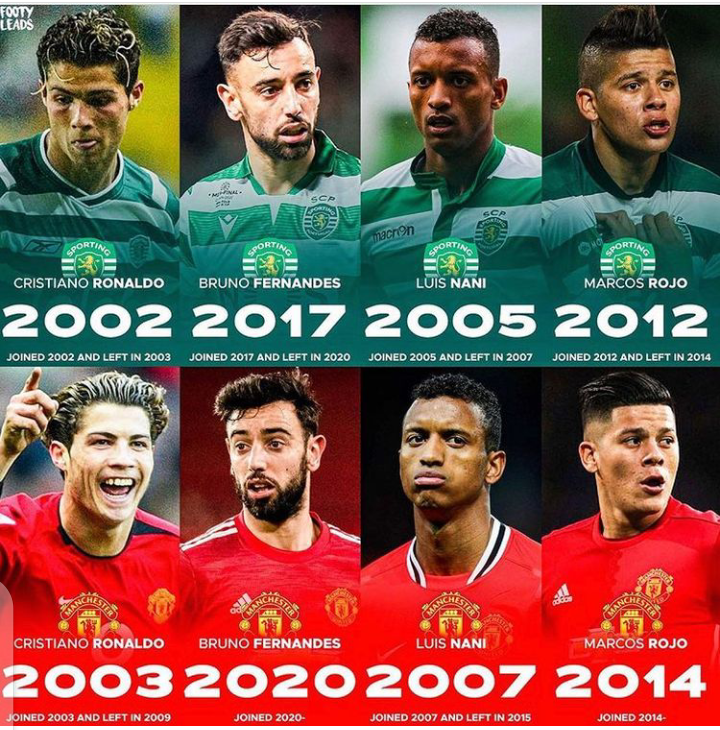 The first player they snap up from sporting Lisbon is Cristiano Ronaldo, the Portuguese sensational is great and during his spell with Manchester United he make things happen and even went to the extent of winning the biggest individual price in Europe, world best player, he made his move during 2003 season and played for the club 6 years before joining Real Madrid.
Another player they snap up from sporting Lisbon is Bruno Fernades, the Portuguese Sensational is following the foot steps of his Compatriot C. Ronaldo, he is great and what he is doing with the team now is also greats, he signed for Manchester United in 2020 and since then he has not tasted defeat while playing on away games, he has Scoop PFA on 4 different occasions and also has the highest goal combination since his arrival.
Luis Nani is another sporting Lisbon player signed by Manchester United during The 2007 campaign, he did well for Manchester United during his playing time with the clubs.
Then Marcos Rojo is another's talent signed by Manchester United during the 2014 season, he did great for the club until his injury crises.
Which players is the best signing Manchester United got from Sporting Lisbon
Content created and supplied by: Cynthiablogs (via Opera News )