The table below, the possible outcome for the midweek games in premier league. It's going to be an interesting week as many clubs are expected to top the league table.
The Manchester United would be facing the Southampton today at the Old Trafford and from the table, it Was wished for the two teams to play draw.
The Manchester City who are in the Top of the league table are expected to play 3-0 against Burnley despite the fact the Burnley are the one hosting the Manchester City.
The Chelsea would be facing the Tottenham Hotspur at the home of the Tottenham on Thursday and the possible outcome, Tottenham were expected to thrash the Chelsea 2-0.
Arsenal would be facing the Wolves as the Wolves would be the host in the arch AD Fri the possible outcome, the Arsenal were expected to win the Wolves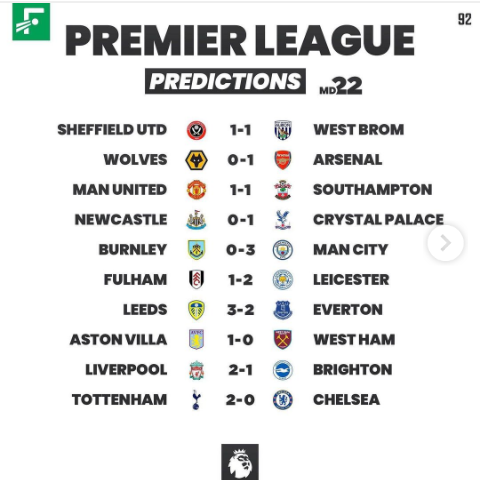 What's your opinion towards this, do you think this posdible outcome from the table above would come to stay?
Content created and supplied by: Challyboy (via Opera News )