Dear Future Wife: This is my second letter in less than 30 days. I'm sure you got my first letter dated 26th January 2021. Perhaps, you are too shy to reply.
Since it's an open letter, most people probably read it before you. However, it is worthy to note that; they wondered why a letter of such magnitude wouldn't state how much is in my bank account or how many properties I own. But I am certain that, I am not obligated to declare my assets in a pre-conjugal bliss of this calibre. 
Some also wondered why a letter with such imperative angst wouldn't appropriate for my penile agility and eloquence. This is preserved for your future reservation, as I am bent on studying your sexual needs and expectations so we could climb the herculean hill together. 
Interestingly, the main purpose of writing this second letter is to ablest you of your future duties in our home. 
To be harmonious in our union, I have decided to assign all small decisions to your care while I will be in charge of big decisions. 
Some of your small decisions/duties are as follows: "you will be in charge of approving who should visit or live with us, you will be in charge of family income and disbursement, you will also be in charge of determining whether we should have 4 children or not. 
These are some of the few small decisions you will be taking in our home ."On the other hand, I will be in charge of the following big decisions: "I will decide whether the USA and Israel should/or should not go to war with Iran, whether China should have a better trade deal with the USA or Africa, is entirely my decision. I will also decide whether the Atlantic Ocean should be channelled to the desert.
I will take decisions on who should be the future presidents of Nigeria, the USA, Canada, France and Germany (Chancellor) since we will be frequenting those countries. 
My decision will also be final on who should be crowned the next champion of the World (FIFA), UEFA Champions League, EPL, and African Nation's Cup.
I look forward to having a congruential-matrimonial union with you in the future. Feel free to reply at your convenient time. 
Attached is my CV, please feel free to reach me at any time with the contacts supplied. Your husband-in-waiting was made for you.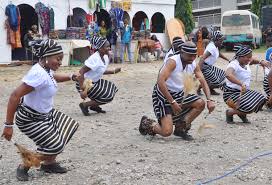 Content created and supplied by: Bonpikin (via Opera News )