The table below, shows Liverpool next four matches after they played their last game against Chelsea In their mid week game.
The Liverpool who are popularly known as the Reds. Recently, they are not majoring up in premier league competition. They have lose most of their matches and against Chelsea in their last game, the Chelsea won them with just a goal.
The Liverpool needs to readjust o see if they would make it to champions league next season by securing a top four finish.
The table shows their next four premier league games the big question is how many points can they get from it.
The will be facing Fulham at the Anfield this weekend. They need to get back to their winning form and collect three points from the Fulham.
They will be facing Leipzig in their second leg in Champions league competition do you think the Liverpool will qualify for the champions league round of sixteen with their current form?
They will be facing wolves in the Premier league after their champions league game followed up by Arsenal.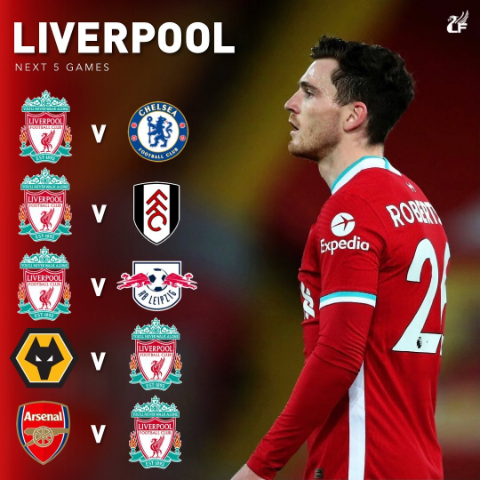 How many points can they get in their next Three premier league matches.
Content created and supplied by: Challyboy (via Opera News )