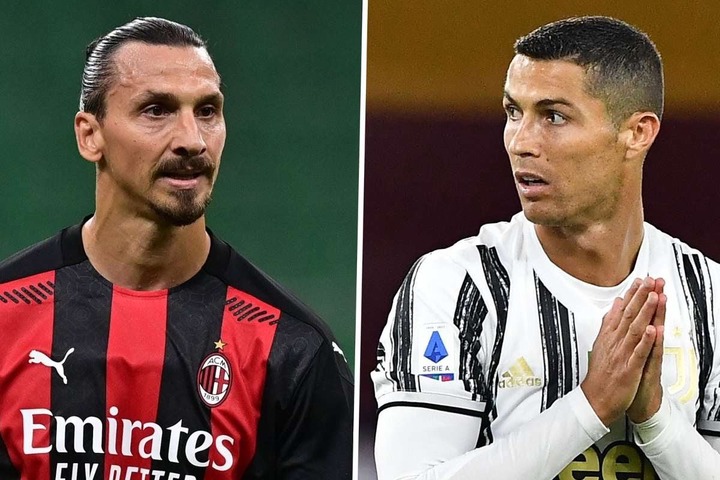 The Serie A campaign has already started and this season will be thrilling with a lot of excitement with AC Milan leading the table and current champions Juventus are 5th on the table. This season's Serie A campaign will be entertaining with a lot of competitions from teams like Inter Milan, Atalanta, Roma and Lazio all battling for a spot in the top four.
Meanwhile Zlatan Ibrahimovic has started the season in fine form scoring 4 goals in the league. He has made great impact in the Serie A since his arrival last season than Cristiano Ronaldo.
During the January transfer last season Ibrahimovic came to AC Milan, according to him he wanted to save the club from their current disaster and compete for the title. He scored 9 goals in 20 appearances for AC Milan and he is on it again this season to win the golden boot. According to him if he was there at the beginning he would have scored more goals than he did last season.
Cristiano Ronaldo on the other hand has scored 68 goals in 90 appearances in all competitions and still has a chance of winning his first Serie A golden shoe. But as it stands Ronaldo don't have what it takes to win it, he would have won it when Ibrahimovic hasn't come to AC Milan but now he is here in Serie A Ronaldo don't stand a chance of winning the golden shoe.
Ronaldo has won the ballon d'or, European golden shoe and also the Champions League but this time he isn't winning the Serie A golden because he doesn't have what it takes to win it.
Zlatan Ibrahimovic has more chances of winning the golden shoe instead of Cristiano Ronaldo and also winning the league, he is here to compete with Ronaldo and will do all possible means to win.
Kindly like and follow my page. You can also share your thoughts in the comment section.
Content created and supplied by: itzmarshal785 (via Opera News )