Let take a look at clubs that spend more During the January Transfer Window.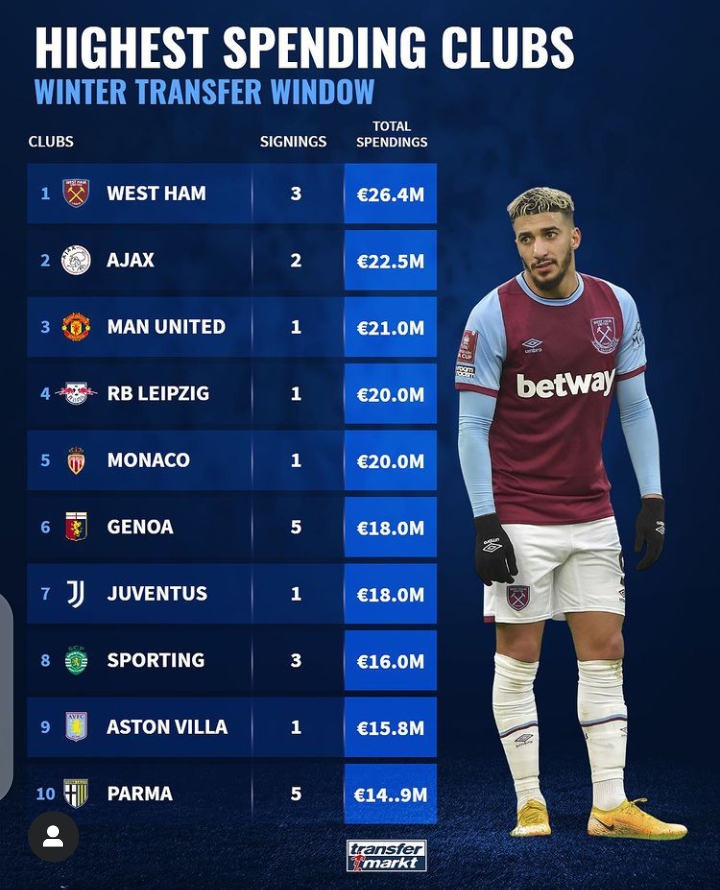 West Ham spend more during the January Transfer market adding 3 players to their rank, Splashing almost €26m at the process, Ajax is second club that splash the cash during the winter transfer window, they Signed only 2 players and pay €22m for their services, then Manchester United follow suit as they add only one player among their rank and they splash around €21m to get their man.
Then Leipzig is another club that get their man during the January Transfer Window signing him for a fee of €20m, then Monaco and Genoa are not left out as they added 1 and 5 players respectively Splashing a cash amount of €20m and €18m respectively, then Juventus is another club that signed 1 player last winter season splashing out €18m.
Then Other clubs that spend high in the January Transfer Window includes Sporting Lisbon they signed 3 player at a cost of €16m, Then Aston Villa they signed one player at the cost of €15m and then Parma signed 5 players at the cost of €14m.
Who get the best deal
How do you rate this transfer
Content created and supplied by: Doncally2kk (via Opera News )