Cristiano Ronaldo vs juventus (2018)
In the Champions League, Ronaldo has a habit of scoring goals, but I bet he didn't see this one coming. All was flawless about this goal; the timing was perfect, the execution was fantastic. Also, we should not forget that this was against a certain youth team and a certain Gigi Buffon. By jumping an amazing 7 and a half feet to achieve that goal, Ronaldo utterly defied gravity. Completely magnificent stuff!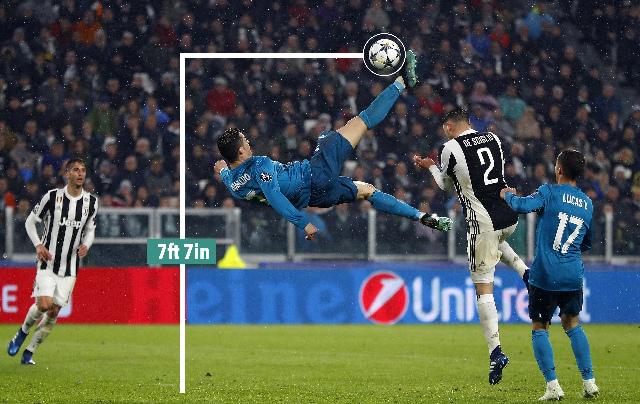 Zlatan ibrahimovic vs England (2012)
If Ronaldo is the Champions League king, then Ibrahimovic's Zlatan must be the king of crazy goals. That stunner was in an international friendly match in 2012 against a certain England national team. That day, Ibrahimovic scored 4 goals, but that was by far the pick of the bunch. After English goalkeeper Joe hart rushed out to head a through ball from the Swedish side, Ibrahimovic spotted an open net, he would live to regret the decision 15 seconds later as ibrahimovic did the impossible out of a whooping 35 yards out. The only reason this isn't top of our list is because the game was just a friendly competition. Hats off! Hey, Zlatan!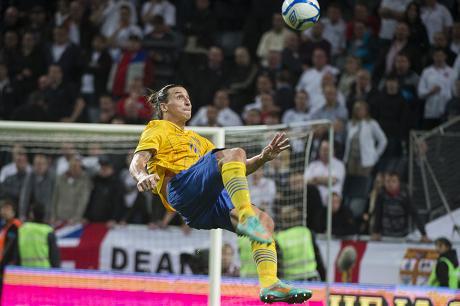 Wayne rooney vs man city (2011)
What a way to silence rivals of yours!
The bicycle kick of Wayne Rooney in the derby against the then called "noisy neighbors" in 2011 was the perfect way to shut up a certain Renaissance city in Manchester. It was amazing, far more impressive than most goals for bicycle kicks. It was exceptionally well-timed, and the pace it came in allowed a finish cracker to beat city goalkeeper Joe Hart cleanly. Joe Hart was probably not a lucky guy with bicycle kicks.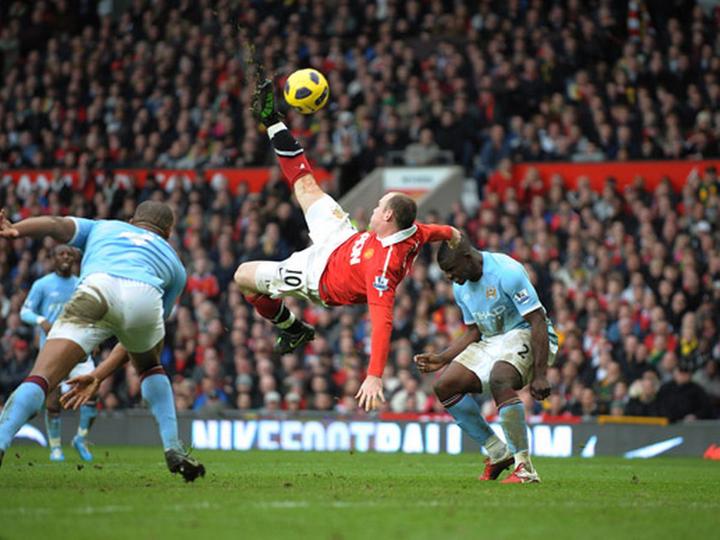 Gareth bale vs Liverpool (2018)
Gareth was angry when he was placed on the bench for the final match of the Real Madrid Champions League against Liverpool in 2018, and after the match, one could clearly see that the Welshman was not meant to be on the bench. Gareth Bale scored a wonderful acrobatic after being on the pitch for only three minutes shortly after substituting isco, which even Cristiano Ronaldo appeared jealous of. Before sending his effort past a helpless Karius, he expertly jumped into the air. Bale's shot will go down as one of the greatest final goals in the Champions League of all time.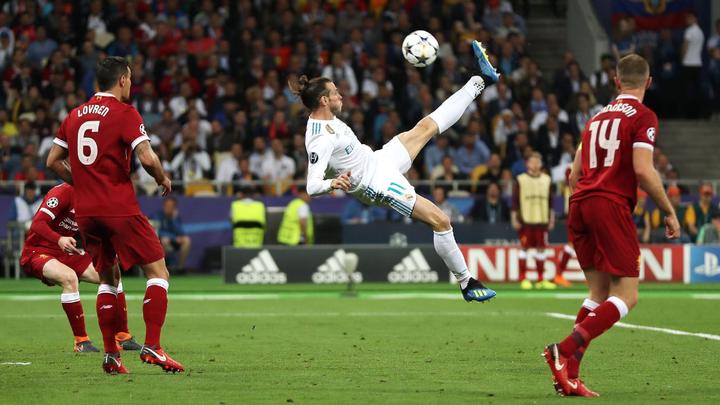 Peter crouch vs Galatasaray (2006)
Is this goal a scissor kick or a bicycle kick? 
Well, it still makes our top 5 
This amazing Liverpool acrobatic was scored by Peter Crouch against a certain Galatasaray in the Champions League.. By scoring a worldie of its own, the striker popularly known for his excellent heading skills took a step further. Before rippling the net with his kick, the lanky forward took to the air in a fashion that even a certain Spiderman would have been proud of.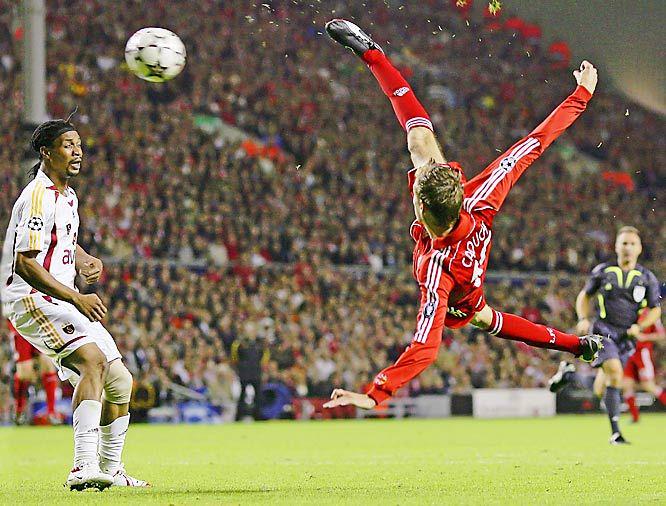 Dimitar berbatov vs Liverpool 2010
Dimitar berbatov was also a master of the arts, a master of incredible goals, famous for having one of the best ball controllers in football. Berbatov scored a hattrick in a match against his team's fiercest rivals to send all 3 points to his team. But, most importantly, his second goal, which will go down in history forever as one of the greatest goals scored to date in the premier league. After taking the Louis Nani cross on his lap, the silky Bulgarian scored an incredible stunner and the rest is history. Even Pepe Reina didn't move an inch.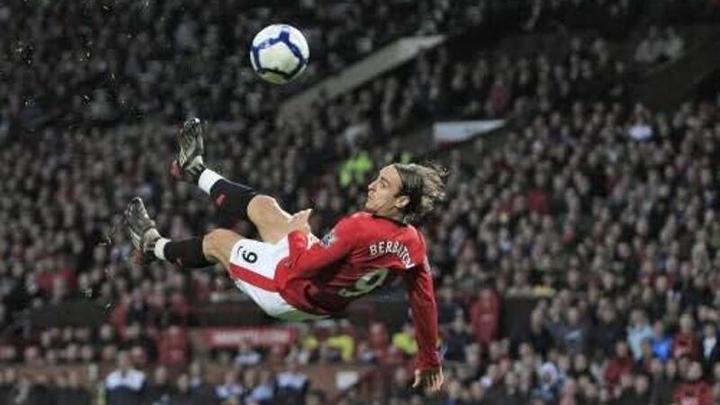 Phillipe mexes vs anderlecht(2012)
Remember Mexes Phillipe? The French defender who scored his first goal for AC Milan on a bicycle kick? Yeah, you know now. After a zlatan ibrahimovic wonder strike against England, Phillipe Mexes' goal came barely 2 months. The aim was all the more incredible to know that it came from a defender. The spectacular 20-yard bicycle kick goal in 2012 was ranked as one of the best goals of the year.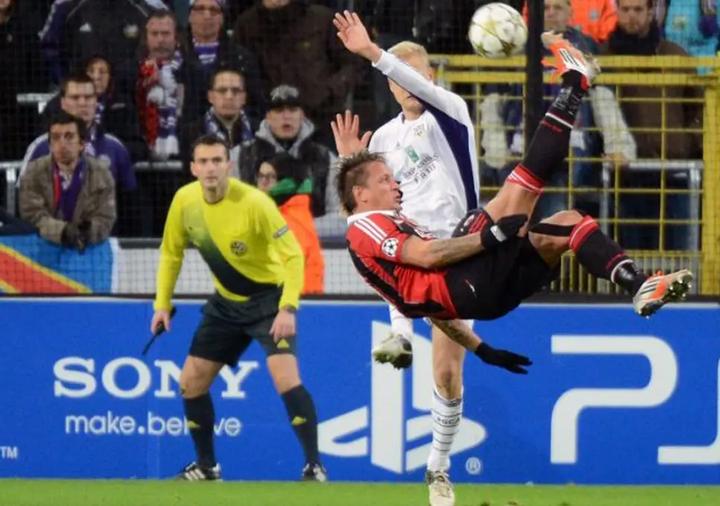 Andy Caroll vs crystal palace (2017)
Over the years, Andy Caroll had his fair share of injuries, but even those injuries were unable to deny him this iconic goal, and definitely not the goalkeeper of the crystal palace. Because of his aerial prowess, the big forward who is a nightmare for defenders demonstrated another dimension to his game by netting a spectacular bicycle kick goal against the crystal palace. The target went on to win the month's premiere league goal and his season club goal. Nicely deserved!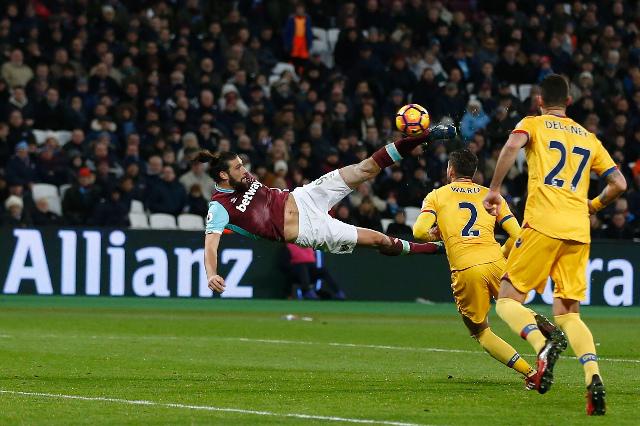 Oscarine masaluke vs Orlando pirates (2016)
It's not like a goal keeper scores a bicycle kick every day. With a glorious acrobatic kick right at death, Oscarine masaluke won his team a 1-1 draw against Orlando pirates. First, the keeper met with a rebound from a baroka corner kick and let fly a superb and expertly taken bicycle kick that roofed into the net by defying all odds. Of course, the football world took note, and he was nominated for the Puskas goal of the year in 2016, where he ended second only behind the successful scorpion kick goal of Oliver Giroud. One of the best goals scored in football history by a keeper. Offer a medal to that guy!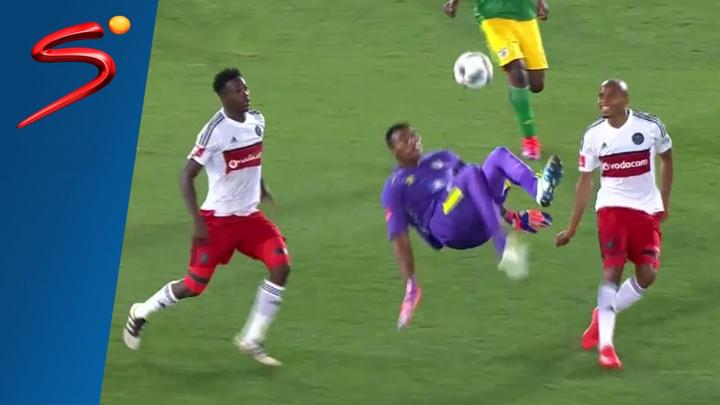 Rory delap vs Tottenham (2004)
The world of football will recall Delap's long throw in capacity fondly. A talented javelin thrower, the now retired Ireland midfielder was set to represent his country at the Olympics, before moving to football. In his career, Delap scored a meagre 33 goals, but will be remembered for that outrageous bicycle kick goal in 2004 against Tottenham. Even a midfielder with a strategy that was better than the former Southampton man could not have achieved the target better.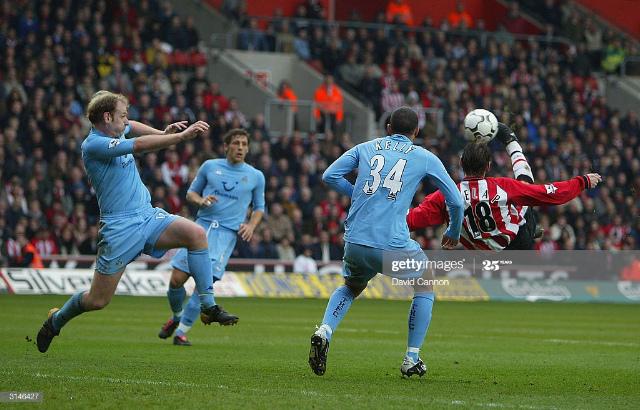 Do you agree with our list?
Thanks for reading, the topics covered here are available for positive progress and critical assessments. Please do well to drop a comment below and share the article with as many as possible as possible
Content created and supplied by: OmoFrydey (via Opera News )