"VAR Must Go!!" See Reactions After this Happened in Manchester City Vs Arsenal Match.
Please Before you move on Quickly hit the 'Follow' button above, Thanks.
Since the Introduction of VAR into football, there have been a lot of complications as they seem to be incompetent, Inaccurate and inconsistent, Giving cheap penalties, wrong offside calls, undeserved red cards and others. They were brought into the game to detect errors hard for the referees to notice but since the invention, it has been a disaster as 90% of Fans wants it to be Scrapped out of football.
One Example of the many examples happened in the match between Manchester City and Arsenal.
It happened in the first half after a high foot from walker almost caught the head of Gabriel Magalhaes. This is an offence as the foot of walker was too high up and was endagering the Life of the other player.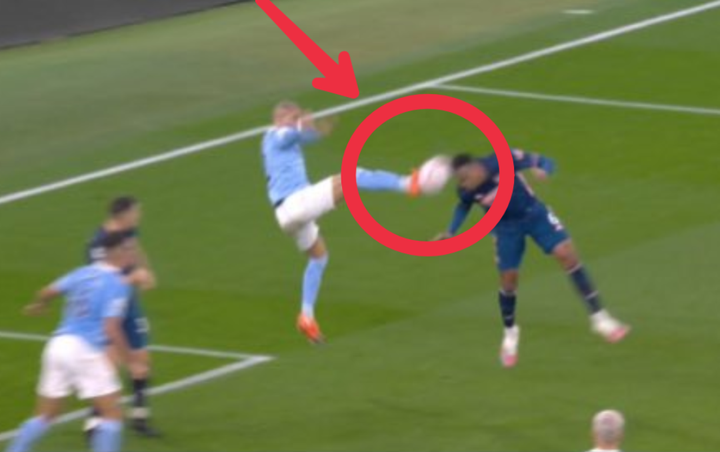 Fans were not Pleased with the fact that the referee didn't even make an attempt to Check the VAR even when Arsenal Players Pleaded and urged him to check the VAR Screen.
See reactions;
"It probably was checked &, even though it shouldn't really be a penalty, by todays standards it is, you're right. The issue here is, Arsenal are the minnows in this game & the advantage always goes to the top teams - it used to be Manchester United, sure you remember that, its now Manchester City."
"Incompetent and inconsistent referees Premier league needs to take a long hard look at how they are operating"
"Didn't you watch the lunch time game earlier? These people operating VAR are as clueless.
"VAR is killing the game but what was the referee looking at not to see that? VAR should not have been needed to give a penalty. It was blatantly obvious."
"This VAR thing is becoming a joke in EPL. Not much controversies across other leagues."
"That's the trouble with VAR is that they can pick and choose who they use it to punish, certain players get away with certain decisions because of who they are and who they play for."
"High foot, clear penalty."
"Unbelievable. Penalty all day. Has VAR been disabled today? It was for us against Everton."
"No contact with the player, he got the ball and Gabriel should have forced him into committing the foul. That's why it's not a penalty"
"Pretty sure it would have been an indirect free kick rather then a penalty as he does not kick the player"
What are your thoughts about VAR in the Premier League?
Let's us know your Opinions in the Comment Section below 👇 👇👇
Also Like, Share and Follow us For more Updates.
Content created and supplied by: Ndubisiduru (via Opera News )