Fulham played at home to Crystal palace and it was again yet another defeat for the host. They remain in the bottom of the table after the encounter. While Crystal palace takes the fifth position in the Game week 6 result.
Wilfred Zaha provided an assist to J. Riedewald in the early encounter of the game, 8 minutes to the start of the game while Mitshy Bashuayi Provided the assist to Wilfred Zaha to make it 2 goals for the visitor.
Late in the encounter, A. Kamara received a Red Card and and T. Carney scored for the visitors in extra time.
This is how the table looks like after the encounter.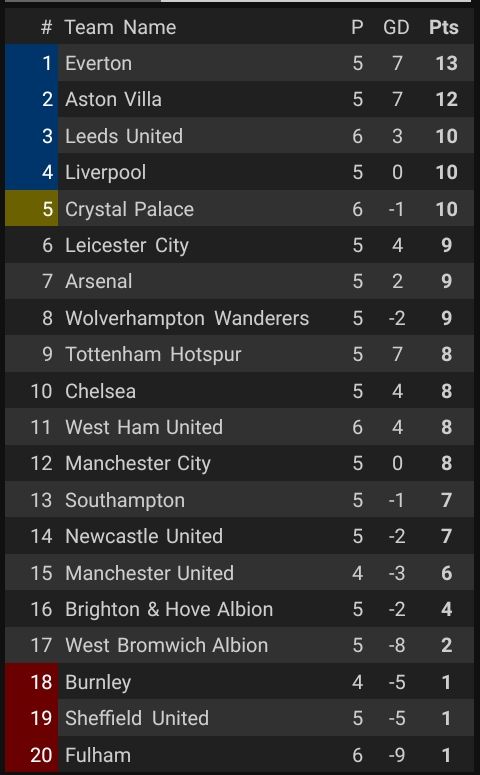 Team Name P GD Pts
1.Everton 5 7 13
2.Aston Villa 5 7 12
3.Leeds United 6 3 10
4.Liverpool 5 0 10
5.Crystal Palace 6 -1 10
6.Chelsea 6 4 9
7.Leicester City 5 4 9
8.Arsenal 5 2 9
9.Wolverhampton Wanderers 5 -2 9
10.Tottenham Hotspur 5 7 8
11.West Ham United 6 4 8
12.Manchester City 5 0 8
13.Southampton 5 -1 7
14.Newcastle United 5 -2 7
15.Manchester United 5 -3 7
16.Brighton & Hove Albion 5 -2 4
17.West Bromwich Albion 5 -8 2
18.Burnley 4 -5 1
19.Sheffield United 5 -5 1
20.Fulham 6 -9 1
Content created and supplied by: BLEXIONZY001 (via Opera News )