Football is fun and at the same time it can be risky. Some hilarious and terrible incidents occurred in the football pitch of which few of them will be outline with details in this article.
There are certain things that happened in the football field and sometimes this things usually occurred in an unintentional or unexpected manner. Different terrible scenes have been captured while football is been played on the pitch and as well hilarious events also took place to keep football fun.
Checkout These Incidents That Took Place In The Football Pitch (Check Below 👇)
1. A Player Stamped An Opponent Goalkeeper With His Boot Which Lead To Serious Injury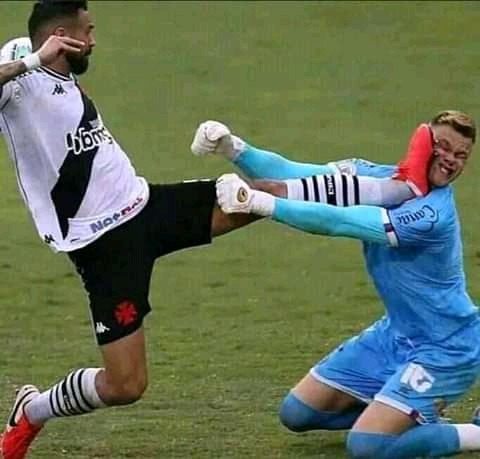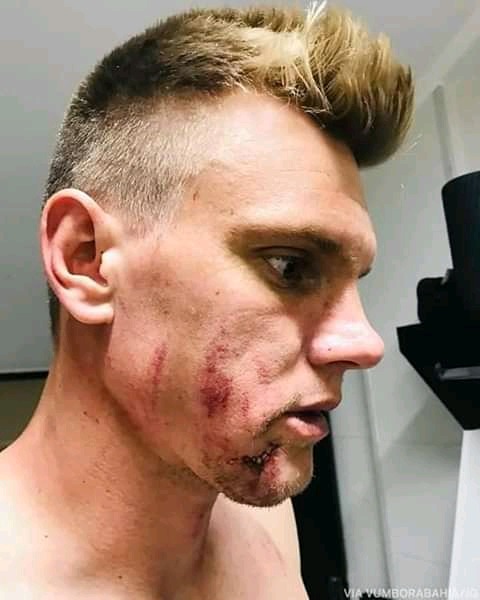 Just as football is fun, it is also risky. This player didn't commit this foul intentionally, he was trying to get in possession of the ball while the goalkeeper was rushing out to collect the ball from him, accidentally he rose his leg without awareness that the goalkeeper was already close to him. His boot was left on the face of the goalkeeper and the goalie ended up getting injured with bruises on his face.
2. What Could This Mean? Jose Mourinho Dragging A Title With Steven Gerrard 😂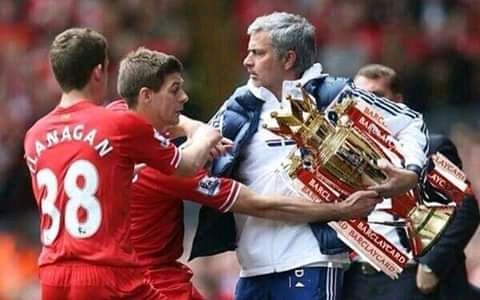 Guess many will be surprised by seeing Jose Mourinho dragging a title with former Liverpool player Steven Gerrard. Mourinho will never cease from keeping football fans in mix-reactions following his hilarious attitude towards football related activities. Steven Gerrard was seen seriously attacking Jose Mourinho just to collect a title from the Portuguese manager who held it without intention of even giving it back.
3. Manchester United Player Harry Maguire Talking To A Lady After A Football Match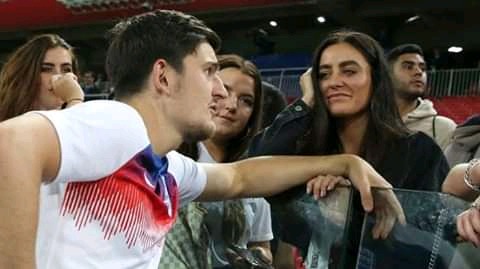 Funny, you can see how serious Harry Maguire pose as he talk to a mystery lady immediately after he finished playing a match.
4. A Dog Was Shown A Red Card By The Referee After It Invaded The Pitch Numerous Time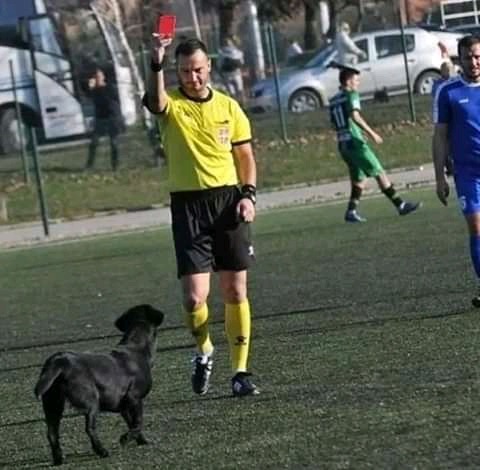 A dog rumoured to be watching his team play, invade the pitch while a match was still on. The dog was chased out but it refused to leave the pitch and the referee gave the dog a red card. Even with the red card the dog still refused to leave the pitch so the referee abandoned the game.
5. Naby Keita Harsh Tackle On Nketiah
In the game of play anything can happen. Naby Keita tried controlling a ball in the air, at the process he used his boot to stamped Arsenal player Nketiah and Keita got penalized for his careless tackle.
6. Zinchenko Was Grabbed By The Neck By His Fellow Teammate Dias In Attempt To Position Him In A Free-kick Wall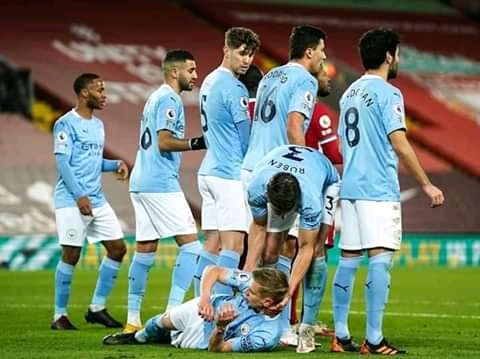 Manchester City player Dias grabbed his teammate Zinchenko by the neck while trying to position him in a Free-kick Wall against Liverpool. This is a true spirit of a ambitious player who want to win by carry his teammate along.
7. Instead Of Tottenham Players To Be Listening To Jose Mourinho They Are Busy Doing Something Else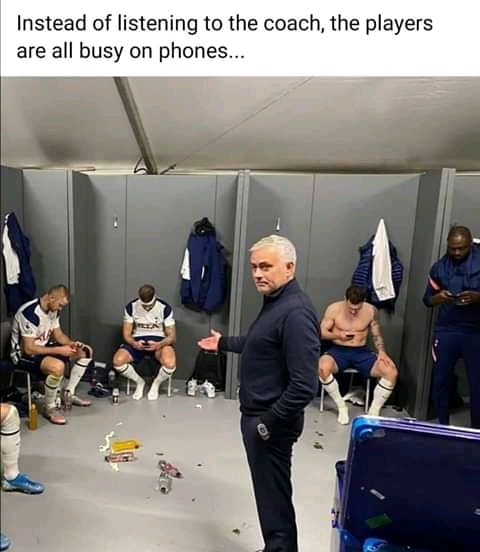 Tottenham Players were too busy doing something else forgetting about their manager Jose Mourinho who was trying to give them some orientation. Instead of listening to Mourinho, the players were all busy operating their phones.
8. Fc Porto Player Nanu Was Rushed To The Hospital After A Collision With On rushing Goalkeeper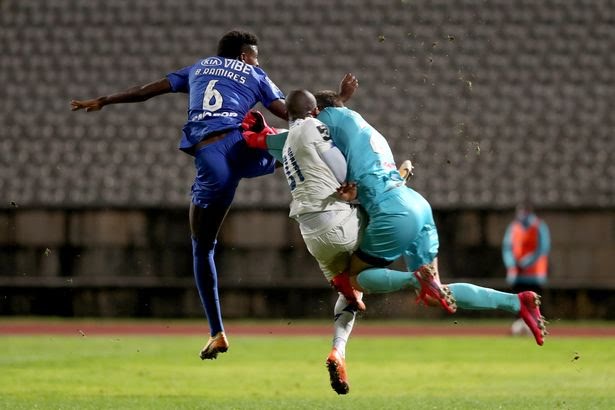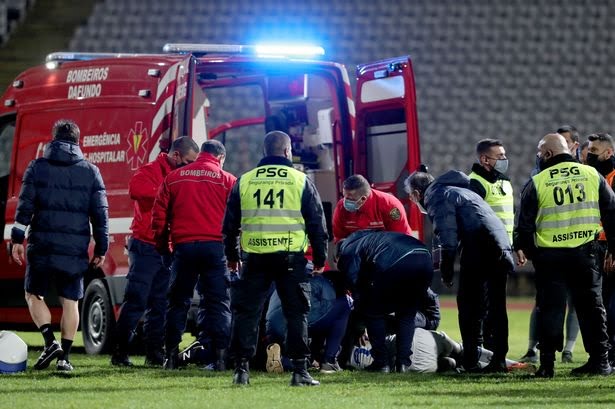 Just last week Fc Porto player Nanu was rushed to the hospital after he collide with Belenenses goalkeeper during a Primeria Liga match that ended in a 0-0 stalemate. Former Real Madrid player Pepe was seen in tears while other team players were seen praying while Nanu was taken by an ambulance.
9. Mourinho Trying To Be A Goalkeeper But He Was Afraid Of Shot😂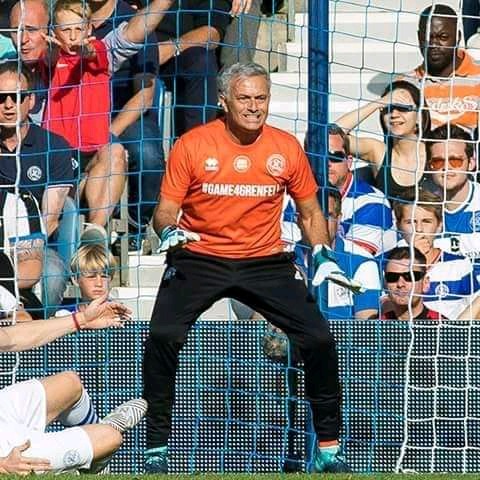 Imagine Jose Mourinho in the goalpost, how many goals will he concede.
I hope you enjoyed your time on this article? If yes, which number was more interesting!
Kindly drop your comments below 👇
To get more football news kindly click on the follow button above
Thank you for using opera news.
Content created and supplied by: VlogMister (via Opera News )