Everton continues their brilliant start to the season as they maintain their unbeaten run following their draw against Liverpool today.
Everton is not the only team to draw today, Chelsea also drew Southampton in a thriller game that ended 3-3 at Stamford Bridge.
Both Manchester Sides got a win today. Manchester City defeated Arsenal by 1 goal to nil (1-0) while Manchester United put up a nice display as they thrash Newcastle 4-1 at St James' Park.
Below are the results of the game played today:
(Results)
Saturday 17th October
Everton 2-2 Liverpool
Chelsea 3-3 Southampton
Man City 1-0 Arsenal
Newcastle 1-4 Man Utd
Everton are still sitting on top of the Premier League Table despite their draw against Liverpool, Liverpool are in the 2nd spot.
Both Manchester City and Manchester United moved up on the table after their victory.
After today games, this is how the EPL Table looks like
Premier League Table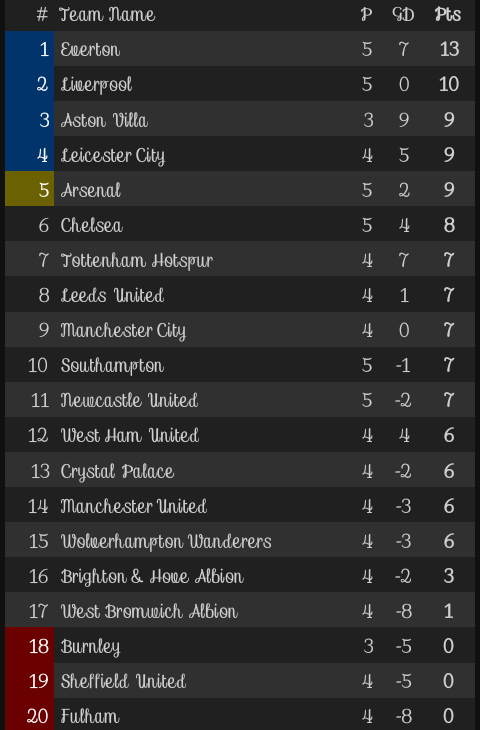 Pos Team P W D L GD Pts
1. Everton 5 4 1 0 7 13
2. Liverpool 5 3 1 1 0 9
3. Aston Villa 3 3 0 0 9 9
4. Leicester City 4 3 0 1 5 9
5. Arsenal 5 3 0 2 2 9
6. Chelsea 5 2 2 1 4 7
7. Tottenham Hotspur 4 2 1 1 7 7
8. Leeds United 4 2 1 1 1 7
9. Manchester City 4 1 1 1 -1 7
10. Southampton 5 2 1 2 -1 6
11. Newcastle United 5 2 1 1 1 7
12. West Ham United 4 2 0 2 4 6
13 Crystal Palace 4 2 0 2 -2 6
14. Manchester United 4 2 0 2-3 6
15. Wolverhampton Wanderers 4 2 0 2-3 6
16. Brighton & Hove Albion 4 1 0 3-2 3
17. West Bromwich Albion 4 0 1 3-8 1
18. Burnley 3 0 0 3-5 0
19. Sheffield United 4 0 0 4-5 0
20. Fulham 4 0 0 4-8 0
Content created and supplied by: Playfootball (via Opera News )