On the morning of Sunday, April 17th, 2021, it was business as usual in the world of football. Little did the world know that something big and real big was on the way. By evening of the said day, rumours of a breakaway by 12 of Europe's elite clubs from the UEFA Champions League to form a new competition propped up. By the following morning, all 12 clubs involved had confirmed their breakaway to form what will be known as the European Super League with the format also released. Of course, chaos ensued. With the attempted breakaway now failed as most of the clubs have officially pulled out, here are lessons that can be learnt from the past week's events.
1. Look after the ones generating the income for you
The root of the the whole problem is the big clubs' inability to generate as much income as their expenditure and the fact that UEFA does not give them a fair enough cut in proportion to what they generate for the body. The truth is that these big clubs with much larger fanbase worldwide generate most of UEFA's income with TV audiences more interested when they play compared to when the "smaller" clubs play. There are reports that the clubs only share 50% of what is generated while UEFA holds on to the remaining 50%. This led to discontentment among the elite clubs that believed that they should not only be given a higher percentage but there should be a big difference between what they get and what the "smaller" clubs get since they generate far more. And thus, the ESL idea was born. UEFA's new 36-team format did very little, if anything at all, to change the desire to breakaway. We see or experience this every day around us when business owners keep a ridiculously high percentage of profit for themselves and distribute a meagre and very unfair percentage to the employees who are actually doing the work. We see it in associations that receive high dues from it's members and contribute very little to their welfare. It's normal to want as much profit as you can get from your business but it's good to be as fair as possible in it's distribution. Also, it wise to identify those that do more, the more productive ones among your staff members, and reward them appropriately.
2. It's normal to want to earn more, remain number one or save your dying business but not at the direct and permanent expense of others or for your selfish interests
Looking at the financial situation of the clubs affected, it's little wonder they wanted a situation whereby they could earn more. Barcelona are in a financial mess, Real Madrid can't make the marquee signings like before unless they sell. And these clubs want to remain on top. Breaking away to form a League where they would earn far much more isn't the worst of ideas but the format was an issue. Of 20 clubs in the league, 15 would be guaranteed permanent stay for 23 years without any chance of getting relegated while the remaining 5 could be relegated based on performance. Now that's a terrible idea. It only meant the rich would keep getting richer on yearly basis while the smaller teams get the scarps with the gap between both sides getting wider. Ultimately the smaller teams would not be able to pose any threat or competition to the elite clubs. If it were an open league instead where anyone can be relegated, maybe, just maybe there would have been less opposition. We see it in our societies where the rich want to get richer and richer at the expense of the poor. It is good to expand your business, but a business move that will crush many others permanently and will be of benefit to you alone, then it is plain wrong.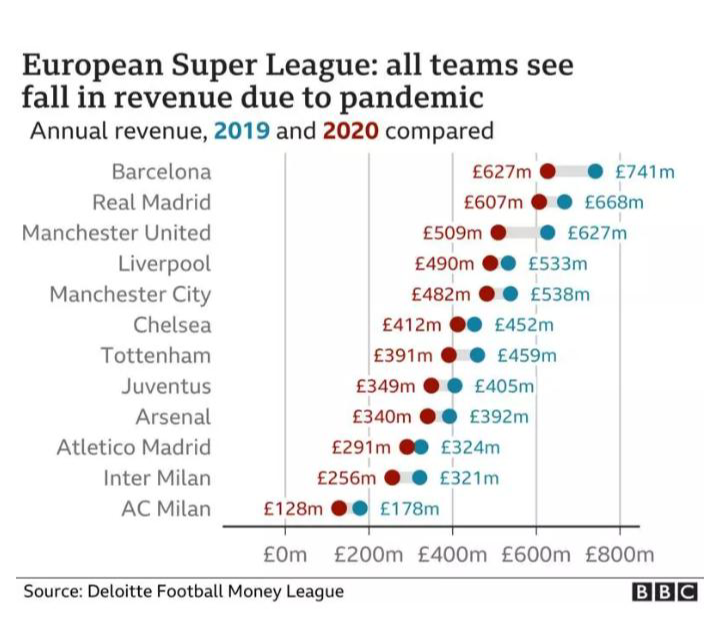 3. Pulling away from an organization may be necessary, but doing it with your dignity intact is vital
Another ugly thing about the ESL crisis was the fact that majority of the owners/CEOs involved in it were very important members of UEFA. Andrea Agnelli, the Chairman of Juventus, for example, was the President of the European Clubs Association (ECA) while Real Madrid's Chairman, Firoentino Perez, who was the major driving force of the ECA was also a prominent member of the organisation. These men were part of the UEFA body planning the new 36-team format while working behind the scene (Perez admitted in an interview that he had been planning it for a "long time"). If it were to be a totally noble cause to "save football" as Perez said, perhaps they could have been braver and resigned from their roles before planning it or at least informed the public of their intentions aforehand, stating their reasons. However, just a day to when they were to finally approve the new UCL format proposal, the news suddenly broke that they had signed an agreement to breakaway (while still holding their positions). According to UEFA President, Aleksandr Ceferin, he called Perez on the day before who assured him that there was nothing going on. It was after every club had officially announced the breakaway they began to withdraw from the ECU and resign from their respective positions. Now that's dirty and low. The individuals involved will definitely not be allowed to retake their positions with some like Manchester United's Ed Woodward announcing his resignation as the club's Vice Chairman at the end of the year. These men may have lost their positions but they also lost their dignity. It would have been better if they left with their dignity intact. Whatever cause you want to fight for, how you fight matters too, no matter how noble the cause may be. Going down with dignity is always better than winning dirty.
4. Not everyone will follow the majority to do evil, be among the few that won't
While clubs like Real Madrid, Barcelona and Juventus may have led the charge concerning the ESL, there reports that two English clubs (Chelsea and Manchester City) didn't buy the idea but signed up for it in order "not to be left behind". Evil is evil, no matter how many people are doing it. If you are not convinced about the right of something, do not allow the possible "gain" of those doing it to make you join them. Also, it is wrong to assume that if majority are doing evil, all are or all will. Bayern Munich and PSG are two clubs that could have been part of the ESL but refused. While Perez may have claimed that PSG wasn't invited with many also saying that the reason Bayern could not join is because it is a club owned majorly by fans (in line with Bundesliga rules), the fact remains that neither joined, especially Bayern that was confirmed to be invited and that is commendable on its own. Both clubs even went as far as issuing statement against the ESL.
5. It takes courage to speak against your boss' wrongdoing but it is something that should be done if necessary
While the club owners planned and signed the ESL deal, the players and managers were totally oblivious of the plan. Not only did they hear when the news broke but the had to face the press while their bosses hid their faces. They were faced with the dilemma of either speaking against what they believed was wrong and angering their bosses or keeping silent on the matter. Many footballers of these clubs were vocal about their discontent with Liverpool players releasing a statement. However, players cannot be sacked but coaches can. While most of the coaches played neutral or avoided speaking about the matter, Liverpool's coach Jürgen Klopp spoke partially against it. However, Manchester City's Pep Guardiola should be commended for clearing taking his stand and speaking against it. Many may argue that Guardiola's job is probably the most secure of the coaches involved but the fact is that he took his stand and spoke openly against his employers' actions, risking their anger. How many times have we done something wrong for our employers/bosses or kept silent when they did wrong in order to avoid their wrath or avoid getting sacked?
6. The voice of the people matter
While UEFA were scrambling for help from every nook and cranny with Ceferin calling on everyone he could think of, help eventually came from, perhaps, the unlikeliest of sources - the fans. The fans of each of the clubs involved (as well as other clubs) saw what their owners/CEOs did not see - that footballing rewards should be on sporting merits not just name, wealth and history. There were protests in England even among fans of the clubs involved. Ahead of the EPL game against Brighton, Chelsea fans protest outside Stamford Bridge, preventing the team bus from entering the stadium despite pleas from club legend Petr Cech. The protest only stopped when reports broke that the club were planning to be the first team to withdraw from the ECA. That was the beginning of the downfall of the idea. By the the following morning, all 6 English clubs involved in the project had officially resigned leading to more resignations by clubs outside England. There is power in unity. There may be a powerful few taking advantage of the less privileged but when the masses come together with unity of purpose against something wrong, success in almost guaranteed.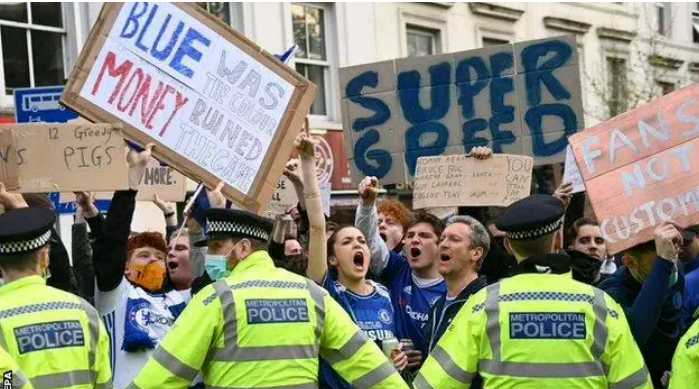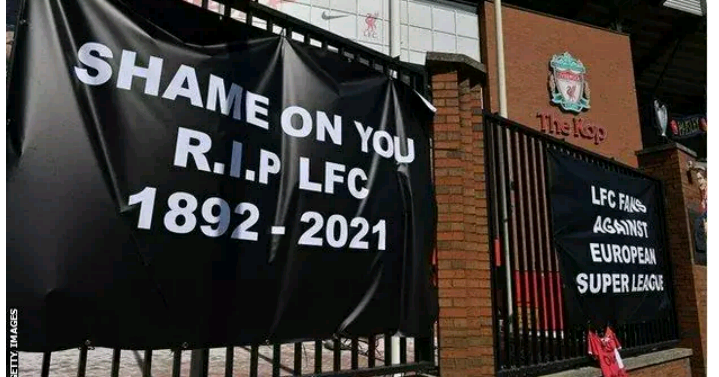 7. Know when you're wrong and make amends as quickly as you can
By the time Chelsea fans protested outside Stamford Bridge on Tuesday night, the club had realised they were wrong to sign such a deal and immediately made plans to pull out. Soon after they did, other clubs in the EPL followed suit. What Chelsea did was wrong, but the fact that they quickly realised their mistake and pulled out should be commended. Some of the other club owners have publicly apologised to third fans and the football community at large. At at the time of writing, Real Madrid, Barcelona and Juventus have not officially withdrawn. It is bad to do something wrong, but it is worse to refuse to admit mistake even when glaring.
8. The labourers who do the work are important too and should be well treated
If there is one thing common to both the ESL and UEFA's new 36-team UCL format, it is the fact that both take little consideration of the welfare of the players. The ESL winners would have to almost double the number of games needed to win the UCL. The new UCL format would also increase the number of games played in the group stage. At a time when the players and managers are clamouring for lesser games and schedule both competitions are increasing the workload because of the possibility of making more money. These players put bodies on the line and already play very high number of games yearly with little to no vacation. We also see this a whole lot at our places of work when bosses demand so much from employees, putting their health at risk in the name of wanting to "increase productivity" or make more profit. Impossible deadlines, ridiculous workload, overtime and weekend demands, limited available resources/equipment with high expectations and so on. Some even make their workers work under unsafe conditions. The health and safety of your workers are important and should always be taken into consideration. Not everything should be about money.
Content created and supplied by: PhysioTEA (via Opera News )
Opera News is a free to use platform and the views and opinions expressed herein are solely those of the author and do not represent, reflect or express the views of Opera News. Any/all written content and images displayed are provided by the blogger/author, appear herein as submitted by the blogger/author and are unedited by Opera News. Opera News does not consent to nor does it condone the posting of any content that violates the rights (including the copyrights) of any third party, nor content that may malign, inter alia, any religion, ethnic group, organization, gender, company, or individual. Opera News furthermore does not condone the use of our platform for the purposes encouraging/endorsing hate speech, violation of human rights and/or utterances of a defamatory nature. If the content contained herein violates any of your rights, including those of copyright, and/or violates any the above mentioned factors, you are requested to immediately notify us using via the following email address operanews-external(at)opera.com and/or report the article using the available reporting functionality built into our Platform See More