Manchester United, Chelsea and Liverpool all played today.See how the premier league table looks like.
It was yet another busy Saturday again in the Premier league. Some matches was played, Manchester United were held at home to the Blues and the game played lately was the Game between Liverpool and Sheffield United
Sheffield united scored the first goal of the encounter via a penalty as Sander Berge scored from the spot. But Liverpool later won the game, thanks to Goals from Roberto Firmino and Diego Jota.
This is how the table looks like after Saturday's game.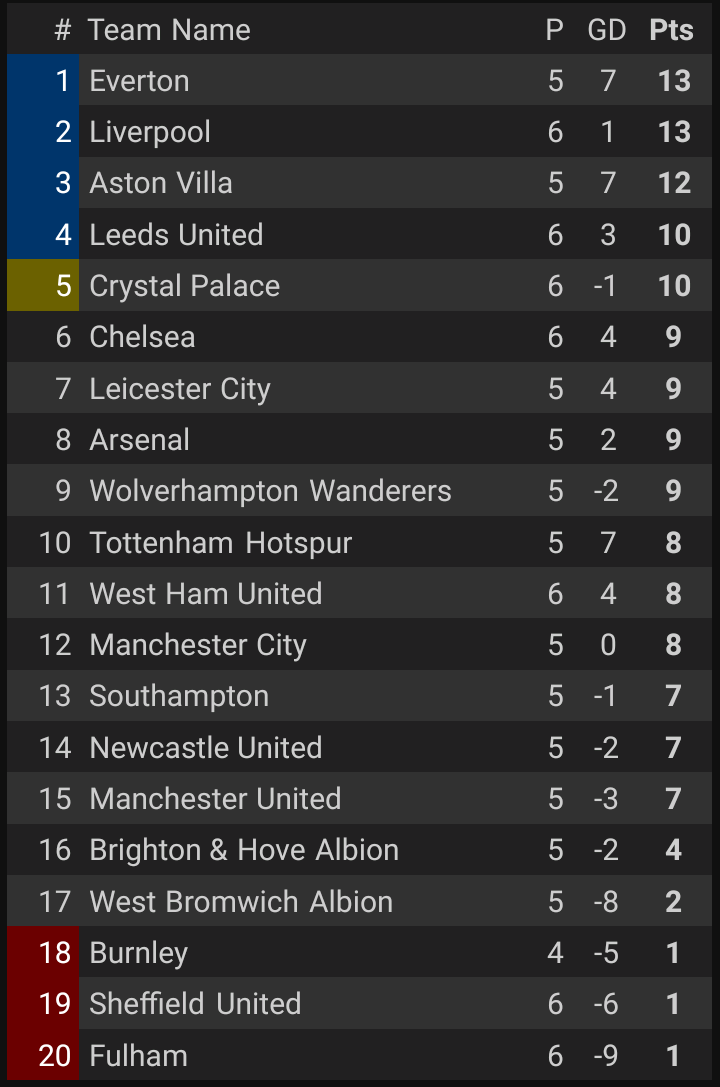 Team Name P GD Pts
1. Everton 5 7 13
2. Liverpool 6 1 13
3. Aston Villa 5 7 12
4. Leeds United 6 3 10
5. Crystal Palace 6 -1 10
6. Chelsea 6 4 9
7. Leicester City 5 4 9
8. Arsenal 5 2 9
9. Wolverhampton Wanderers 5 -2 9
10. Tottenham Hotspur 5 7 8
11. West Ham United 6 4 8
12. Manchester City 5 0 8
13. Southampton 5 -1 7
14. Newcastle United 5 -2 7
15. Manchester United 5 -3 7
16. Brighton & Hove Albion 5 -2 4
17. West Bromwich Albion 5 -8 2
18. Burnley 4 -5 1
19. Sheffield United 6 -6 1
20. Fulham 6 -9 1
Content created and supplied by: BLEXIONZY001 (via Opera News )