According to a report, the good news broke up as Fabinho, Thiago and captain Henderson all pictured having a training at Liverpool's new training base, this has however brought ease to the mind of many fans, while reported that the three key might feature against Leicester City in the next match.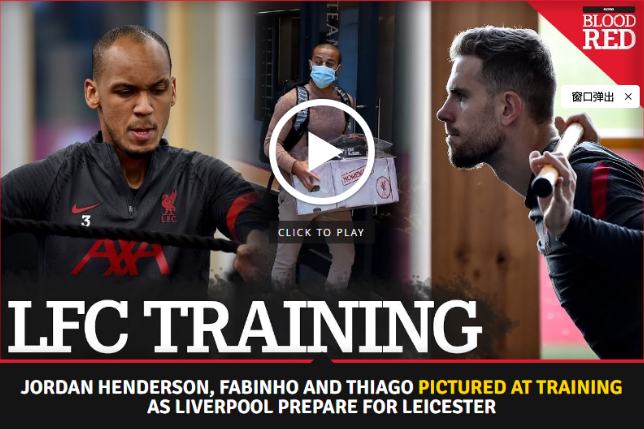 Defending champion Liverpool this season is plagued by injuries. After losing Van Dijk for a long time, their crown prince Arnold was injured for a month before the national team game. Joe Gomez was seriously injured in training for the England team and may be on a truce for more than 12 months.
At the time, Robertson and Henderson played for Scotland and England respectively, but were subsequently exposed to illness. Salah was due to attend the brother's wedding during his return home and tested positive for COVID-19.
Since Van Dijk suffered a serious knee injury in the Merseyside derby, Fabinho has been responsible for the role of a guest team as a central defender. However, the Brazilian himself was injured and rested for about three weeks. The 27-year-old 'key' player was filmed by the media today and appeared in Liverpool's new training base, which means that his return may not be far away. Taking into account the difficulty of Klopp's formation of troops, maybe he will appear in the weekend game with Leicester City.
At the same time, Klopp's new signing Thiago was also photographed appearing on the training ground. The ace midfielder from Bayern has not been able to represent the team since the Merseyside derby. He has so far this season. Only played 2 games on behalf of the Red Army, against Chelsea and Everton. It is unclear to what extent the Spanish midfielder has recovered, but the media thinks there is great hope. After a frustrating start at Anfield, he will soon be able to return to the court to prove his strength.
Henderson also suffered injuries while playing for the England team. The midfielder had earlier withdrawn from the Three Lions and rushed back, and accepted the team doctor's assessment of the injury. On Thursday, people also saw him at the new training base. However, he seems to be conducting individual training instead of participating in joint training, so it is difficult to assess whether he can play in the recent Premier League battle.
The media believes that when the above three players are able to play, Klopp can breathe a sigh of relief, because he can finally put out the strongest lineup they can put out in the near future. It sounds good, but Slightly bitter. The media predicts Liverpool's starting lineup as:
Allison/Milner, Fabinho, Matip, Robertson/Henderson, Thiago, Wijnaldum/Mane, Firmino, Jota
Content created and supplied by: PoliticalPundit (via Opera News )