Knowing Barcelona and Real Madrid to be two of the greatest football clubs in the La Liga league today, their respective players have been rated based on their performances and abilities, and they have all been made to form a team.
This team was based on some analysis made on the players each of the team has, and as such, the best eleven out of them were selected, such that each player represent a wing/position.
Worthy of note is that all the players, both the first eleven players for each club and their substitutions were rated, and only the best eleven were selected judging from both sides.
This means that if the defender is a Barcelona player, it means Barcelona has a better defender than Real Madrid; and so also other positions.
Thus, below are the combined Eleven players from the two teams:
Ter Stegen (Goalkeeper) - Barcelona
Carvajal (Real Madrid)
Varane (Real Madrid)
Sergio Ramos (Real Madrid)
Jordi Alba (Barcelona)
De Jong (Barcelona)
Sergio Busquets (Barcelona)
Toni Kroos (Real Madrid)
Lionel Messi (Barcelona)
Karim Benzema (Real Madrid)
Eden Hazard (Real Madrid)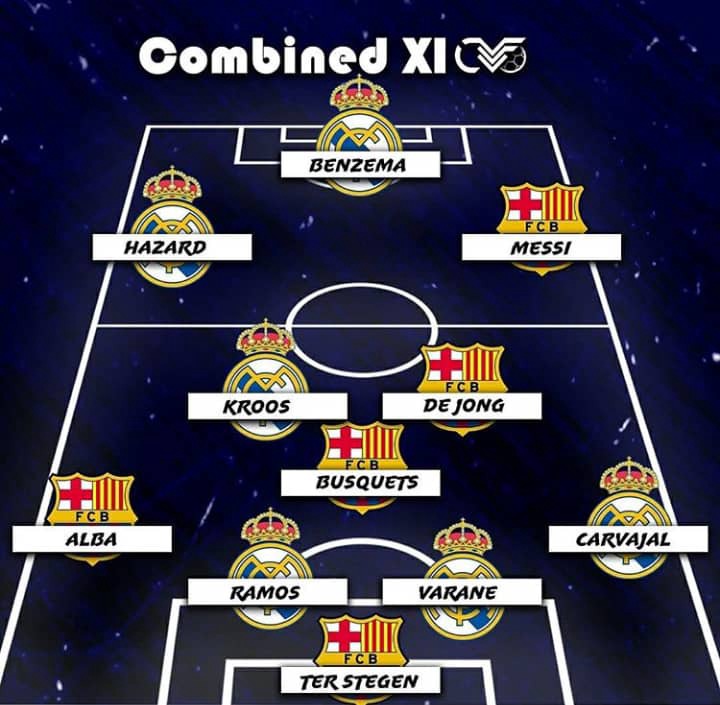 Six of the players are from Real Madrid while the remaining five are Barcelona players.
What do you think?
Share your thoughts and opinions.
Do well to share out and follow up for more of this.
Content created and supplied by: Feranmi1028 (via Opera News )