In this article we will be looking forward to see most Valuable Players Born at The Year 1997.
Let see which player that make up the list.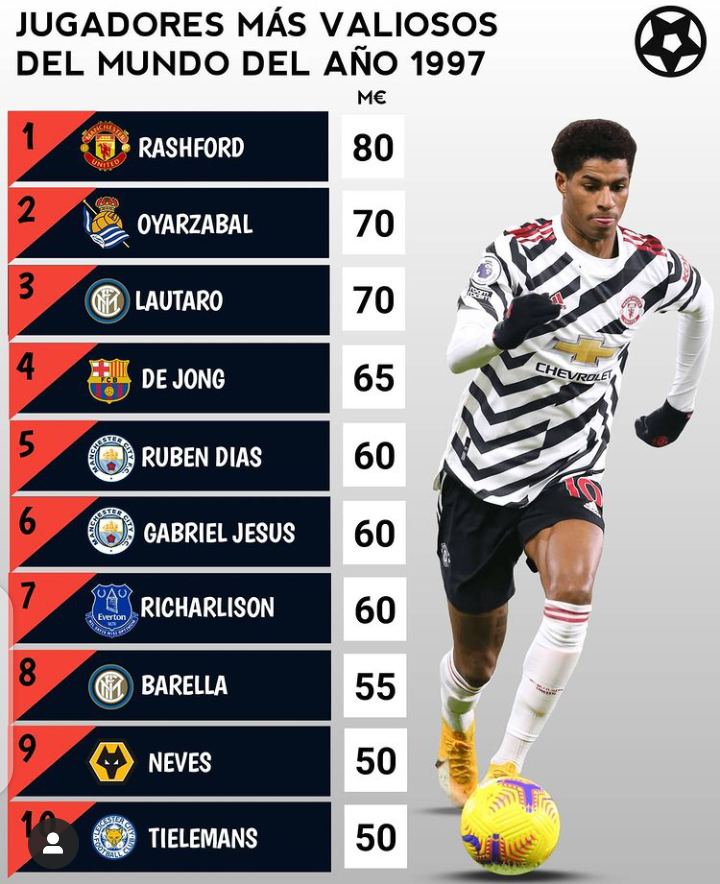 The first name on the list is Marcus Rashford, the Manchester United Sensational player is the most valuable player born at the year 1997 , what has achieved is great and his market value is pitted around 80 million dollars, Oyarzabal is second on the list as the player market value stand at 70 million dollars, then the next player is Inter Milian player Lautaro, his market value is pitted at 70 million dollars.
Then De Jong follow suit as most valuable player born in1997, his market valuation is estimated to be around 65 million dollars, While Ruben Dias, Gabriel Jesus and Richarlison are also player value high that are born in 1997, their market valuations are estimated to be around 60 million dollars each.
Then Barella is another Player who is great in what he is doing and his estimated cost is €55m, Then Reuben Navas and Tielemans complete the list as their market and is estimated to be around 50 million dollars each.
Hope you enjoyed the Article
Content created and supplied by: Cynthiablogs (via Opera News )