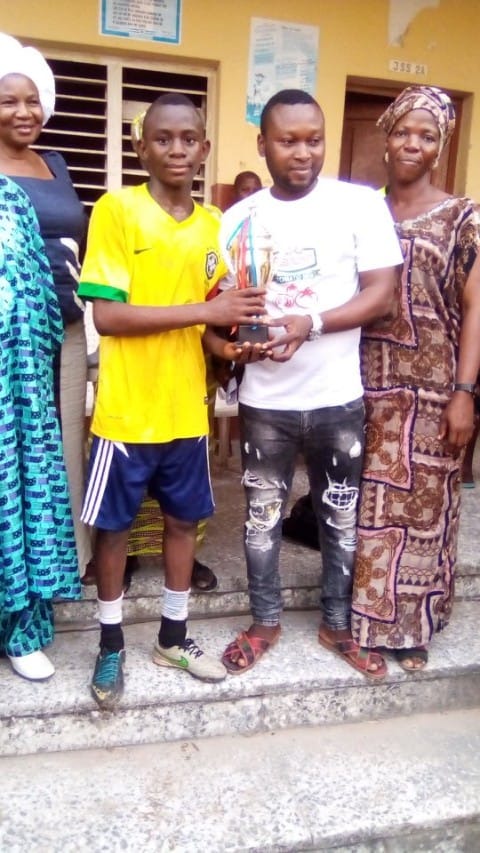 The courtyard of Will-B Excellence Secondary School, Adejonwo Street, Ikotun, Lagos came alive with excited students, teachers and staff cheering and clapping hands in profound delight, as the proprietor, Elder Williams Folorunsho Olaoye broke news about their football team's conquest of Ije Ododo Baale's Coronation Cup at the weekend.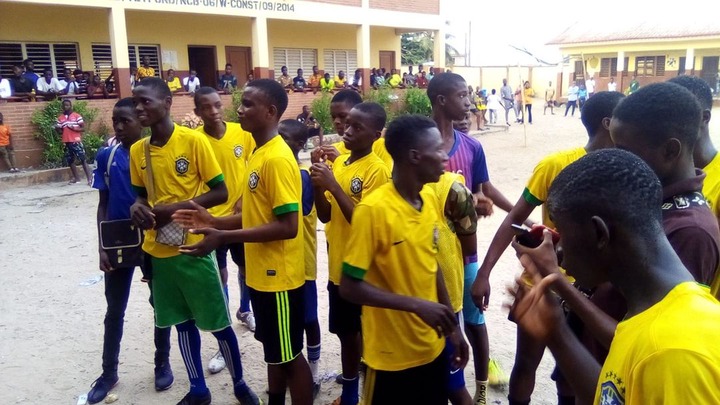 While the feat had been achieved on Sunday at Ije Ododo Junior Grammar School, in the heart of a rapidly developing former swampland, it was not until the first day back at school that Elder Olaoye officially and excitedly informed the students and their teachers about the historic achievement that was enacted by the team captained by Daniel Aribatise.
Indeed Aribatise, who is also the schools' games prefect, shared the skipper's band with the head boy, Toluwani Olaoye and social prefect, Victor Adeshola throughout the duration of the invitational competition that eventually featured four teams from the Ijegun-Isheri-Ikotun axis.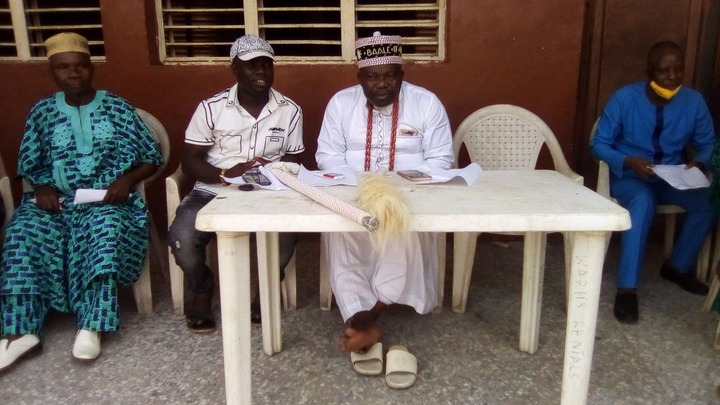 Although over 12 schools from the neighborhood had been invited to play in honour of the official inauguration of Chief Abu Jelili Ayinde Ododo as the kingdom's new Baale last Thursday, the four that finally turned up for the start of action on Saturday, February 6 were Fun World Private School, Prevailers Comprehensive College, Cherished Child School and Will-B Excellence.
Action started with Cherished Child defeating Prevailers 1-0, after which Fun World shocked Will-B 1-0 as well, but Elder Olaoye's boys roared back to relevance by defeating Cherished Child 2-0 in their next game, after which Fun World confirmed their qualification for the final with a 2-1 slim win over Prevailers.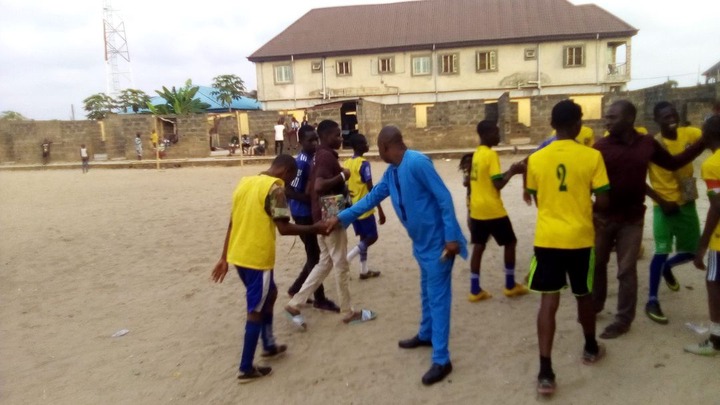 That set the stage the next day for 'Battle Number 2' between Fun World and Will-B, in the most crucial game of all, as a golden trophy and N10, 000 cash were up for grabs, all made possible through generous sponsorship of the Baale himself.
It indeed was a gesture worth hailing, as Baale Ododo gave consent to the crew of Pison Divine Royals Sports Promotions International to stage the competition in conjunction with Nigerian Grassroots Football Federation (NGFF).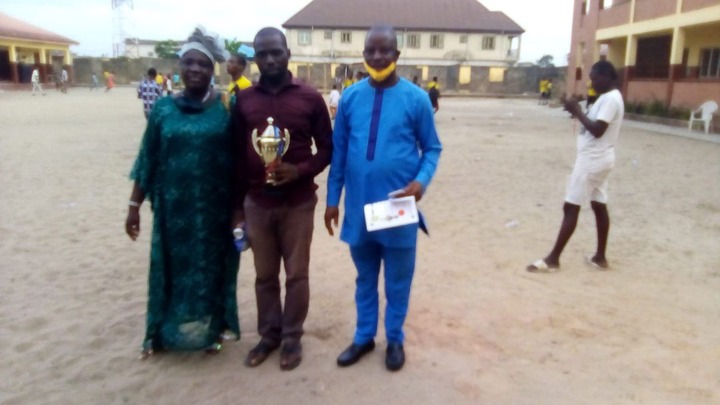 That took memory back to 2002, when the same combination gave the new Baale an award as youth developer of the year at the third edition of Annual National Grassroots Sports Awards (ANGSA), which took place at Sheraton Hotel, Ikeja, Lagos, with one of the former club owner turned royal father's players, Kunle Bajowa named revelation of the year at the same event.
That is now 19 years ago, no longer an issue to dwell on, but the Baale obviously still remembers everything he got through the group, such that he did not bat an eyelid in dolling out cash and kind then turned up physically for some minutes on the final day to make the first ever football competition among private secondary schools a huge success on home soil in his kingdom.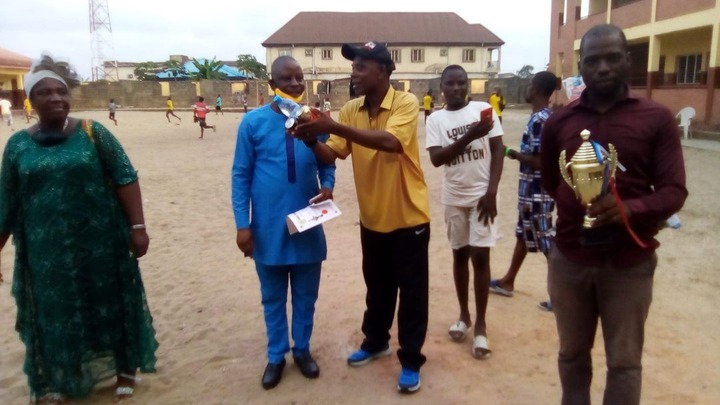 The day's opulence of personalities and representation of raw talent was taken to a higher level when several of the Baale's former players at Abu Zico FC also trooped in to engage themselves in a ceremonial tie to enrich the occasion, and their mentor set aside pressing palace matters for some minutes in order to watch his former protégés live.
It ended up being a tight game that ended 1-0 for Abu Zico Products Team A against Team B, after which Ije Ododo Selected beat Ije Ododo Senior Grammar School 2-0 in the evening's second ceremonial game preceding the grand finale.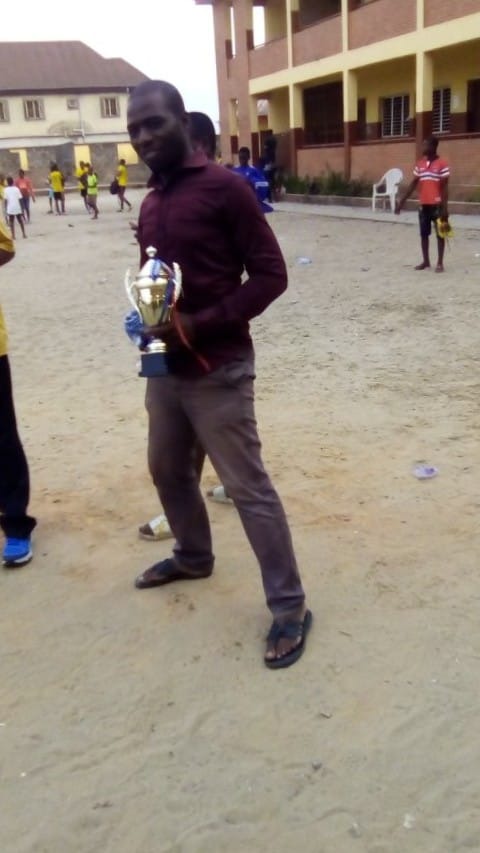 That set the stage for a huge dose of excitement and sheer display of raw talents, as Fun World School equalized in quick succession after Will-B twice went ahead, such that only 25 minutes of the first half ended with two goals apiece.
At the end of the day, despite poor goalkeeping by tall yet ineffective Samuel Akinnola, who had to be hurriedly replaced, Will-B carried the day with stunning performances and tiki-taka-like knocks on the ball; while making a world of difference with goals from Damola Bamigboye, Femi Adeshola, Victor Adeshola and Muiz Olarewaju (plus an own goal by Ebube).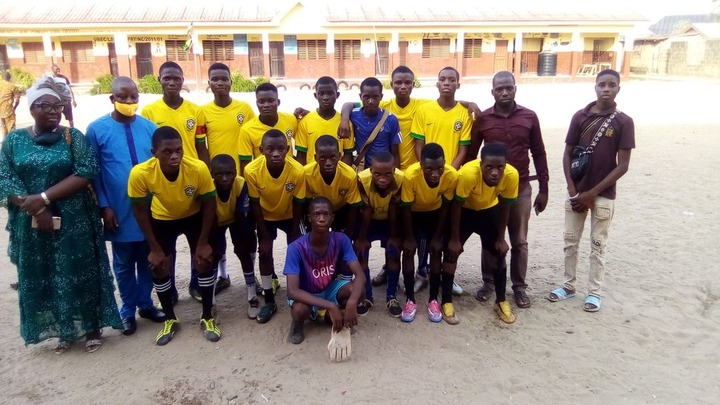 The boys of Elder Olaoye got a certificate, N10,000 and a trophy to boot for their efforts, while the competition's most valuable player award went to Victor Adeshola, who always ended up captaining the team in the dying minutes of all three matches they played, as the progression of team leader moved from Toluwani Olaoye to Daniel Aribatise and to the new kid on the block.
It was, therefore, not too surprising that Elder Olaoye led the celebrations himself the following morning on the school's assembly ground, as he held the trophy aloft and called out each of the players for recognition and applause from their colleagues in all other classes of the citadel of learning that is fast becoming number one in varying headlines out of Ikotun and environs.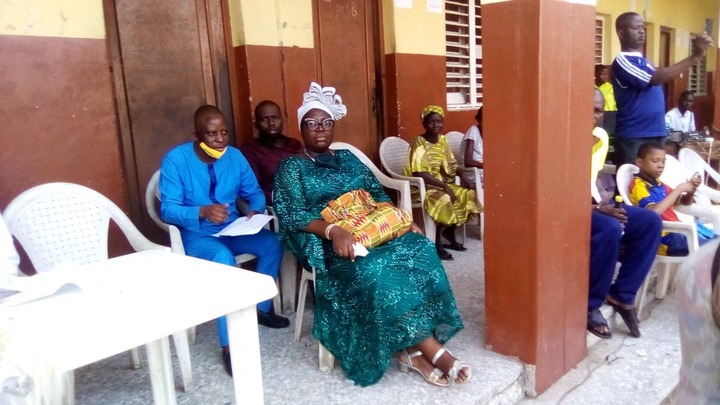 Barely had dust settled on the day's official celebration of the trophy than an invitation letter rolled in for a friendly match with the new champions this Friday at Community Primary School, Ikotun, while young talents have now started showing interest in enrolling at the school in order to pursue their football potentials through the new wave spreading out of Adejonwo Street.
However, in the midst of the euphoria, Pison Divine Royals' founder/president, Oscar Ezinwa Emmanuel hinted that Will-B Excellence Secondary School must not rest on their oars but keep working harder, because they are now the marked bait other teams will try all their very best efforts to bring down at the forthcoming Alimosho NAPPSS Football Championship, which is he said is expected to feature a total of 16 teams.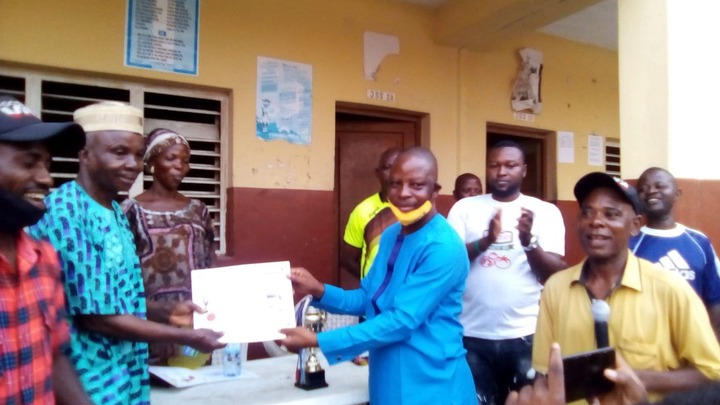 The highly-anticipated competition is the brainchild of Alimosho local government chapter of National Association of Proprietors of Private Secondary Schools (NAPPSS), which has been keen on staging a football contest among its affiliate members for some years back, such that they will take delight in having now found a willing ally to help shape the dream into reality.
Although 'Mr Oscar' did not put an exact date on the forthcoming competition, he pointed out that the Coronation Cup at Ije Ododo was actually a dress rehearsal of the main team, to whet the appetite of schools and students in the area about how to respond when registration and entry forms start popping up at their gates.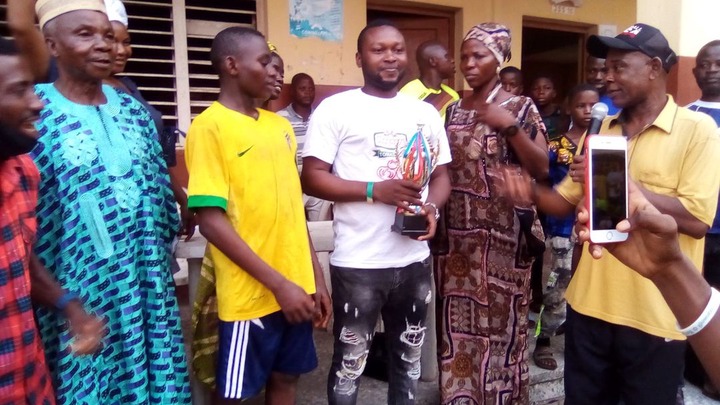 Ezinwa Emmanuel stressed: "This is just a tip of the iceberg; the main event is still coming along the way. We used this competition, courtesy the willing sponsorship we got from Baale, to test run the expected reactions we would get from private schools in the local government.
"Now we know what to expect and how to go about it. It will still be 8-A-Side like this one, but we expect to have at least 16 competing schools. Another big difference then would be that each team will have to pay a token registration fee to participate.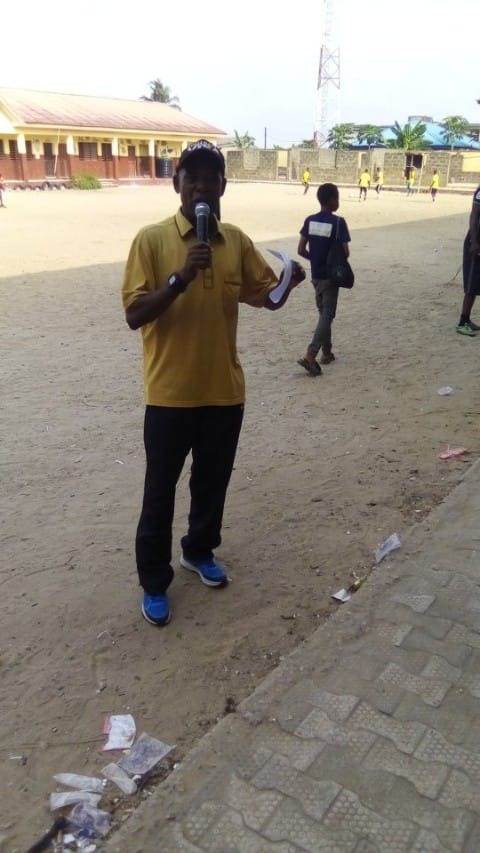 "That, though, would also mean a bigger amount of money to be won as winning price. All we need now is a willing sponsor, individual or corporate body, to step forward and foot the bills. I am sure more talents would be spotted during the competition.
"I am sure that the Alimosho NAPPSS competition will create an even bigger impact, wherever and whenever we are able to stage it. I am sure we will spot more talents like Victor Adeshola from Will-B, the most valuable player of this Baale competition, and the highest goals scorer, Emmanuel Ebube of Fun World, who I believe is the new Kanu Nwankwo of Nigerian football."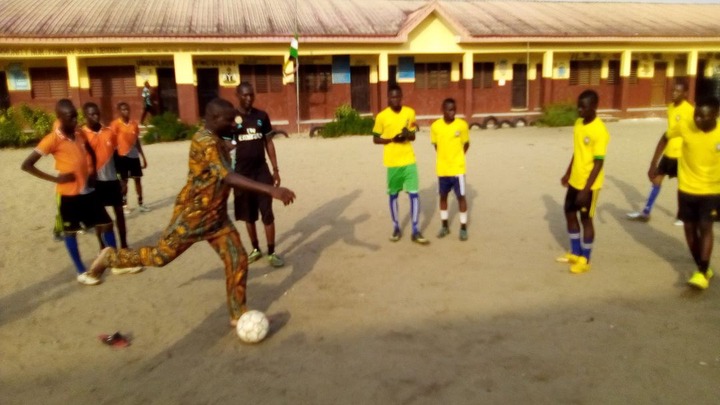 ALL THE RESULTS AND GOALS SCORERS
Cherished Child School 1 (Usman Lateef penalty) vs Prevailer Comprehensive College 0
Will-B Excellence Secondary School 0 vs Fun World Private School 1 (Harmony Udeh)
*Ije Ododo Junior Grammar School 2 (Lamidi Farouk, Chimobi Osinachi) vs Will-B Combined 0
Will-B Excellence Secondary School 2 (Muiz Olarewaju, Victor Adeshola) vs Cherished Child 0
Fun World Private School 2 (Emmanuel Ebube 2) vs Prevailer Comprehensive 0 (Franklyn Ugbah)
*Will-B Com 0 vs Ije Ododo Jnr 4 (Tolu Olaoye og, Farouk Lamidi, Olumide Adewuyi, Tossi Kossi)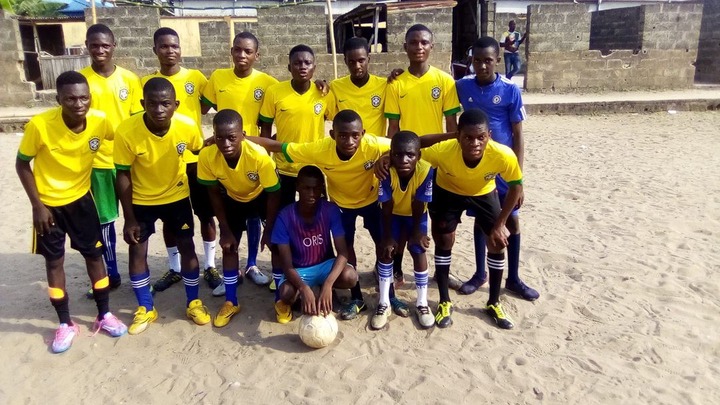 FINAL: Fun World (Harmony Udeh, Emmanuel Ebube) 2 vs Will-B Excellence Secondary School (Emmanuel Ebube og, Damola Bamigboye p, Victor Adeshola, Femi Adeshola, Muiz Olarewaju) 5
SQUADS: Fun World – Oyeyemi Damilola (GK), Abioye Muiz, Salami Ibraheem, Lateef Usman, Musa Yusuf, Udeh Harmony, Emmanuel Ebube, Folami Dayo (capt); subs – Oyekunlaje Caleb, Chukwudi Collins, Lasisi Hameed, Fatai Abisoye, Alabi Mujeeb, Oyeyipo Lanre, Isau Sulaiman.
Will-B: Akinnola Samuel (GK), Aribatie Daniel (capt), Adeshola Victor, Muiz Olarewaju, Femi Adeshola, Chibuzor Chinedu, Ibrahim Ayeni, David Adegbemi; subs – Rabiu Ayomide, Toluwani Olaoye, Franklyn Ojieh, Philip Favour, Awal Shuaib, Kingsley Oladoke.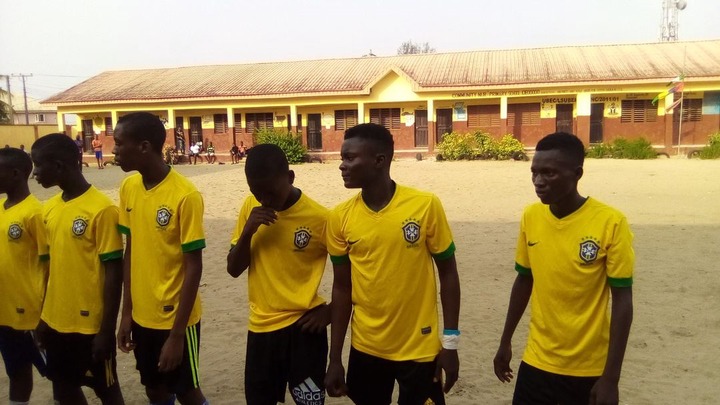 Coronation Cup All Stars Best 8 Players
GK - Oyeyemi Damilola – Fun World Private School
DF – Muiz Olarewaju – Will-B Excellence Secondary School
DF – Lateef Usman – Cherished Child Private School
DF – Isau Sulaiman – Cherished Child Private School
MD – Franklin Ugbah – Prevailer Comprehensive College
MD – Harmony Udeh – Fun World Private School
AT – Victor Adeshola – Will-B Excellence Secondary School
AT – Emmanuel Ebube – Fun World Private School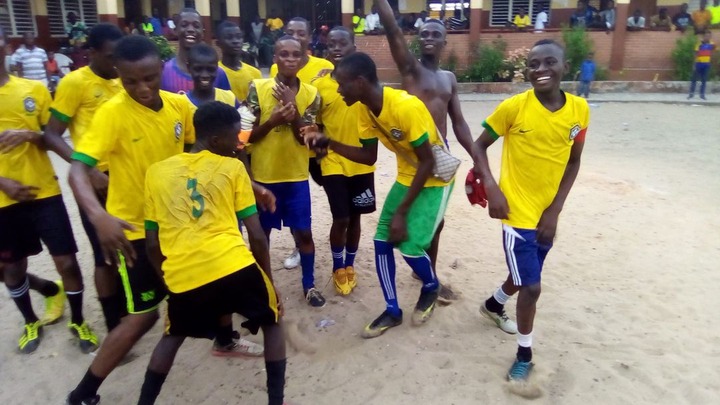 NB: Please share this story and add your comment below.   
Content created and supplied by: SpeedFingers (via Opera News )