The debate on who is football's greatest of all times (G.O.A.T.) has been on for a very long time. This is due largely to the fact that the game continues to produce so many amazing talents, era after era.
Interestingly, no individual has ever been officially named as the greatest player of any era, because every era produces unique and immensely gifted players.
For instance, there was the Stefano and Eusébio era, as well as that of Bobby Charlton and George Best.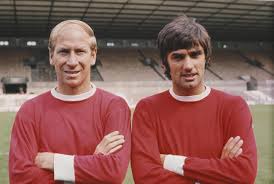 Sir Bobby Charlton and George Best (The sun)
Yohan Cruyff and Franz Beckenbauer soon came along, while the era of Kevin Keegan and Karl-Heinz Rummenigge was closely followed by that of Michel Platini and Marco Van Basten.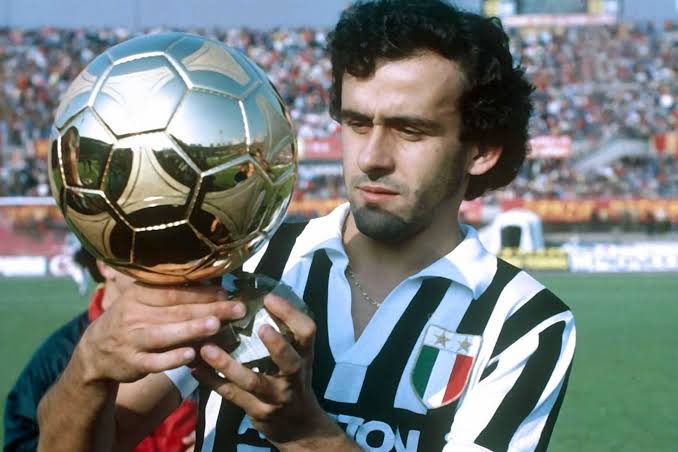 Michel Platini with his Ballon d'or (Sportzpoint)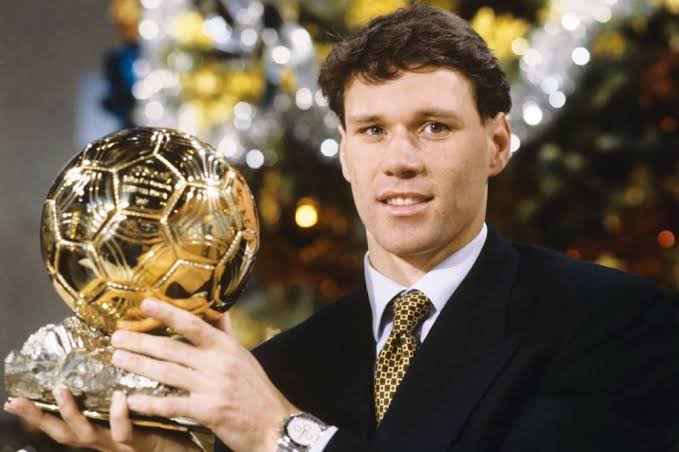 Marco Van Bastien with his Ballon d'or (Twitter)
All the players mentioned above had immense but unique talents and accomplishments in football, making it difficult, if not impossible, to compare or even rate them.
Infact, some players were so good that they even invented new football techniques. Pele of Brazil, for instance, is credited with such inventions as the banana kick.
Yet, when Pele is mentioned, it is almost always in the same breath as Maradona, even though they belonged to different eras.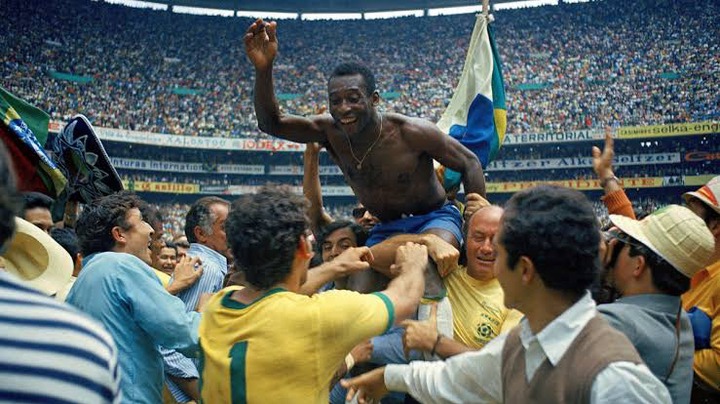 Pele aloft after winning the 1970 world cup (Sports illustrated)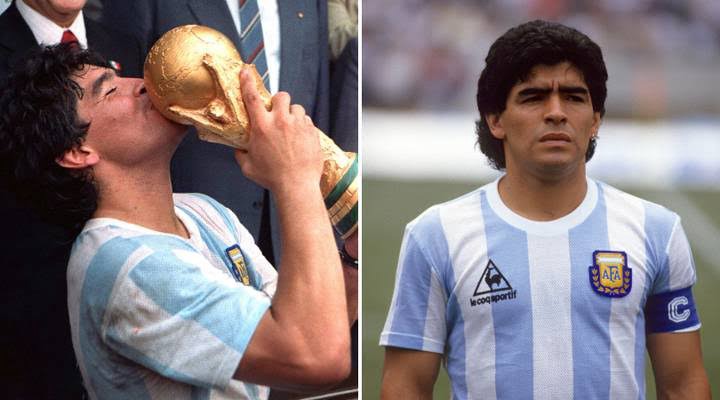 Maradona at the 1986 World cup finals (Sportbible)
Although a healthy rivalry also existed between all the players mentioned above, the G.O.A.T debate has never been as intense as it is now in the Messi-Ronaldo era, not even when Ronaldo de Lima, Zidane, Figo and Ronaldinho held sway in their own era.
For inexplicable reasons also, the G.O.A.T. debate between Messi and Ronaldo is often laden with much emotions, so much so that sentiments tend to becloud the sense of reasoning.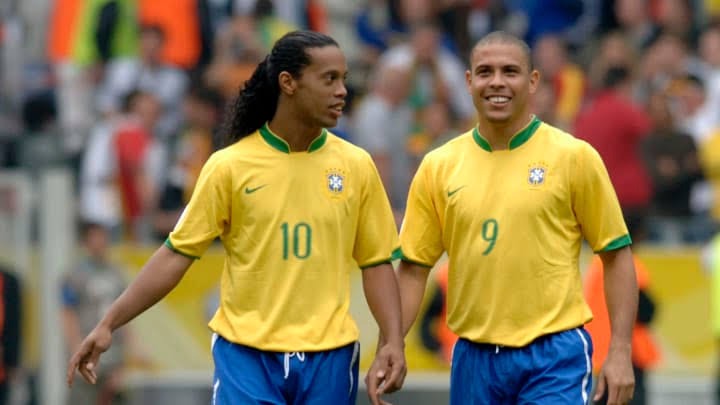 Ronaldinho (left) & Ronaldo de Lima (90mins)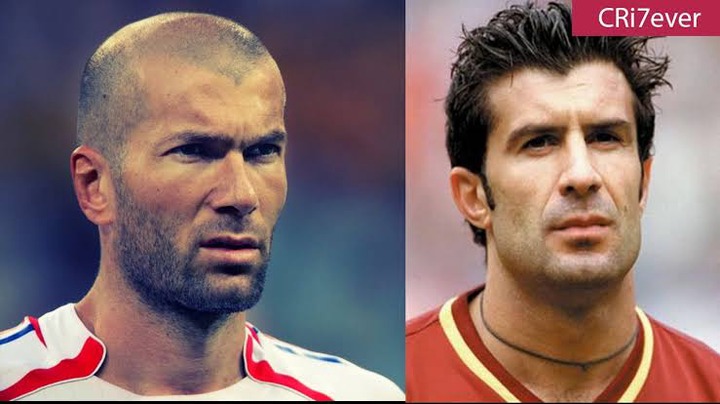 Zidane (left) and Figo (YouTube)
There's absolutely no question that Lionel Messi and Cristiano Ronaldo are two of the very best football players in history.
The two players both share a lot in common. They have incredible technical abilities, insane work ethics, great personal discipline, as well as a large trophy cabinet for both individual and collective achievements.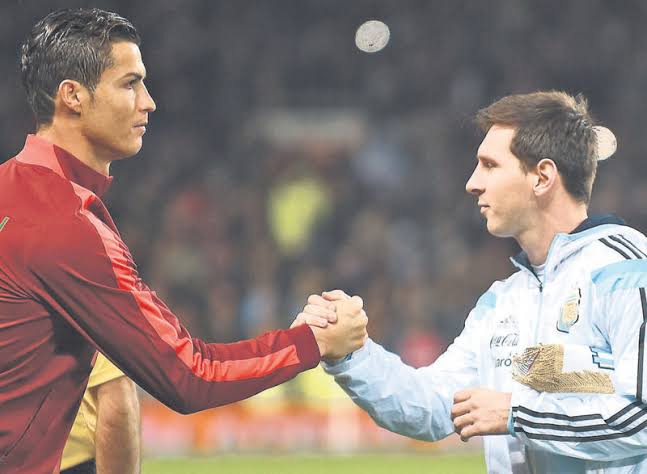 Ronaldo (left) & Messi exchange pleasantries before a game (Daily Sabah)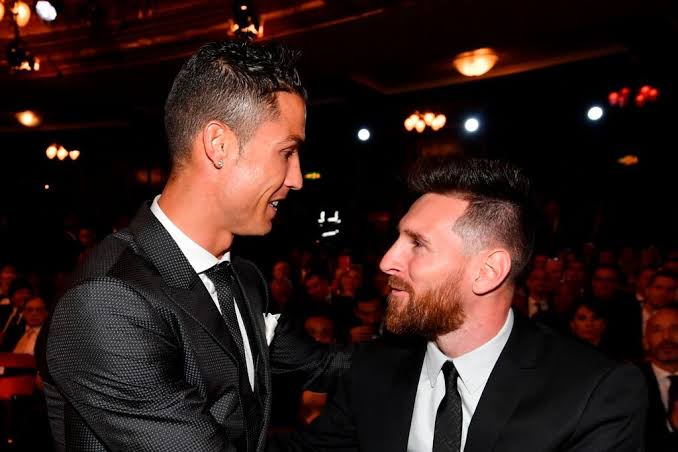 Ronaldo meets with Messi at one of many awards night (Calcio e Finanza)
In my opinion, however, none of Messi or Ronaldo truly deserves to be named the greatest football player of all time for the following reasons.
1. Football is a Team Game
This means the achievement of any team is a function of inputs from individual members of that team. This includes the players, coaches, medical team, technical directors, and even other backroom staff such as janitors and security personnel.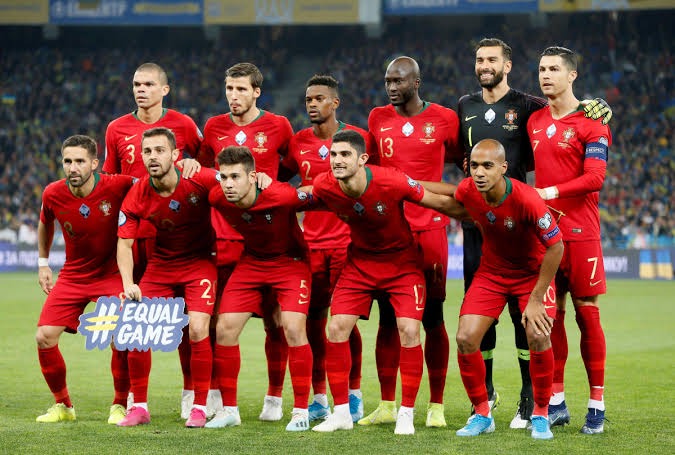 Portuguese national team (Decan Herald)
Consequently, no player, no matter how good, can win a single football game alone, not to mention winning a championship.
Therefore, the effort of the player creating scoring chances is equally as important as that of the one scoring the goals. In the same vein, the goalkeeper is no less important than the defender, who tries to keep attackers at bay.
Since football is not an individual game such as chess, boxing or golf, where one single player is responsible for everything, it becomes difficult to decide, on a general basis, who is better than who.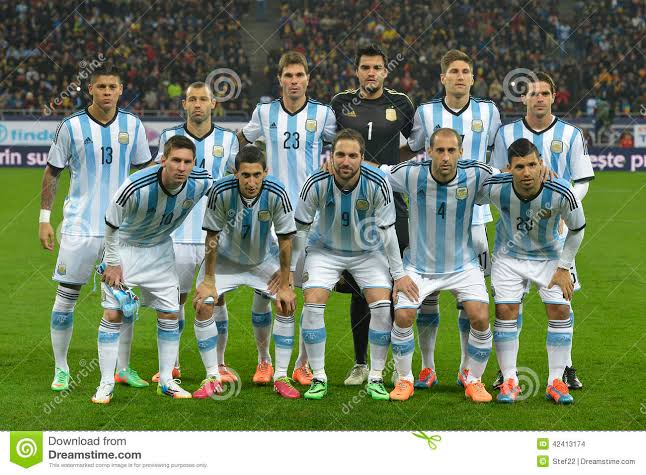 Argentine national team (Dreamstime.com)
How then do we determine, for instance, that Messi, a playmaker cum forward, is better that Oliver Khan, one of the best goalkeepers of all times?
Also, is Paulo Maldini, Italy's greatest defender ever, any less great than Ronaldo, simply because the later is a goals soring winger?
We must bear in mind that every player needs completely different techniques and skill sets in order to effectively perform their specific roles in the game of football.
I guess, therefore, that the question of greatness should be asked only when talking about two or more players of the exact same playing position.
2. The Number of International Trophies Won
One of the arguments that had slightly tilted the G.O.A.T debate in favour of Ronaldo is that of who has won an international trophy with the senior team of his country.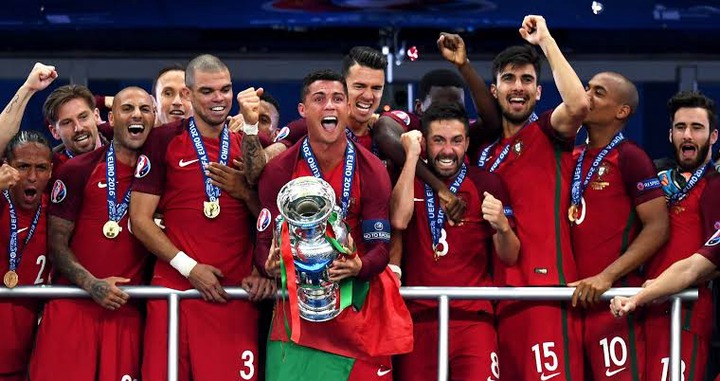 Ronaldo & teammates celebrate their Euro title (Premier League news)
Messi, however, was able to put an end to that argument last summer when he lifted his first ever international trophy for Argentina's senior national team.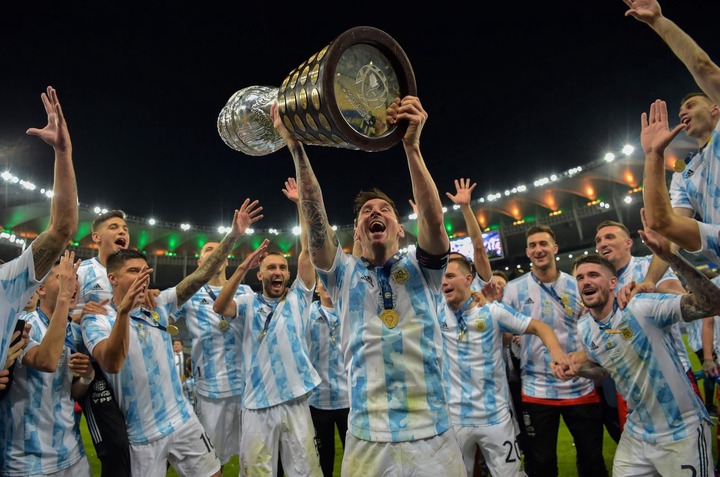 Messi & teammates celebrate their Copa America title (Daily Sabah)
But even at that, should merely winning an international title confer the G.O.A.T. status on a player?
If winning an international title conferred the G.O.A.T. status, then Pele of Brazil should have been the greatest, having won three (3) world cup titles with Brazil.
Surprisingly, the name of Francisco Gento, the Spanish great, who won a record six (6) UEFA Champions League titles, or Daní Alves, the man with the highest number of club and international trophies, is never ever mentioned in the G.O.A.T. debate!
3. Number of Ballons D'or Won
Lionel Messi and Cristiano Ronaldo share between them a humongous 11 ballons d'or, with Messi winning one more than Ronaldo. For many, this feat has been the basis for judging between the two, to know the real G.O.A.T.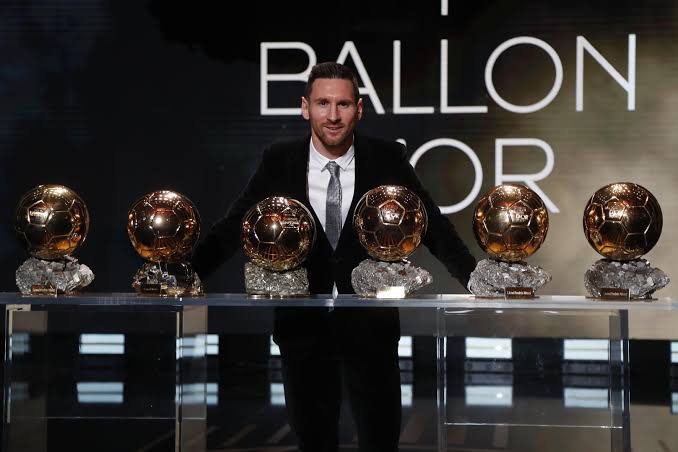 Messi with his 6 ballons d'or (FC Barcelona)
As big an achievement as winning the ballon d'or is, we must also not forget that these trophies are only being voted for by national team coaches and captains, as well as football journalists.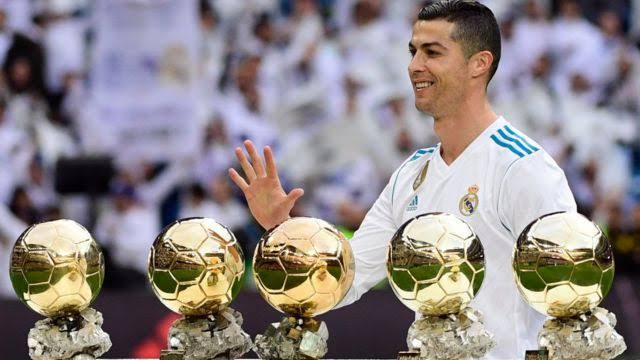 Ronaldo with his 5 Ballons D'or (BBC)
Over the years, controversies have rocked the Ballon d'or awards, with L'équipe, the award donors, being accused of partiality in some instances.
Indeed, both Messi and Ronaldo have won the awards at certain times when it was generally believed that other players were clear favourites ahead of them.
It is for the same reason that many are surprised that two of the greatest players, Pele and Maradona, never won the Ballon d'or, despite each of them winning the world cup, and being jointly named players of the 21st century.
So, it would be unfair to use the ballon d'or as the basis for determining whether Ronaldo or Messi is the greatest of all times.
4. Individual Awards for Goals/Assists
With over 700 career goals to his name, Ronaldo is obviously one of the best goal scoring machines of all times.
Among many other records, he is the highest scoring male footballer on the international scene. Also, he is the highest goal scorer in the UEFA Champions League and in the UEFA European Championships.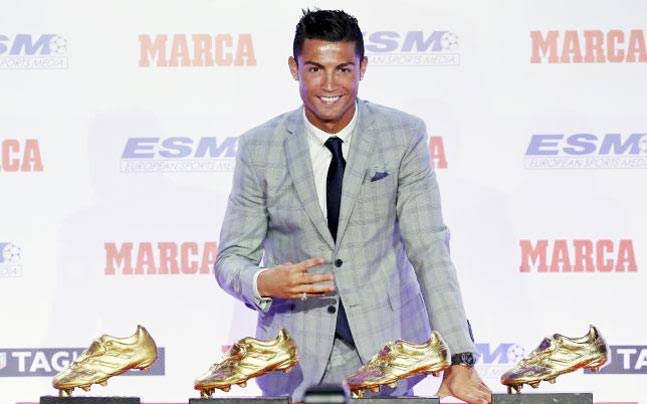 Ronaldo with his four European golden shoes (India today)
Messi, on his part, is no less a goal scorer. Even though Ronaldo has more career goals than him, the petit Argentine has won more golden shoes. He also boasts of more assists and a better goal ratio than Ronaldo.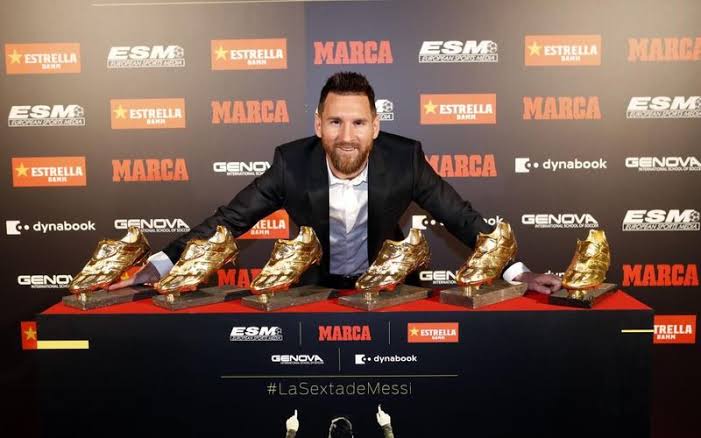 Messi with his 6 European golden shoes (FC Barcelona)
It is therefore safe to say that the goal scoring advantage Ronaldo has over Messi is effectively being matched by the Argentine's ability to both score and give assists.
I believe every other criteria such as the number of free kicks scored, and who is better at scoring headed goals, or even the number of penalties converted are pure sentiments.
Clearly, these are mind games that the fans of both Messi and Ronaldo use to tilt the scale in their favour. Such statistics, though factual, do not suffice in bequeathing the G.O.A.T. status.
From the foregoing, therefore, I think the argument should not even be about who is better, since each of them is unique in their own ways.
Also, in my opinion, if a player must be labelled as the greatest of all times, he should have won 3 world cups just as Pele did.
He should also have won six (6) UEFA Champions League titles just as Francisco Gento. Then, he would have to win 6 ballons d'or just as Messi.
Finally, such a player must be able to score more career goals than Ronaldo and create more assists than Messi.
Yes, until one single player holds all these records, the wait for football's greatest player of all times (G.O.A.T.) may continue for a long time to come.
After all, football entails creating chances, scoring goals, defending, saving goals, stopping penalties, et ce tera. Then, there are the world cup and continental championships to win, before talking about golden boots, golden shoes and Ballons D'or.
As for Messi and Ronaldo, people must learn to appreciate them for who they are, the brands they have created and the joy they give when they play.
While the two of them are now gone beyond their peak, they certainly deserve our respect for all their incredible achievements.
Content created and supplied by: MC_Aybee (via Opera News )
Opera News is a free to use platform and the views and opinions expressed herein are solely those of the author and do not represent, reflect or express the views of Opera News. Any/all written content and images displayed are provided by the blogger/author, appear herein as submitted by the blogger/author and are unedited by Opera News. Opera News does not consent to nor does it condone the posting of any content that violates the rights (including the copyrights) of any third party, nor content that may malign, inter alia, any religion, ethnic group, organization, gender, company, or individual. Opera News furthermore does not condone the use of our platform for the purposes encouraging/endorsing hate speech, violation of human rights and/or utterances of a defamatory nature. If the content contained herein violates any of your rights, including those of copyright, and/or violates any the above mentioned factors, you are requested to immediately notify us using via the following email address operanews-external(at)opera.com and/or report the article using the available reporting functionality built into our Platform See More