The Man of the Match Award (MOTM) is an award given to the best player on the pitch after a football match.
The award typically goes to a player from a winning side or a player that scored important goals during a match.
Sometimes goalkeepers could get the award when they keep a clean sheet or pulled off a string of superb saves to grab invaluable points for their teams.
But who do you think have won the most MOTM Awards across Europe top 5 leagues?
Let's have a look below: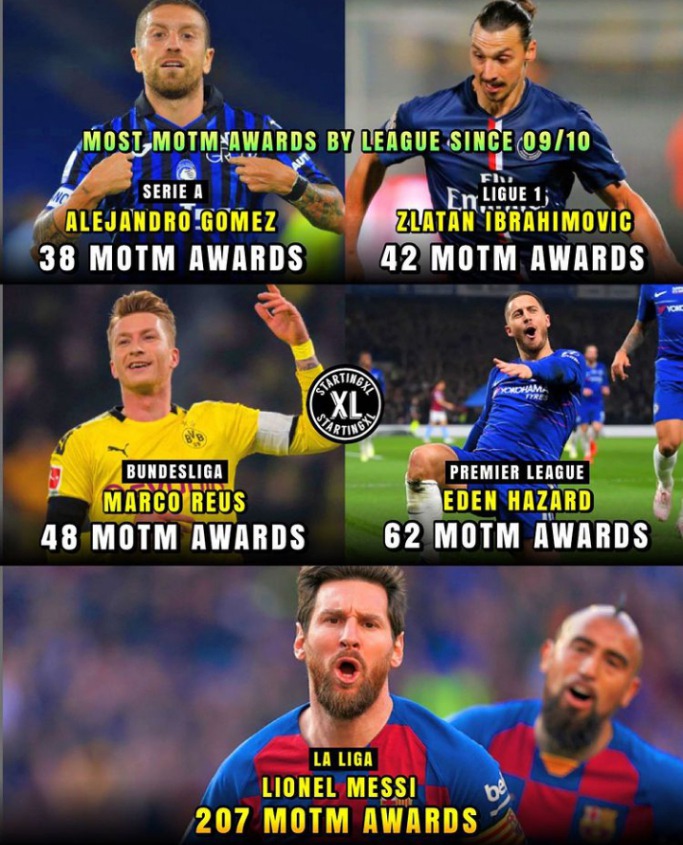 5. Serie A:
Atalanta former captain Papu Gomez, earned the most MOTM award (38) since the 2009/10 season.
The 33-year-old playmaker is currently with Sevilla having signed a contract in January 2021 with the Spanish side.
4. Ligue 1:
Zlatan Ibrahimovic won 42 MOTM awards for his incredible performances during his time with PSG.
The Swedish has been at the top with the best for more than 15 seasons and he's showing no signs of slowing down.
3. Bundesliga:
Borussia Dortmund forward Marco Reus currently tops Bundesliga with 48 MOTM awards.
The winger has produced scintillating displays for Dortmund and if he never had injury worries, Reus would have been one of the renowned players in world football.
2. Premier League:
Eden Hazard was a joy to watch during his time in England.
The Belgian was constantly tormenting players, scoring goals for fun and at some stages with Chelsea, he was compared to Lionel Messi and Cristiano Ronaldo.
His 62 MOTM awards are the highest in Premier League since the 2009/10 season to date.
His time with Chelsea will always be remembered!
1. Lionel Messi:
Barcelona Captain Lionel Messi has the most MOTM awards (207) in La Liga.
Lionel Messi has more than 3 times of Eden Hazard MOTM awards (the second-highest across Europe's top 5 leagues).
And he remains the only player to achieve double century of MOTM awards in a single league.
There you have it!
Share your thoughts with us and share with friends.
Content created and supplied by: Jbstylez (via Opera News )